Dog 'Helps' Mom By Stealing Neighbor's Walking Cast
She knew her mom had hurt her foot and needed to wear one too 😂
When Kelly Dent saw her friend Susan's Facebook post about needing a medical walking boot, she remembered she had one she wasn't actively using and immediately offered it up. The next morning, she put the boot out on her front porch for Susan to pick up later in the day, and then headed off to work around 7 a.m.
Dent got home from work around 4 p.m. and saw that the boot was gone. She assumed that Susan had picked it up — but then her doorbell rang. It was Susan asking for the boot.
Confused, the two women began looking over the footage from the doorbell camera on Dent's porch, trying to figure out who on earth could have stolen the boot.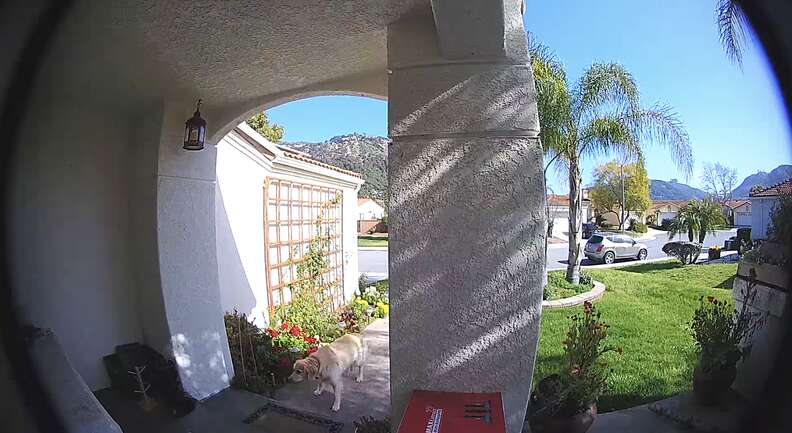 "Lots of kitties stopped by to snack on kibbles," Dent told The Dodo. "Then I saw UPS deliver my package … Then I saw THE THIEF! Susan and I laughed so hard!"
The footage revealed that the boot had indeed been stolen — by Finnie, Dent's new neighbor.
In the video, Finnie saunters up to the porch …
… checks things out for a bit …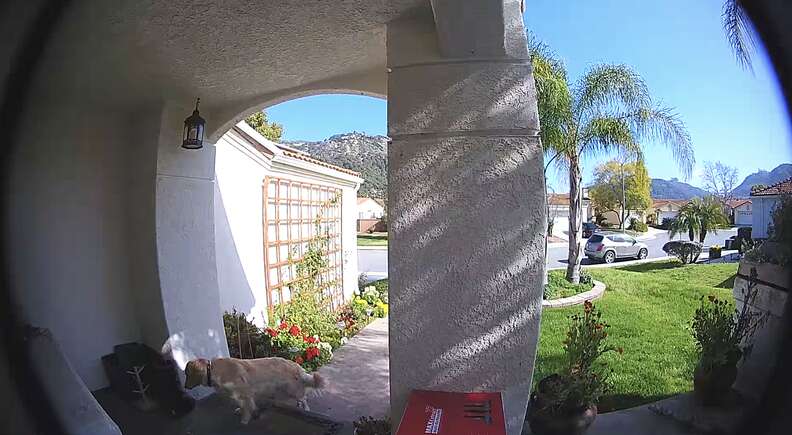 … and then slowly begins to drag the boot away.
Dent hadn't officially met Finnie yet, so she and Susan headed over to Finnie's house, where they found her dad hanging out on the front porch. They showed him the video, and of course, he wasn't at all surprised about what Finnie had done.
"He laughed and explained how his wife had to wear one," Dent said. "He then opened the front door and Finnie came shooting out with her tail lashing about. She did seem a little confused when I picked up the boot. Her tail went still for a moment. So I reassured her with some belly rubs, and that tail started to sway again."
As it turned out, all Finnie had been trying to do was bring the boot to her mom, just in case she needed it.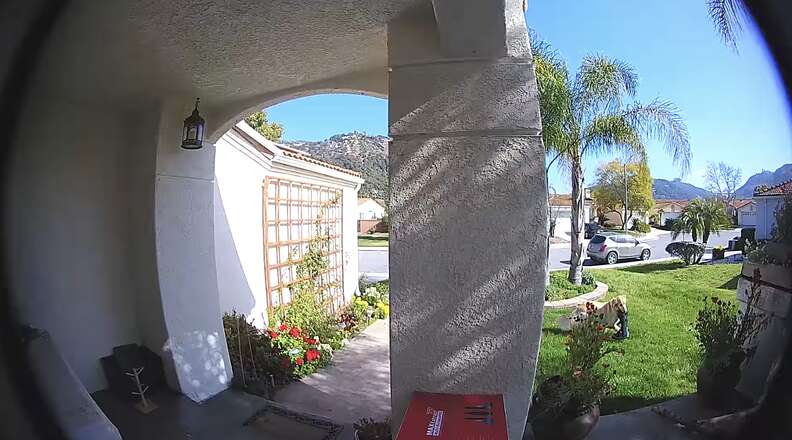 Finnie and Dent have since become close friends, and Dent even gives her new favorite neighbor a treat every morning as she heads off to work. And of course, Finnie still visits Dent's porch frequently, just in case there happens to be anything else she needs.
"I catch a glimpse in what I now call 'The Finnie Cam' twice a day," Dent said. "She has been pretty reliable stopping by to see if she needs something from my porch. I have left her treats twice now … so we kind of have a fun little thing, because I hide the treats and see how long it takes her to find them. I love watching that tail when she does."
You can watch the full video of Finnie's first porch adventure below: