Dog Out For Walk Realizes Someone's Trapped Inside Storm Drain
"I called him, but he refused to move and was looking at me with unusual significance."
For all of the 11 years this former shelter dog named Aaron has been on the planet, he's been a very good boy.
But recently, he became an actual hero.
Earlier this month, Aaron was out for a walk with his owner, Cynthia Kingdon, near their home in Massachusetts, when something unseen caught his attention. The dog suddenly seemed fixated on a roadside storm drain — or, to be more specific, what was deep down within it.
Aaron put the walk on hold.
"I called him, but he refused to move and was looking at me with unusual significance," Kingdon told The Dodo.
Prompted by Aaron's oddly insistent behavior, Kingdon decided to take a closer look. It was then that she realized just what her dear dog was up to.
He was saving the life of a trapped cat.
"I came over to see what was bothering him and the kitty started crying as soon as he saw me," Kingdon said. "He was about 10 feet below street level."
Unable to get the cat out herself, Kingdon called the police and soon help was on the way. In the meantime, neighbors started to gather near the storm drain, one of whom had seen a missing pet flyer for this very feline.
Turns out, the cat, named Wiggles, belonged to someone living nearby. He'd gone missing 10 days earlier.
"He lost over 5 pounds," Kingdon said. "He wouldn't have lasted much longer without food."
Fortunately, an animal control officer and an agent from the sewer department were able to lift Wiggles to safety.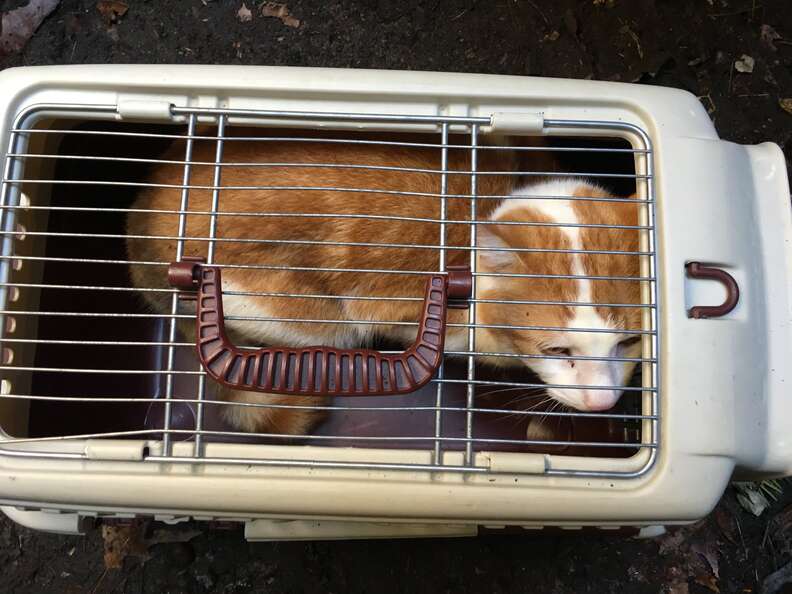 The cat's grateful owner later sent "thank you" cards to both Kingdon and Aaron — but ultimately, it was the dog's persistence and keen sense that saved the day.
"I would never have seen him except for Aaron insisting on standing there," Kingdon said. "I am very proud of my smart boy. But, of course, I always am."