I've been chronicling the plight of street dogs for the past several years. It's taken me to places as far-flung as Myanmar, Guatemala, Cuba, Puerto Rico and, most recently Lima, Peru, to photograph Milagros Perrunos — a small shelter I'd heard specialized in caring for disabled dogs.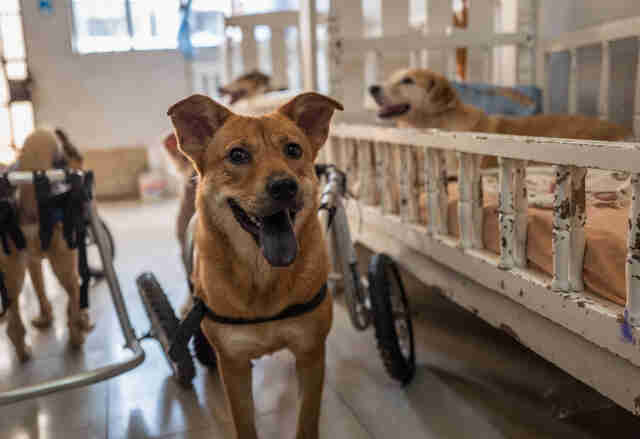 Many of the dogs have suffered debilitating injuries or paralysis from being hit by a car or another injury. Without this shelter, they'd have nowhere to go.

Founded by Sara Moran, the shelter is safe haven to about 60 dogs, eight of whom are in wheelchairs. Many others are able to walk on their own but are either missing a leg or have some other injury.
Dogs who can move freely are also harbored at the shelter, and all have been rescued from the streets of Lima.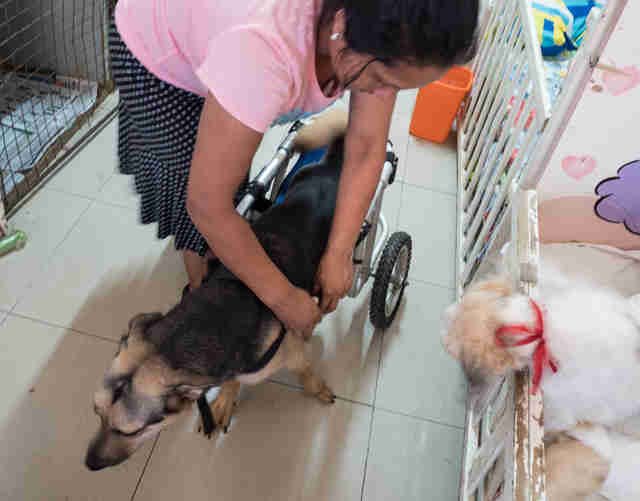 The shelter is actually a converted home located on a quiet residential street. It is a little hard to find, as there are no signs the home is a special place. Once I knocked on the front door, however, a cacophony of loud barking was immediately unleashed, and I knew I had reached the right place.
As I entered the shelter, Sara was busy fitting one of the paralyzed dogs into his wheelchair.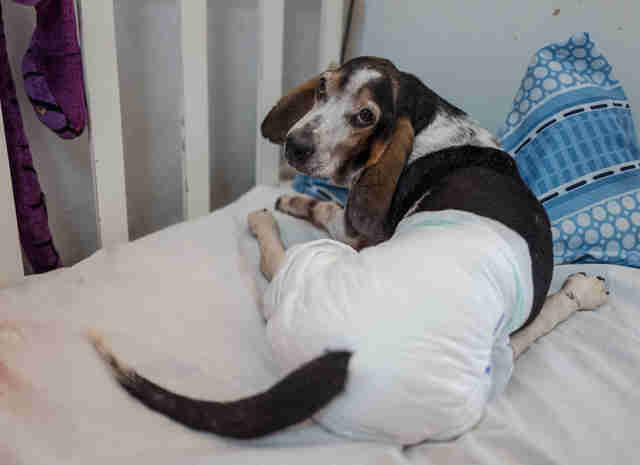 "I started the shelter eight years ago," Sara told me, pointing to a paralyzed dog resting in his crib. "Bruno has been here for eight years — the first dog I rescued and brought to the shelter."
"We only have one female who is paralyzed in the shelter," Sara told me. "Because when people report that a dog is run over, it's usually a male, because males are more callejeros." (Callejeros are street dogs.)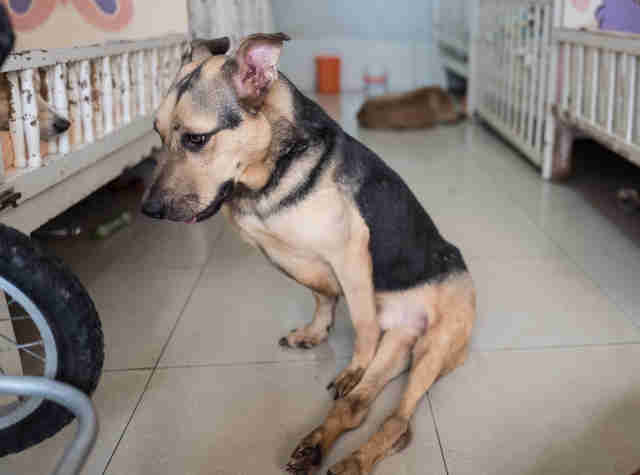 As in many large cities in Latin America, Lima has an abundance of street dogs. Not all of the dogs are true strays, however, as many have homes but are left to roam about on their own throughout the day. Most of these dogs aren't spayed or neutered, so they all reproduce and further contribute to the homeless population. The homeless street dogs are left to forage for food on their own and are subject to disease, injury and sometimes abuse.
The shelter is mostly funded by donations, but Sara has one renter who helps pay some of the bills.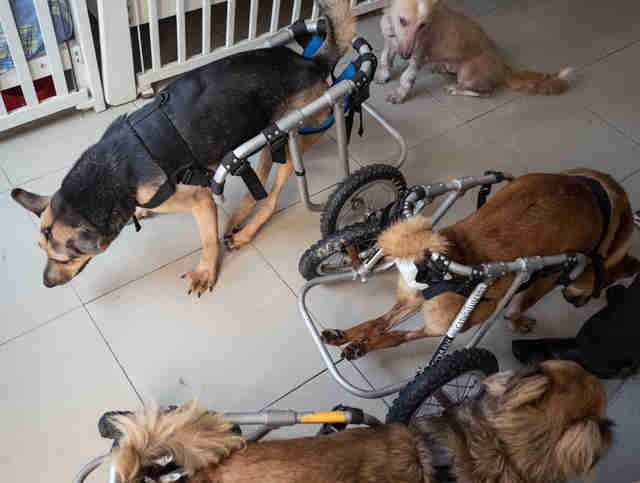 "Food is very expensive," she explained. "I can't run the air conditioner for very long; it's too expensive."
As we toured the shelter, I was surprised by the number of dogs in the small, two-story house. The dogs were everywhere: sleeping on the floor, on the stairs, or otherwise just roaming around.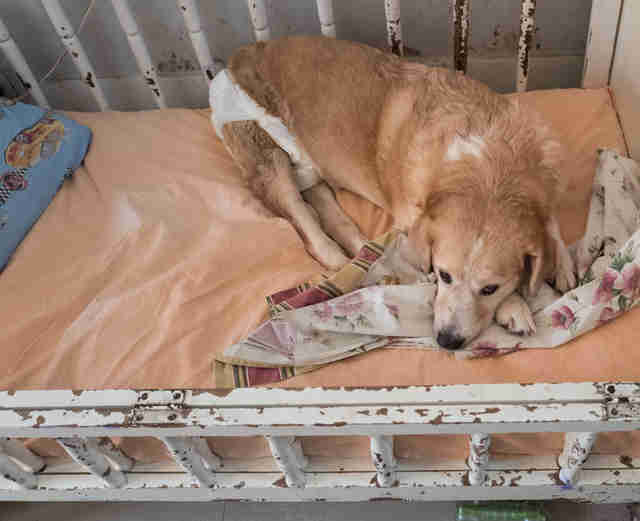 The dogs were very friendly and for the most part seemed to get along well.
All of the dogs are also up for adoption.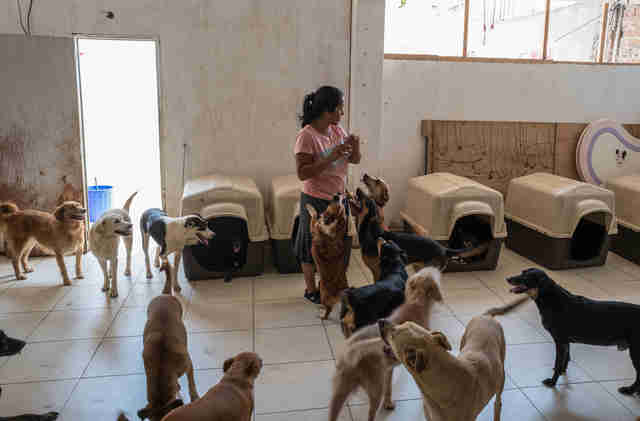 As I walked around, I watched Sara give special attention to each dog.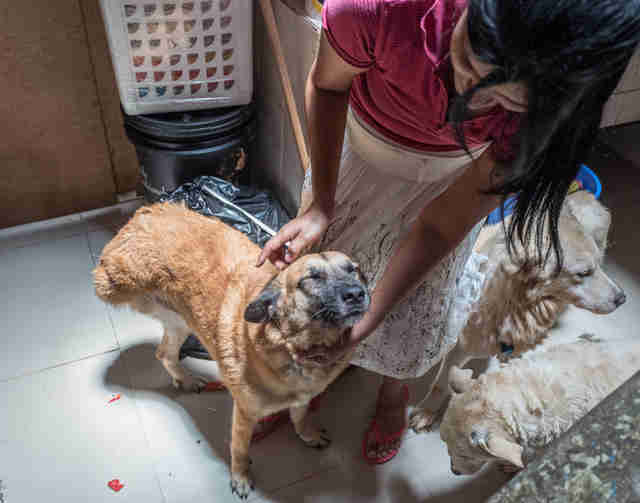 A disabled dog she was petting had suffered severe injuries to his leg after being hit by a car. He had had to have it amputated.
"You see, the dog's life is much easier," she said. "With something to eat and a place to sleep, they are happy. We always want more to be happy."
The paralyzed dogs have their diapers changed five times a day — it takes up a lot of time but Sara wouldn't have it any other way.
"It's hard work, but it makes me happy," Sara told me. "I'm here every day ... Christmas, New Year's, Mother's Day, birthdays, I'm always here."
"In the beginning I would always cry," Sara said. "For many years it was very hard. When the dogs get sick, they want to live, not like us. When we get hit in the head, we cry — the dogs, no, they are very strong. I feel like the dogs love to live."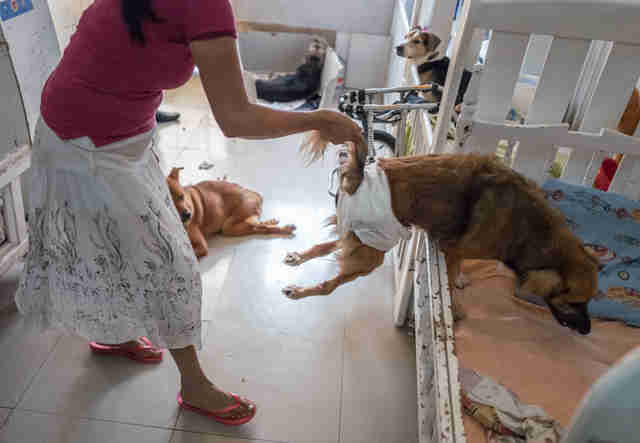 "They teach me a lot," Sara told me. "They help me."