Dog Reunited With His Family After 6 Years Can't Stop Wagging His Tail
Miracles really do happen ❤️️
A little dog was wandering the streets of Sumter County, Florida, when a kind-looking person passed by. The lost dog ran to the man without any hesitation.
"He practically dove for this guy, as if saying, 'Help me! Help me!'" Claudia Labbé, a volunteer at YOUR Humane Society SPCA, told The Dodo. "He was so happy to see him."
The Good Samaritan scooped up the tan Chihuahua and brought him to the shelter. Despite being malnourished and covered in fleas, the dog maintained his friendly, positive attitude. The shelter staffers could see that this dog belonged in a home, and scanned him for a microchip.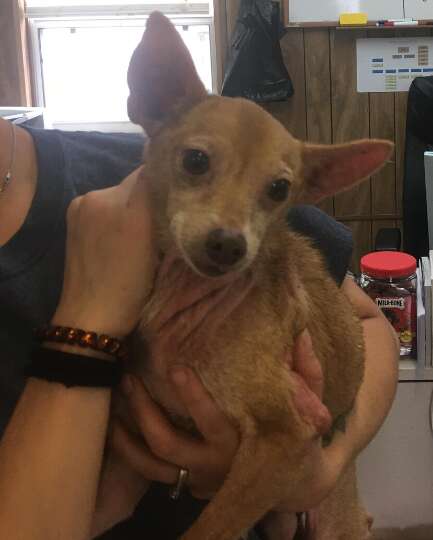 The dog's name appeared — Alex — as did the names of his former owners. When the shelter staffers managed to get in touch with the family they realized just how amazing Alex's story was.
His owners live in Naples, Florida, over 225 miles from where Alex was found, and hadn't seen their dog in six long years.
Alex had come to live with them as a 2-month-old puppy. He had two human brothers, and one larger dog brother named Thunder. But when Thunder left to go live with Grandma for a while, Alex dug a hole under the fence of his yard and escaped — most likely in search of Thunder.
Alex's family prayed for his safe return, looking everywhere for him. But as months turned to years, their hope of finding their beloved dog faded. The call from YOUR Humane Society SPCA late that night in February changed their lives forever.
After so much time apart, they worried that Alex wouldn't remember them. But as soon as the little dog laid eyes on his family, he couldn't contain his excitement. His tail immediately started wagging, as he jumped into his mom's arms for an embrace. "Alex could not contain his sheer joy of seeing them again," the shelter wrote on Facebook. "They all stood, hugging a giddy pup who regained his identity and his long-lost family."
You can watch their touching reunion here:
"Everybody was in tears, including the staff," Labbé said. "This is what motivates everybody — because pets are family."
Now, Alex is back home and his family feels like he's been there forever. What's even better — he's been reunited with his dog brother Thunder and two will never be apart again.