Boo is a sweet, 2-year-old dog who somehow found herself at a big shelter in Los Angeles when she was just a puppy. During her time at the shelter, Boo was adopted out and then returned three different times — and the third time, she came back to the shelter with some pretty awful injuries and issues.
The first and second times Boo was adopted, the families saw her cute face and playful personality and adopted her on a whim, without really being prepared for the time and commitment it takes to train and raise a puppy. When they realized they had taken on more than they could handle, they brought her back to the shelter, leaving poor Boo dejected and confused.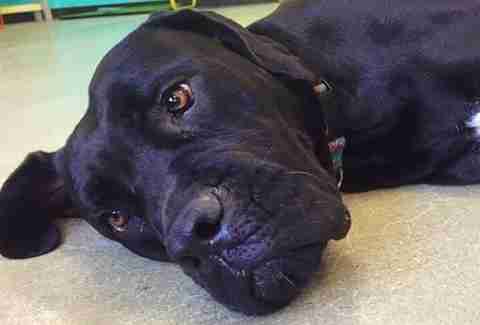 When Boo was adopted and then taken back to the shelter for a third time, one of her back knees had been badly broken and never properly taken care of, forcing poor Boo to drag it along with her as she walked. She also had what appeared to be cigarette burns on her back, and severe separation anxiety from being adopted and then given back so many times. At that point, Boo was so desperate for love — and finally, the right people saw her struggling and decided to help.
Boo was pulled from the shelter by The Dog Cafe, a rescue that helps rehabilitate and socialize rescue pups. From the moment they met her, Boo's rescuers knew they had their work cut out for them. Boo was absolutely terrified of most men and was very wary of strangers in general. She would bark like crazy whenever she felt threatened. She got along well with the rescue's other pups, though, and before long, Boo's incredibly loving, sweet personality began to shine through.
At her core, Boo is an affectionate, loyal, goofy dog who just wants to cuddle and play with the people she feels safe with. Once she is comfortable with you, she has an endless amount of love to give, and her silly smile could brighten even the worst of days. She will put one of her giant paws on your hand or face whenever she wants attention, and she loves rolling around on the floor and getting lots of belly rubs. When Boo feels loved and safe, she will be your best friend, and all she wants is a home where she can feel that way all the time.
I volunteer with The Dog Cafe, and when I first met Boo, she was a little wary of me. She had no idea if she could trust me or not, but bit by bit, day by day, I did my best to prove to Boo that I would never hurt her, and I would give her all the love and attention she deserves whenever we're together. Now, Boo jumps up excitedly when she sees me, and loves to stand with her body pressed up against me.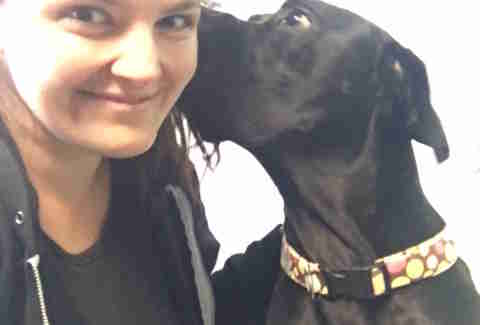 Boo is making progress with overcoming her anxieties every single day, and has improved leaps and bounds since she first arrived at The Dog Cafe. Unfortunately, Boo's knee is still broken, and now that she's fully grown, she's finally able to have surgery to fix it once and for all. The surgery will be very costly, as Boo's leg has been broken for quite some time, and so The Dog Cafe is working hard to raise enough money to get Boo the care she needs.
Once Boo's leg is finally healed, her rescuers are hoping that it will not only improve her quality of life, but give her the little confidence boost she needs to bond with potential adopters and finally find the loving family she's been searching for.