Dog Was Returned To Shelter Twice For Being 'Too Energetic'
"We all love her for the crazy, loving girl she is and we know someone else will too."
Biki was taken in by the RSPCA in September 2016 after her elderly owner went to live at a care facility and couldn't take Biki along. Initially, staff at the RSPCA's Macclesfield shelter didn't think they'd have any problem finding Biki a new home — but, as it turns out, the 3-year-old border collie has a bit too much energy for a lot of people to handle. 
Since she first arrived at the shelter, Biki has been adopted out and returned twice. She arrived back at the shelter for her third stay in October, and has been waiting there ever since. 
RSPCA
Biki is a VERY energetic dog, and constantly wants to be running around, chasing things outside and going on nice long walks. Her favorite things in the entire world are balls, and she could spend hours playing with them; she is so overjoyed and entertained by them. On top of her energetic nature, though, Biki is also a very sweet dog and wants nothing more than to find a family she can love who will love her right back.
RSPCA
"Biki is bananas — and that's what makes her unique," Carmen Cole, a staffer at the RSPCA's Macclesfield shelter, said in a press release. "She's got tons of energy and is extremely active so we're looking for a new owner who will be able to keep up with her on long walks and play sessions in the garden. She's incredibly sweet, once she gets to know you, and is very obedient, simply wanting to please."
RSPCA
Whether she's chasing a ball …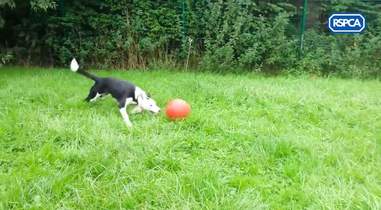 RSPCA
… or running around with friends, Biki simply loves to be on the go, and her constant energy proved to be a bit too much for her former families. 
RSPCA
Biki is very reactive to loud noises, and because of that she would do best in an adult-only home with no other pets, located somewhere a little quieter. While Biki does love to run and play, she's also great at cuddling, and has so much love and snuggles to offer any family who is willing to give her a chance.
"She has such a soft side and loves to curl up beside you on the sofa in the evening," Cole said.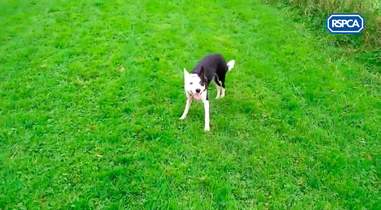 RSPCA
It's been hard on Biki being bounced around so much in her first few years of life, and staffers at the shelter are hoping that soon she'll finally find a place where she truly belongs. 
"We really, really hope it'll be third time lucky for Biki and that her new owners will be her forever home," Cole said. "We all love her for the crazy, loving girl she is and we know someone else will too."
If you're interested in adopting Biki, you can
contact the RSPCA
for more information.