Dog Stuck At Worst Farm Never Stopped Believing Someone Would Find Him
He never lost his smile 😍
From the moment rescuers arrived, Dermot couldn't contain his excitement.
Trapped inside a small wire cage on a South Korean farm, the young dog was just one of over 200 canines there who were being raised for slaughter. But instead, Dermot and his friends were being freed.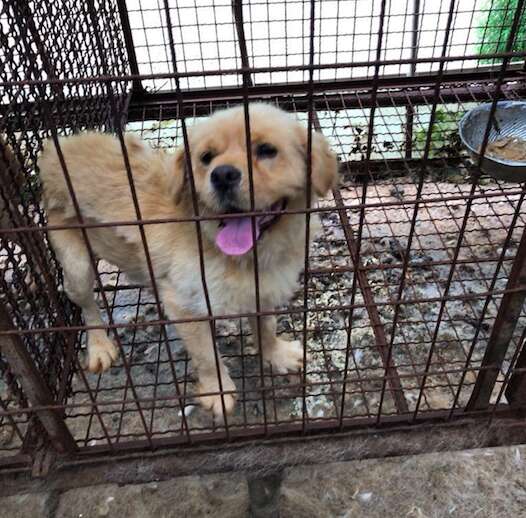 After raising dogs for "food" for 14 years, which is becoming less prevalent in South Korea, the farmer approached Humane Society International about shutting down his dog farm and switching to herb farming instead. In October 2018, the time had come for the dogs to move onto their new lives — and Dermot couldn't have been happier.
Once HSI rescuers emptied the rows and rows of cages, the dogs were ready to travel to the rescue center. There, they would receive all the necessary healthcare to prepare them for flights to their eventual new homes throughout Canada, England, the Netherlands and the United States.
With his sweet expression and unforgettable grin, it wasn't long before Dermot caught the eye of the Jones family from England online. It was love at first sight — and after seeing footage of the sweet dog being saved from the meat farm, the family instantly applied to adopt Dermot.
"After losing both of our beloved dogs due to old age in 2017, we were looking for a rescue dog when I saw a report by the Telegraph UK newspaper with the success of HSI closing down the Seoul-Taepyeong meat farm," Tracy Jones told The Dodo. "I then went to the HSI webpage and tearfully watched the rescue video. Straight away, little Dermot captured my heart and I knew I had to have him."
And that's just what happened. In early December, the Jones family finally met Dermot in person after patiently waiting for weeks. He was everything they'd imagined — and more. Dermot met them all with a smile and settled comfortably into Jones' daughter's lap for the entire three-hour drive home. It was like he was meant to be there all along.
"He was so lovable and happy," Jones said. "We absolutely fell in love."
After being cooped up in a cage at the farm for likely the first year of his life, Dermot had very weak back leg muscles. His family was unsure whether he would need knee surgery, but luckily, all the play and exercise he gets now is helping to strengthen them.
"He still has his scared moments and likes quiet time, but overall is a mischievous bundle of fun," Jones said. "He loves his toys, his walks in the park, snuggles on the sofa and a carry when his legs are tired from walking."
In just a few short months, Dermot has gone from the saddest fate imaginable to having such a bright future ahead.
And clearly, he's not letting much of anything get him down.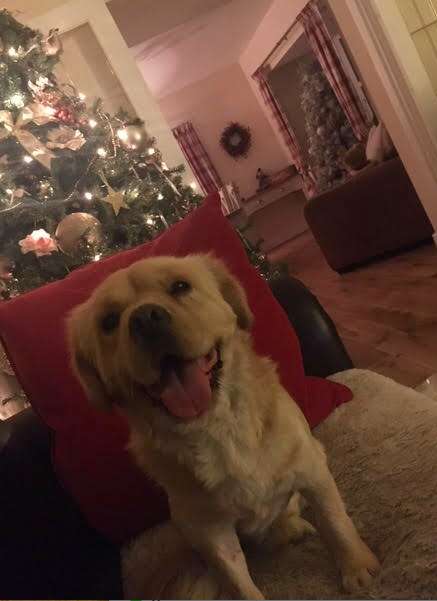 "He had a wonderful first Christmas with lots of presents and his first Christmas dinner," Jones said. "He is an absolute joy and has made our house a home."