Dog Trapped On Mountain Cliff Was So Happy To See Rescuers
"I was right there, and it was very emotional. Everybody was happy. There was a round of applause."
Holly is a dog who was rescued not just once — but twice.
The first time it happened, Holly was an 8-week-old puppy living with her siblings on the streets of Cape Town, South Africa. A concerned citizen had collected the stray puppies in a bucket and delivered them to a shelter run by Domestic Animal Rescue Group (DARG). They stayed there until they found forever homes.
The second time Holly was rescued was a bit more dramatic, and definitely hair-raising. On New Year's Day, Michelle Hoch and Josh Hayman, who'd adopted Holly over a year ago, took Holly on a hike on Lion's Head, a popular mountain in Cape Town.
​​​​​​​
Holly often went hiking with her owners, so this wasn't anything new to her. But a few hours into the hike, everything went wrong.
Holly caught sight of a few dassies, large African rodents who live on the mountains in Cape Town, and she bolted toward them. The clip that held the leash to Holly's collar snapped, and Hoch and Hayman lost control of her.
"They said their recall with her is pretty good, but she never responded," Nicole Nel, a dog behaviorist and general manager for DARG, told The Dodo. "They kept calling, kept calling, but they couldn't hear her. She was gone."
Hoch and Hayman immediately started to search for Holly. "They asked people walking past on the trail, 'Have you seen a little black dog? She's got white socks,'" Nel said. "But everybody was like, 'No, I haven't seen her.'"
They kept at it. Hayman got his drone camera, and used it to scan the area from above. But they still couldn't find her.
"They then put a call into DARG and I took that call," Nel said. "And the owner, Michelle, said, 'Help, help — I don't know what to do. Holly's gone missing on Lion's Head.' I know Holly really well, so I put down the phone and went to go help."
Nine hours went by, but there was still no sign of Holly. They feared the worst.
"The area where she went missing — there's a path and slope of grass, and then there's a drop," Nel said. "It's about a 200- to 300-meter [656- to 985-foot] drop."
If Holly was still alive, Nel couldn't understand why they couldn't find her — it would have been hard for Holly to leave that specific area of mountain without being carried down a ladder.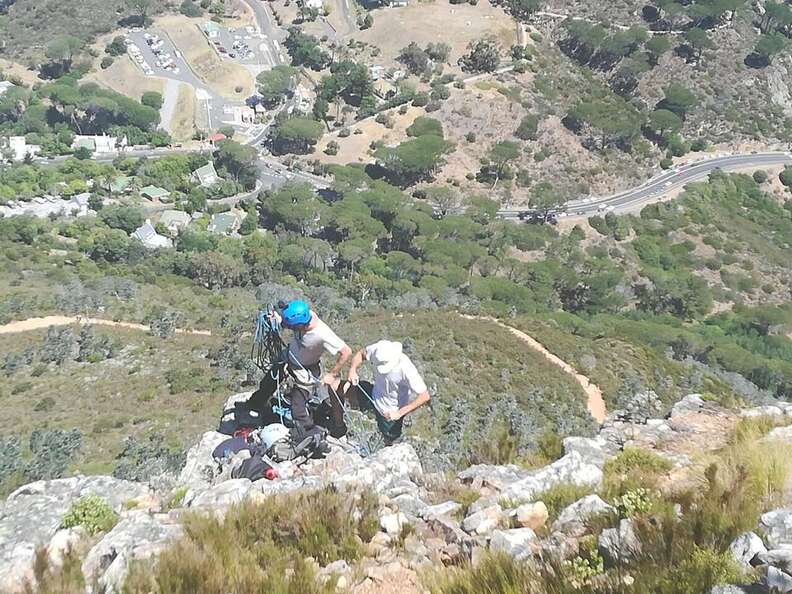 "It was just very strange that she was nowhere to be seen in that specific part of the mountain," Nel said. "And it was New Year's Day — it was very busy."
Evening neared, but the team still didn't give up. They searched for Holly until the sun set, and then they got busy putting up posters in the area.
"They [Holly's owners] were very emotional," Nel said. "They must have been absolutely devastated."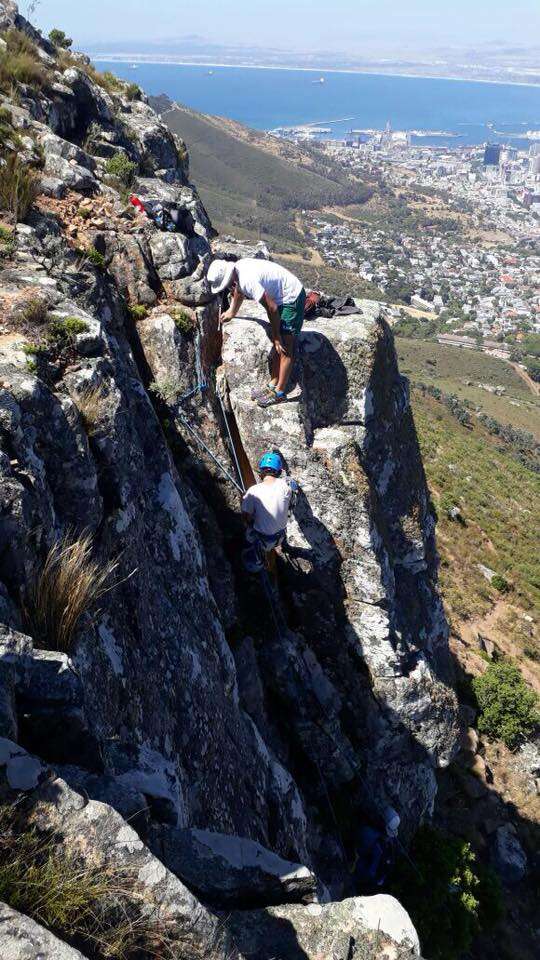 The next morning, everyone continued their search for Holly. This time, they had extra help — rangers from South African National Parks (SANParks) joined in, as well as a couple of professional rock climbers.
Hoch and Hayman kept searching too — they climbed all around the area where Holly had disappeared. Then, around 10 o'clock that morning, they finally got lucky.
"They took her favorite toy, which is a squeaky toy, and then they suddenly heard this crying," Nel said. "And they looked up and they saw her little head 150 meters above them."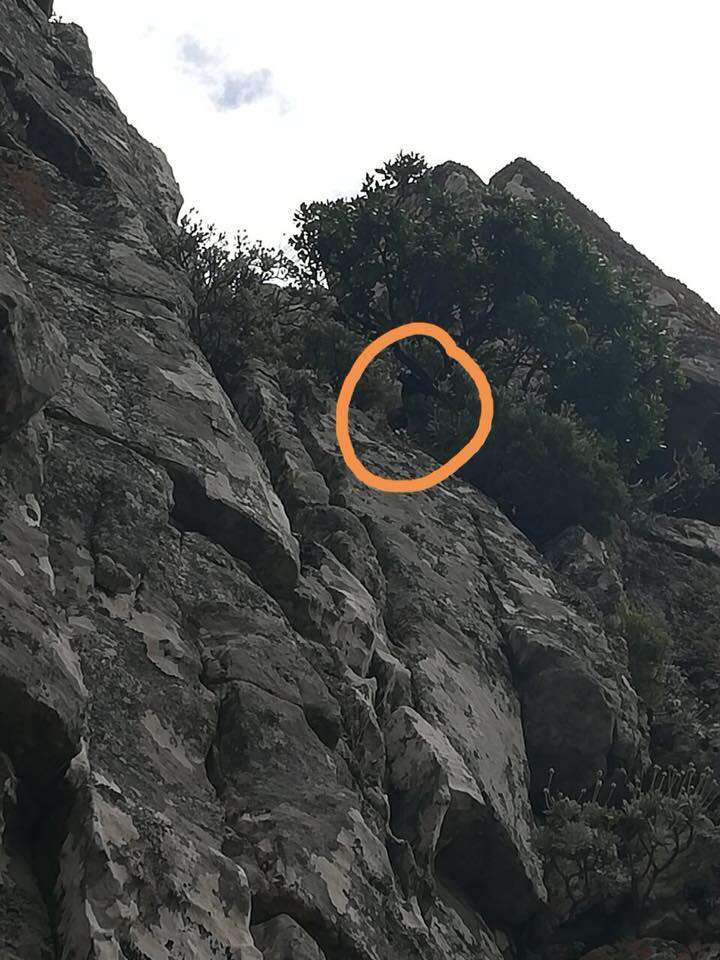 But getting Holly was going to be difficult.
"She was stuck on a ledge that was very difficult to access from above, and even more difficult to access from below," Nel said. "On that rock surface, there was a little piece of rock jutting out and there was a bush, and she had somehow landed on that."
Since the terrain was so treacherous, the professional rock climbers had to be the ones to rescue Holly. "They went down and secured her in a harness to lower her down to the bottom," Nel said.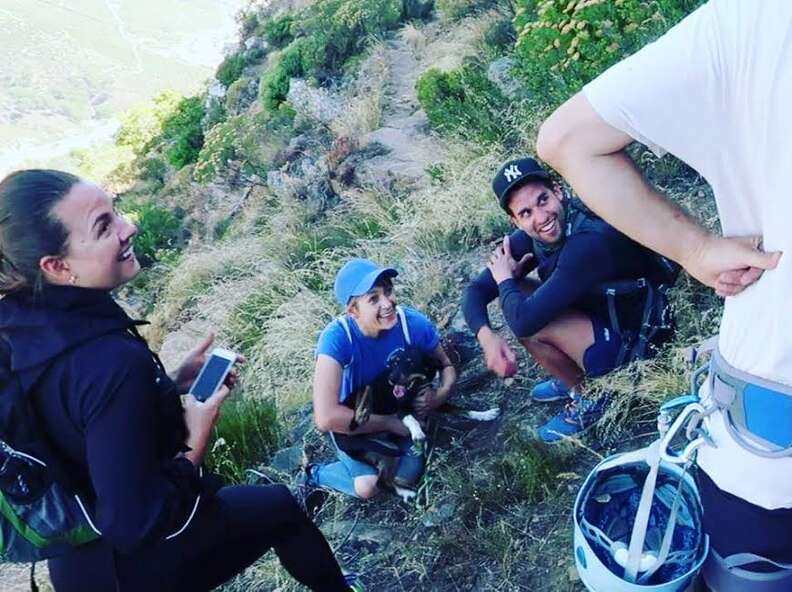 When they came back with Holly in their arms, everyone was incredibly relieved, especially Holly herself.
"I was right there, and it was very emotional," Nel said. "Lots of relief. Everybody was happy. There was a round of applause."
Holly appeared unscathed, but Hoch and Hayman immediately took her to the vet for a checkup. She was also very thirsty. "She drank about three bowls of water, and in the car she drank another bowl of water," Nel said. "So she was very dehydrated."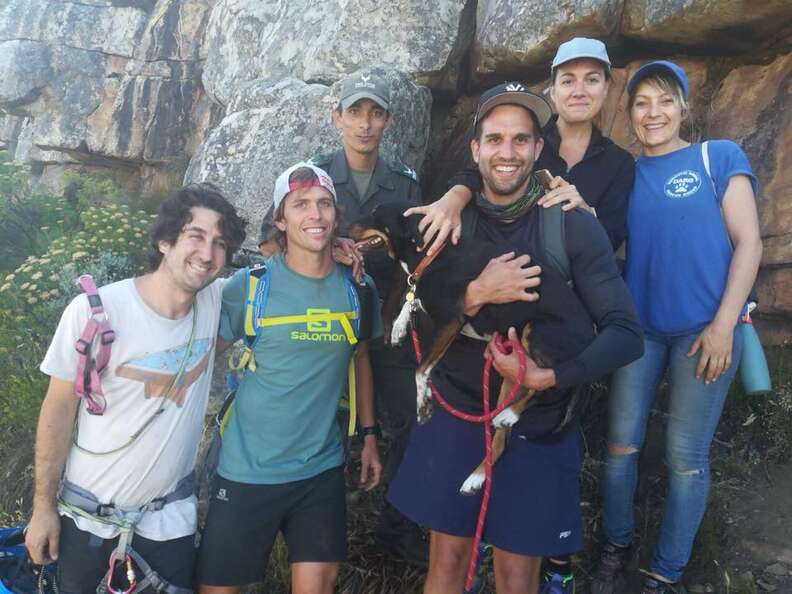 And when Holly got back home, she immediately fell asleep.
"She passed out and started to snore, and stayed asleep until late morning the next day," Nel said. "And she's been sleeping ever since. She was very relieved to be home. She's a dear little dog."