A couple from St. Louis was warming up from the frigid temperatures by touring Kentucky's bourbon distilleries when they first spotted something moving in a trash pile on the side of an otherwise empty road near the Maker's Mark factory.
"We thought he may belong to a family on one of the nearby farms and has just escaped his fence," Katharine Kulka told Kentucky Humane Society (KHS), which is why, when they spotted him the first time, they were reticent to intervene.
But the temperatures were in the teens, and during their stop at the distillery, they couldn't stop thinking about him — so they went back because they knew they had to help.
"He looked so lonely and cold curled up on the bag of trash," Katharine said. The dog was obviously trying to get warm by lying on the black bag in the sun.
As the couple approached him, it was clear this dog was desperate for contact. "As soon as we reached out our hands for him to sniff, he got up off his trash bag bed and approached us," Katharine said. "Despite looking timid, as soon as we petted his head, his tail started to wag! He was super sweet, and wanted to cuddle right on our laps."
The dog was obviously very cold and his ribs were visible — who knows how long it had been since his last real meal. So the couple put a blanket down in the back seat of their car and brought the dog with them.
"He was very lethargic the first 20 minutes or so, but as he started to warm up, the heat seemed to invigorate him," Katharine said. "He sat up, looking out the windows."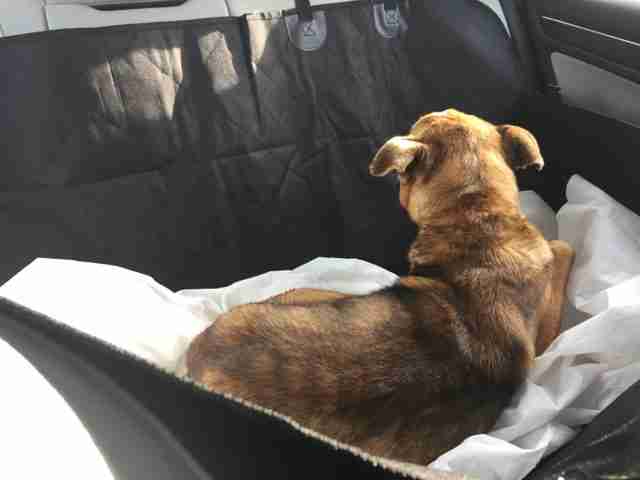 Even though it was the Sunday before the Martin Luther King, Jr. holiday, they were relieved to find that KHS was open. As the dog, whom they named Whiskey, arrived there, it was clear this was a totally new beginning for the poor pup.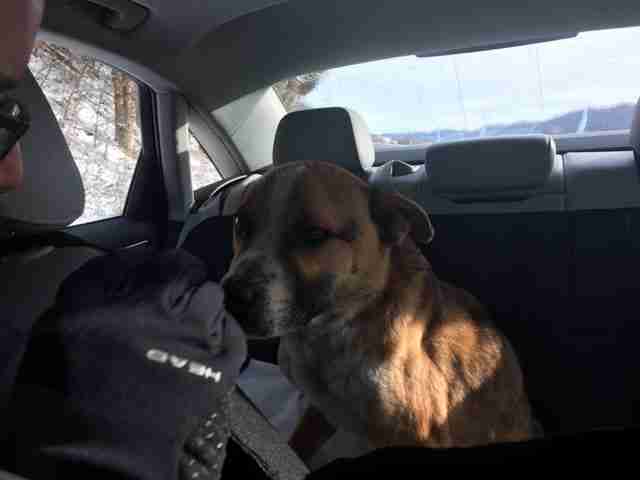 "We don't know if Whiskey was abandoned or was a stray," Andrea Blair, PR & marketing director for KHS, told The Dodo. "He was found on a cold day with temperatures in the teens and the wind chill in the single digits. He was not microchipped, not neutered, no tags and no collar."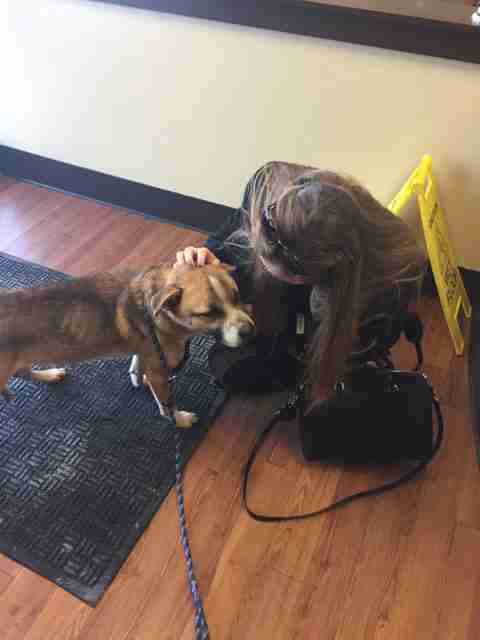 And as it would turn out, Whiskey wouldn't have to wait in the shelter for very long before a family recognized him as a perfect addition to their home.
This week, after just nine days at the shelter, where he was fed nutritious puppy food so he could gain his strength, Whiskey got to go home.
A family with four boys happily embraced Whiskey as their new dog — and his joy is obvious.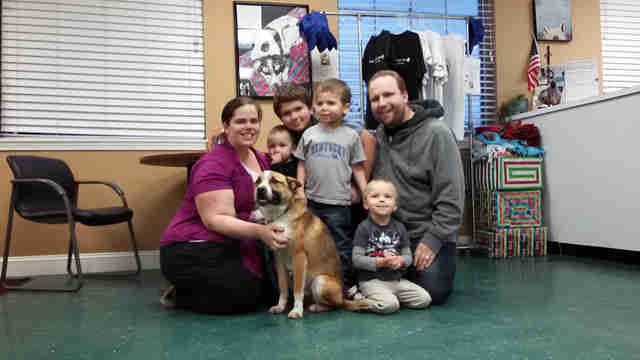 Now the snow-covered outdoors isn't a place where he has to struggle to survive but a landscape he can look at out the window of his forever home, with the boys he'll watch grow up.
"He will never be left out in the cold or go hungry again," KHS said.