Dog Who Was Given Cocaine By Kids Gets The Best New Life
She loves her new siblings so much — and even got to play ball for the very first time ❤️ 💪
Lying motionless on the sidewalk in front of a known drug house, Suzi was barely conscious.
Onlookers told animal control officers that they believed that neighborhood kids had injected the dog with drugs, and a drug test confirmed their suspicion.
Both cocaine and THC were found in her system.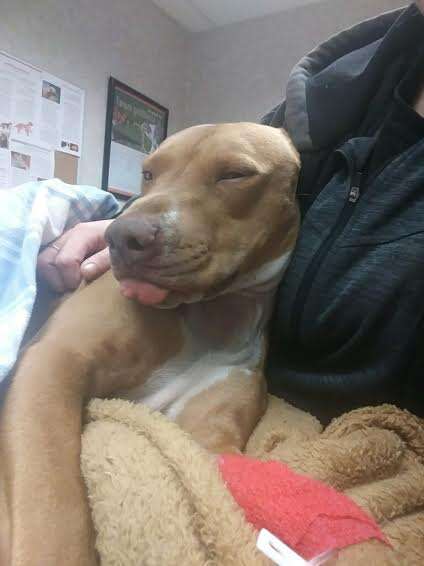 Suzi was rushed to Faithful Friends Animal Society, where the veterinary team immediately hooked her up to IV fluids in an effort to flush the drugs out of her system. They determined she was most likely only a year old.
"When she first arrived, she was unable to walk, stand, eat or drink," Kevin Rentz, marketing manager for Faithful Friends Animal Society, told The Dodo. "Our vets had never seen a mistreatment dealing with narcotics like this. It was heartbreaking."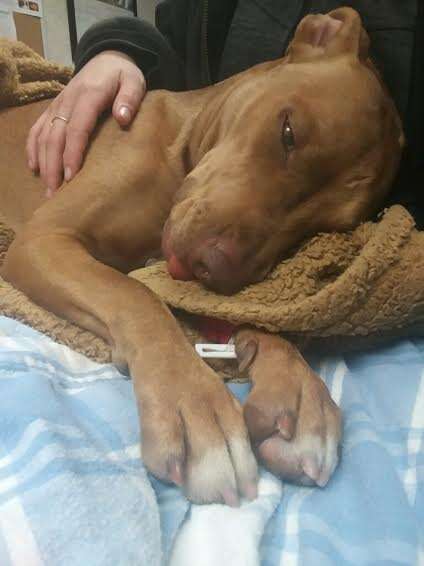 For the next two days, Suzi continued on a steady stream of fluids to help flush the drugs out, while vets kept her comfortable inside her crate.
"She could barely hold her head up and was barely responsive," Rentz said. "You could tell she did not know what was going on."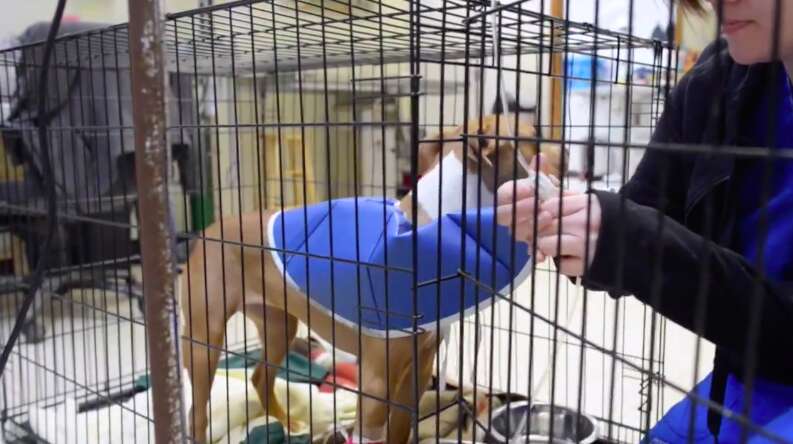 Luckily, after just over two days of around-the-clock care, Suzi rounded the corner of her recovery — and captivated the vet team with her sweet personality in the process.
"She stole the hearts of all the vets and techs here," Rentz said. "Once the drugs had started leaving her system, you could see her personality perk up."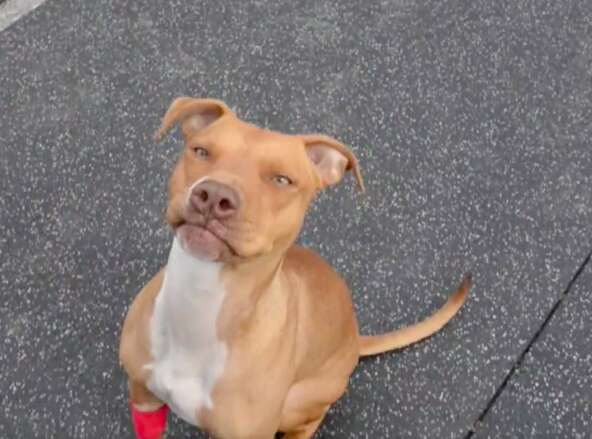 After a few more days, Suzi was running outside and playing with toys. She was so excited about it that the staff thinks it's likely she's never had them before.
"She wouldn't let her ball out of her sight," Rentz said.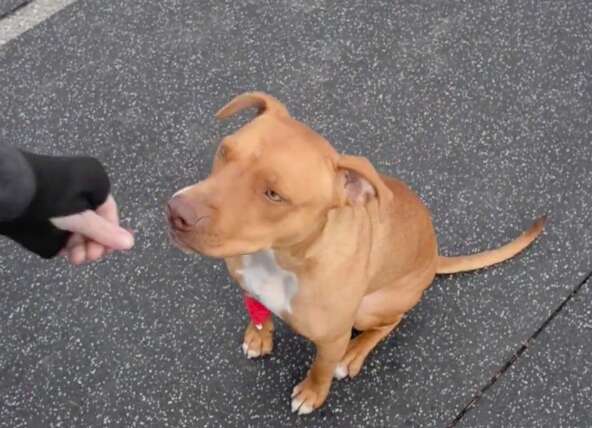 Because of the shocking nature of her rescue, Suzi became the star of nightly news shows across Delaware — which helped her meet a very special family in the process.
Aida Alicea heard about Suzi on the news and rushed her family to the shelter to meet the dog.
"We were devastated to hear that someone, especially kids, would do something so cruel," Rosa Alicea, Aida's daughter, told The Dodo. "When we saw her for the first time, she was laying in the shelter cage and she just looked up at us. She was so calm, never barked, not fazed by all the barking around her."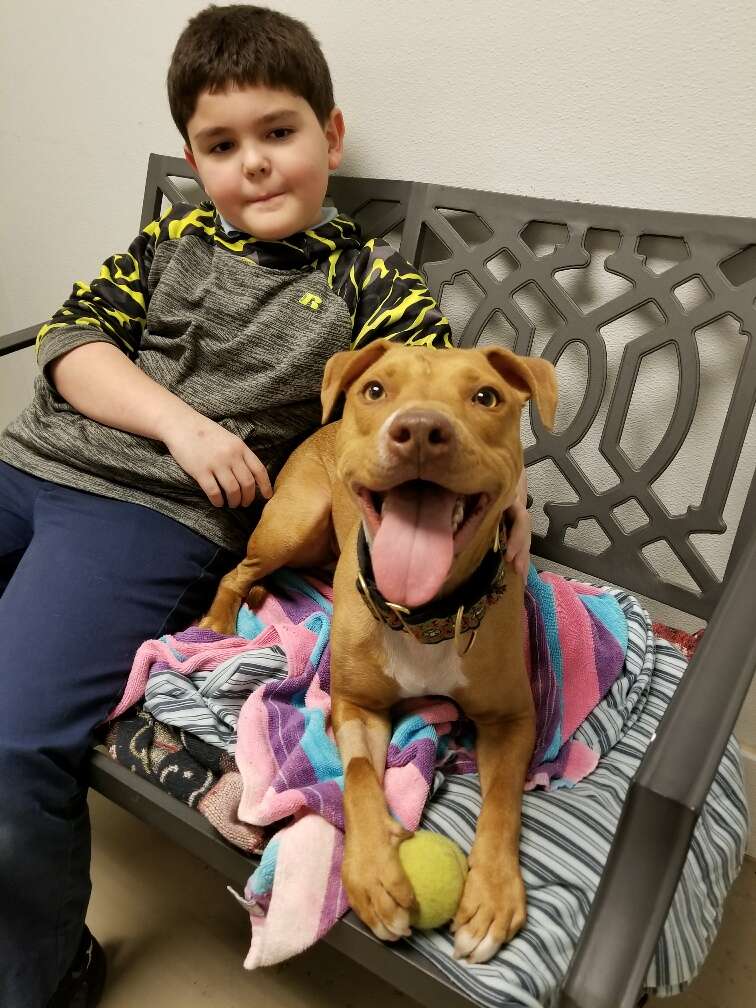 Suzi, of course, was more than ready to put those scary past few days behind her. During their visit, she snuggled up on a bench next to Rosa's son, Jonathan, and couldn't stop smiling.
Needless to say, the family fell in love — and they couldn't help but notice how fate seemed to play a role in them meeting her.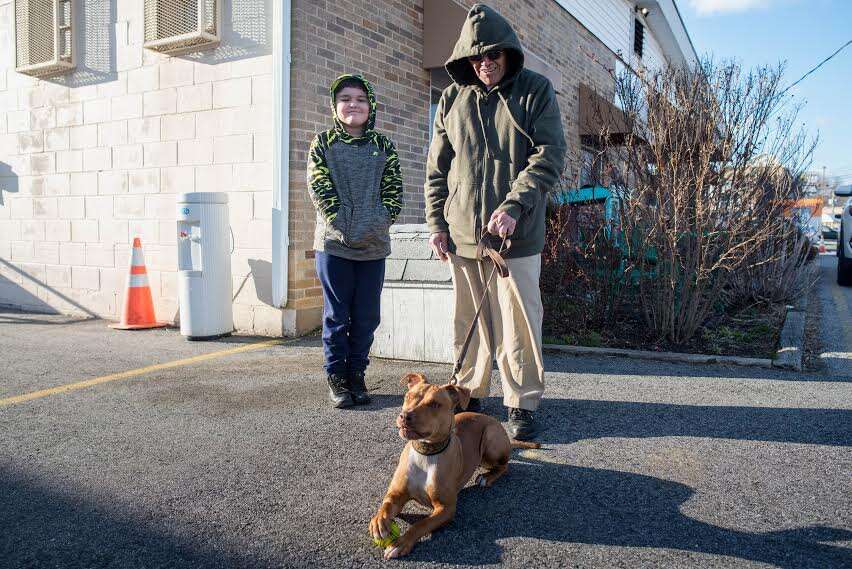 "Our family dog growing up was also named Suzi, and she was the same color," Rosa said. "I knew she was meant to be."
As if surviving the abuse wasn't enough of a sign of her luck, Suzi was also officially adopted on Saint Patrick's Day. Now completely healthy, the only sign left of the scary ordeal is a tiny shaved spot on her front leg from the IV.
"She is adjusting really well," Rosa added. "She is so well-mannered and gentle."
When she isn't cuddled up with a ball in her mouth or hanging out with her new dad, she's running around in the backyard and rolling in the grass — just like any dog should be.