Hilarious Viral Video Shows Random Little Dog Living Like A Queen
"I was chilling at the bus stop, and out of nowhere I come across this scene" 😂
It's this pup's world. We're all just living in it.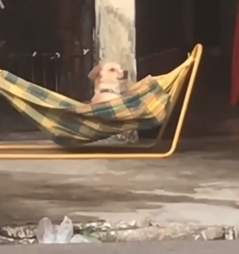 Fortaleza Ordinária
The other day, the queenly dog was spotted by one of her billions of subjects — a stranger, probably heading to work or school.
"I was chilling at the bus stop, and out of nowhere I come across this scene," the unnamed commuter told Fortaleza Ordinaria, a publication in Brazil, where the scene unfolded.
Here's what that person saw:
That rare sighting of canine royalty, lounging in her little hammock graciously among the commoners, has certainly struck a chord. The clip has garnered over 3 million views, within just hours of being posted — proof of the pup's lofty place in the hearts of her adoring subjects.
Fortaleza Ordinaria has since tracked down the dog, discovering her name is Mary.
Here she is again, with her hammock: