Everyone's Sharing Pics Of Dogs When They Were Babies And All Grown Up
From pupper to doggo 😍
The special relationship between a rescued pit bull pup and her best friend, a tiny Brussels griffon, has made quite the impression this week when they started a viral Twitter trend.
And the two pups couldn't be more different.
Ally Stone
Meeka was rescued from a Los Angeles shelter when she was a mere 7 weeks old. Now in a loving home with a new pal to play with, the pit bull is growing stronger each day and, just shy of 4 months old, she already dwarfs her furry companion, a Brussels griffon named Lilo.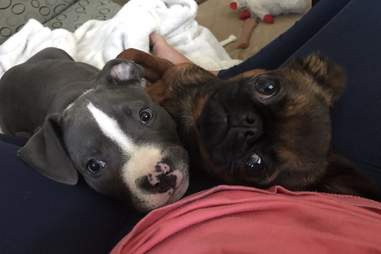 Ally Stone
The two best buds have distinct personalities, but, thankfully, they have no problem getting along while their mom, Ally Stone, a student at the University of California, Santa Barbara, is in class. Lilo loves being the center of attention and she has no trouble getting noticed with her big brown eyes and perpetual frown. She is often stopped on the street by strangers wanting a photo. "Lilo is a character," Stone tells The Dodo. "Brussels are known as velcro dogs; she's attached to me all the time."
Meeka, on the other hand, just wants to spend her time playing with her new pal. "Meeka is a sweetheart. She's only 15 weeks old and she's incredibly smart," Stone says. "She loves to play with Lilo and chases her around the house all day." Meeka is predicted to be nearly 90 pounds when she reaches adulthood — quite the opposite of Lilo, who is full-grown at a whopping 7 pounds.
Meeka's sudden growth spurt inspired Ally to reach out to fellow dog lovers on Twitter to see if anyone had similar experiences. "I decided that it would be cute to see if any followers had pictures of their dogs growing up or their rescued/sick dogs becoming healthy and loved," Stone says. Stone asked her followers for transformations of their pets "from pupper to doggo" and posted adorable shots of Lilo and Meeka to kick things off; the response was overwhelming.
In a matter of hours, pictures of puppies transforming into fully grown dogs filled her Twitter feed, and the awe-worthy thread has since gone viral with over 1,800 replies and 3,000 "likes" to date.
Dog owners on Twitter were all too happy to share their own moving rescue stories and adorable pics of doggy best friends growing up together.
Ally wasn't surprised by the massive reaction her post received on Twitter, considering how special these moments are to pet owners. "I think it received such a large reaction because people so genuinely love their pets like family," Stone says. "I love my dogs to death and couldn't imagine my life without them."
Meeka and Lilo remain unfazed by their newfound internet fame, happy to continue to grow together and play together each day.