Dog From Viral Cart-Pulling Video Is Finally Safe
She's so happy in her new home <span class="emoji-outer emoji-sizer"><span class="emoji-inner" style="background: url(chrome-extension://immhpnclomdloikkpcefncmfgjbkojmh/emoji-data/sheet_apple_64.png);background-position:2.0833333333333335% 70.83333333333334%;background-size:4900%" data-codepoints="2665"></span></span>
In an upsetting video, a man beats a tiny dog with a whip, forcing the dog to pull her in a cart across a busy city street. When the terrified dog flattens to the ground, the man beats her again to make her keep moving.
When this video went viral earlier this year, it sparked outrage in the animal-loving community — so much so that a few individuals decided to do something about it, and found a way to rescue the dog.
After watching the video several times, team members from PETA Asia identified the chain store in the background, and they contacted the headquarters.
"Within an hour, we heard back about the specific location," a PETA Asia researcher, who asked to be identified as "Miss Guo," told The Dodo. "It was amazing, really. We then rushed to that particular branch. At the scene, we asked a guy if he knew the man and where we could find him, and he suggested the area where the man lived. When we got close, someone took us to his apartment."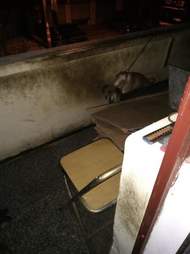 Rescuers found the dogs chained outside on the man's balcony without food or water

| PETA Asia
When Guo and a few colleagues knocked on the man's door, no one answered. But they didn't give up — they kept knocking and waiting. They also spoke to neighbors, who told them that the man didn't just have one dog, but two.
Guo and the others decided that they weren't going to leave without the dogs — but they were anxious as they waited to confront the man.
"We were a few floors up in a random building in an unfamiliar area, waiting for a man we knew beats the hell out of dogs, so we had no idea what would happen or how he would react when we confronted him," Guo said. "We were terrified."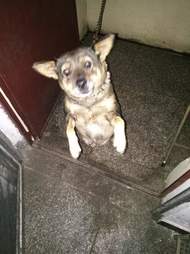 The dog from the video, whom rescuers found chained on a balcony

| PETA Asia
Finally, the man opened the door.
"We nicely explained that a video showing him beating his dog was being watched all over the world and that he should be ashamed," Guo said.
When Guo and her team asked for custody of the two dogs, he initially refused. But they refused to give up — they asked again. "Finally, he relented and gave them to us," Guo said.
The dogs being driven to safety after being rescued

| PETA Asia
They found the two dogs chained up on a balcony without access to food or water. The rescue team got them out of there as quickly as possible, putting them into a car and driving them to a secure location.
"They were calm, and we did everything that we could to comfort them," Guo said.
The team also gave the dogs new names — they called the dog from the video Sugar, and the other dog Bean.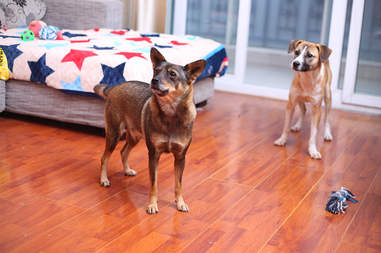 Sugar and Bean after being rescued

| PETA Asia
The morning after their rescue, the dogs went for a stroll outside. "This was their first walk as free dogs, and they really enjoyed exploring and smelling new scents," Guo said.
After that, they went to the vet for a check-up, and then went into foster care, where they were showered with love.
"They were wary at first, and still in the early stages of learning things, like how to trust humans, walk on leashes, and believe that they would have food to eat when they were hungry," Guo said. "We saw a lot of changes in the first two weeks."
Sugar getting lots of love after being rescued

| PETA Asia
Soon, Sugar and Bean found the perfect forever homes.
"Both Sugar and Bean seem very happy in their homes," Guo said. "They love to sleep indoors on beds, go for walks outside, play and cuddle. They are unconditionally loved by their guardians. I am overjoyed that they have a new lease on life and will never experience abuse ever again."
While Sugar and Bean got a very happy ending, there are many more animals like them who still need help.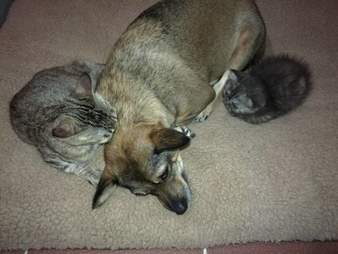 Sugar cuddling with her two new cat siblings at her forever home

| PETA Asia
"This is the first time that we've seen someone force a dog to cart them around the streets of China, but we're not convinced that it will be the last," Jason Baker, vice president of PETA Asia, told The Dodo, explaining that the country's lack of animal cruelty laws means abuse is widespread. "We see all sorts of craziness in China and across Asia. This case is yet another reason why China needs to implement basic animal welfare standards."
Yet Baker explained that public sentiments are changing, and that many people in China are starting to fight for kindness toward animals.
PETA Asia
"Someone filmed the video of this because they know that animal abuse is wrong," Baker said. "Representatives of the company in the background of the video told us the location because they know it's wrong. Neighbors told us where the man lived because they know it's wrong. We are constantly receiving video of cases in which people are trying to get animals out of bad situations or trying to get the government or individuals to put a stop to animal abuse."
To help rescue more dogs in China, and to support PETA Asia's animal cruelty investigations, you can
make a donation
.