Dog Insists On Petting All The Pups At Her Doggy Day Care
"[They] just let it happen" 😂
Ruby and her brother Miles are regulars at The Den Doggy Daycare in Burlington, Ontario. There, the German shorthaired pointer is anything but laid-back when it comes to making friends.
Every time Ruby is around other dogs she shows her love the best way she knows how — by giving her fellow pups the pets they deserve.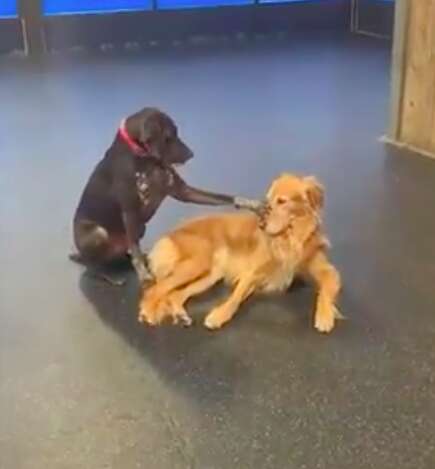 Alanah Lorraine, who brings her dog Lexy to day care, first noticed Ruby's unusual behavior a few months ago. "She does it every time she is in," Lorraine told The Dodo. "We think she wants attention!"
When Ruby is at day care, she refuses to keep her paws to herself. Her dog friends often seem confused by her gentle strokes, but they put up with them anyway. They seem to know that's just Ruby's way of saying, "Hi."
"Most dogs aren't bothered by it and just let it happen," Lorraine said.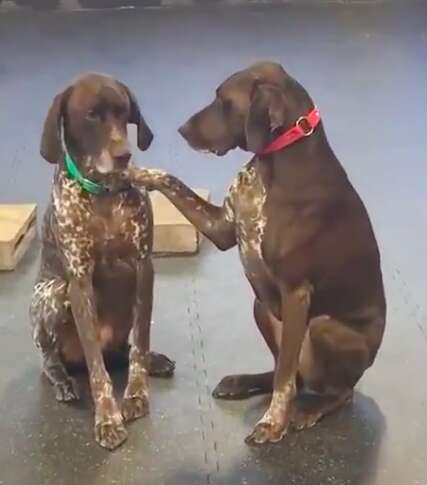 Lorraine began filming Ruby's pawing anytime she caught her in the act and recently decided to compile the clips together. She posted the video on TikTok, where it got thousands of likes.
"I thought it would be adorable," Lorraine said, "but I never imagined it would go viral."
Pawing at other dogs is typically a way of showing submission or instigating playtime, but Ruby seems to just be interested in giving the pups a little scratch on their heads or backs.
You can watch the adorable video here:
Now, Ruby is getting the attention she craves, and people are returning the favor by giving the good girl all the pets she deserves.