Dog Went Missing While Her Dad Rescued Hurricane Victims — And This Woman Just Found Her
"She had a huge smile on her face. She kept wagging her tail, she was so happy."
Chelsea Kasper was driving through the Sam Houston National Forest, 50 miles north of Houston, shortly after Hurricane Harvey hit Texas, when something caught her eye.
"I thought I saw an animal in a creek in the forest. I did a double take. It was a dog," Kasper told The Dodo. "I stopped in the middle of the road to look closer. She was by herself. I was worried. I said, 'Puppy, come here,' and she ran right over. She was so excited. She was jumping on me and licking me."
Chelsea Kasper
Kasper waited a bit and no one came calling or looking for the dog. So she loaded the giant-sized pooch into the front of her two-seater sports car. Now she had a mystery to solve: Who owned this dog?
Chelsea Kasper
The dog had no tags on her collar. "But she was so friendly and well-behaved, she had to have an owner," Kasper said.
Kasper was on her way home to Fort Worth, about four hours away from Houston, but she pulled over and started making phone calls.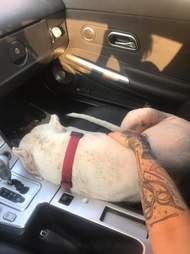 Chelsea Kasper
"I called two vets, several shelters and the 211 Houston hotline — no one could help me or take her," Kasper said. "All the shelters were overwhelmed with dogs displaced by the floods."
Next, Kasper took the dog to a drive-thru restaurant and bought her a hamburger and fries. As the duo ate in the parking lot, Kasper debated what to do.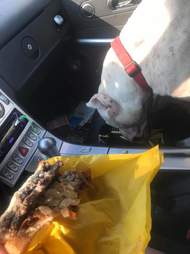 Chelsea Kasper
Kasper had to get back home, and hated the thought of driving the dog further away from her potential owner, but there was nowhere to safely leave her in Houston. So off to Fort Worth the pair went.
When Kasper arrived, she had the dog checked for a microchip. She didn't have one, so Kasper's social media campaign to find the dog's owner began.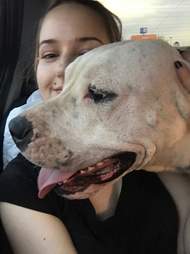 Chelsea Kasper
Kasper posted pictures of the dog to her Facebook page, along with information about where she was found. Kasper described her as a "big pit bull," and asked people to share the post. People who wanted to help dogs in Texas after the hurricane shared it thousands of times. "It's really something, I was shocked. The post went crazy," Kasper said.
A day after Kasper made the post, a friend called to tell her it may have worked. "Everyone was commenting. My Facebook was going crazy," Kasper said. "I had no idea someone posted and said that was their dog."
That someone was Trish Cranney. She and her family live just outside Cleveland, Texas, right next to the Sam Houston National Forest, where Kasper found the lost dog. So, Kasper got in touch with Trish's husband, Ricky Cranney.
The day his dog disappeared, Ricky Cranney was out in his boat rescuing people from flooded homes in the Beaumont area. He left his dog at home, didn't know how she got out and the Cranney family had been looking for her for days.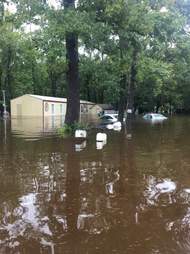 Ricky Cranney
He was distraught when he returned home and his dog was gone. "I was assisting people in bad shape," Ricky Cranney told The Dodo. "I had the means to be able to help, and while I was out helping, my dog got out."
Once the Cranneys saw that their dog was safe with Kasper, they could start celebrating. "My wife, Trish, came screaming into me yelling, 'They've got our dog, they've got our dog,'" Cranney said.
But Kasper wanted to make sure the Cranneys were the real deal. She asked for photos of the family with the dog. "[Ricky] sent me a picture with her wearing the collar I found her wearing," Kasper said. "Then he told me her name was Angel. I called out to her saying, 'Angel,' and she went crazy!"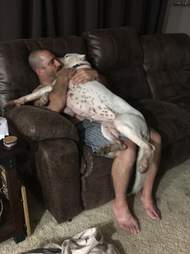 Ricky Cranney
Cranney then offered to drive up to Fort Worth the next day to meet Kasper and Angel.
And when that moment finally happened, there was no doubt left in Kasper's mind about where Angel belonged. She recorded their joyous meeting and posted the video on Facebook so everyone could see the happy ending.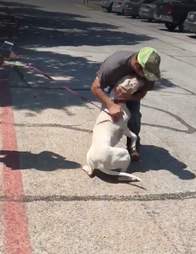 Angel reuniting with her dad, Ricky Cranney

| Facebook/Chelsea Kasper
"She had a huge smile on her face," Kasper said. "She kept wagging her tail. She was so happy."
Cranney said it was the best moment to see her again. "I'm very happy," he said. "This dog is like one of our kids."
Ricky Cranney
As it turns out, Angel is not a pit bull at all, but a Dogo Argentino, also known as an Argentine mastiff. "She weighs about 80 pounds," Cranney said. "We got her when she was 6 months old. She is my baby."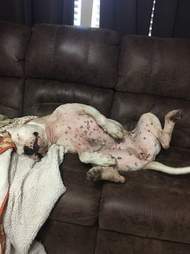 Ricky Cranney
Kasper couldn't believe the mystery was solved within a matter of days and is thrilled that Angel is now back with her family. "It's insane!" Kasper said. "I didn't think we'd find her owners! Facebook, and all the people who shared the post, totally saved the day."