Dog Is Still Obsessed With The First Toy She Ever Got
Her family gave it to her right after she was rescued.
Luna is obsessed with hedgehog toys. Big ones, small ones, old ones, new ones — the 1-year-old pit bull mix loves them all.
"We couldn't really figure out 'why hedgehogs,'" Alexa Ferguson, Luna's mom, told The Dodo. "She has a variety of different sizes and colors, but I'd say she's probably got like 10 hedgehogs."
Before Luna became the proud owner of 10 hedgehog toys, she was a stray, wandering around the streets of San Bernardino, California.
"[Animal control] found her roaming the streets alone," Ferguson said. "She was really skinny, and they felt that maybe someone wasn't treating her right and just let her go. She was ... taken to one of the kill shelters in San Bernardino. They waited to see if someone claimed her or adopted her … but no one wanted her, so she was put on the euthanasia list."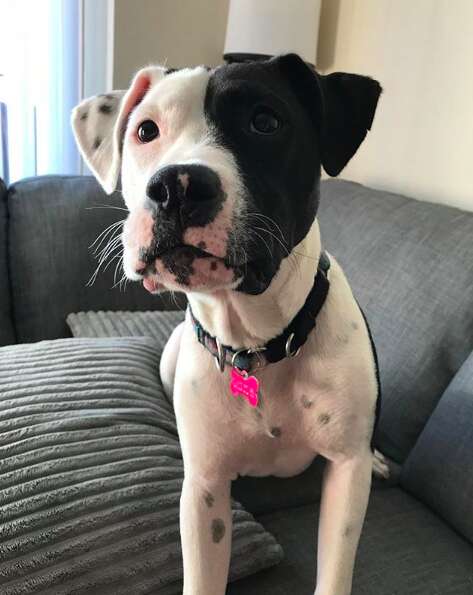 Thankfully, a Canadian rescue group, RainCoast Dog Rescue Society, got her out of the shelter and set her up with a foster family in Vancouver, Canada. Then in June 2017, Ferguson and her fiancé, who live in Victoria, Canada, agreed to foster Luna with the possibility of adopting her.
"We had been wanting a dog for a very long time," Ferguson said. "We saw a picture of her and were like, 'Yeah, she's pretty cute.'"
Luna did have some "quirks," Ferguson and her fiancé noticed.
"We have a feeling that whoever she did live with before … probably kept her in a crate for most of the time," Ferguson said. "Her paws were so fresh — it was like she'd never walked on pavement before, and after going for a couple of walks, her paws started to bleed — they were so tender."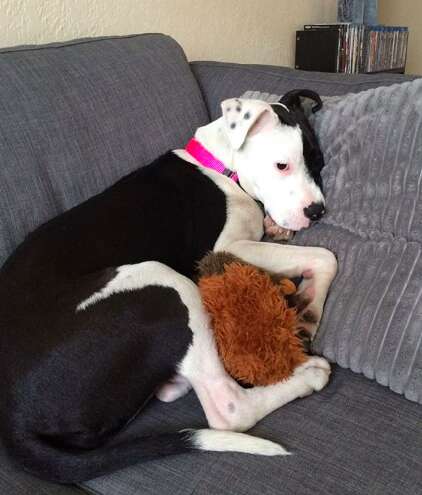 In general, Luna didn't seem to like the outdoors — at least, not at first.
"We live right across from the ocean, and we took her down there when we got her, and she was absolutely terrified of the ocean," Ferguson said. "Living in [British Columbia], we also have beautiful forests and we take her for hikes. Again, she's terrified. So I think all of that is very new to her."
Then Ferguson and her fiancé bought Luna her first stuffed hedgehog.
"Maybe she never had other toys ... but she was obsessed with it from the beginning," Ferguson said. "We got her other toys, but she didn't care about them — just the hedgehog."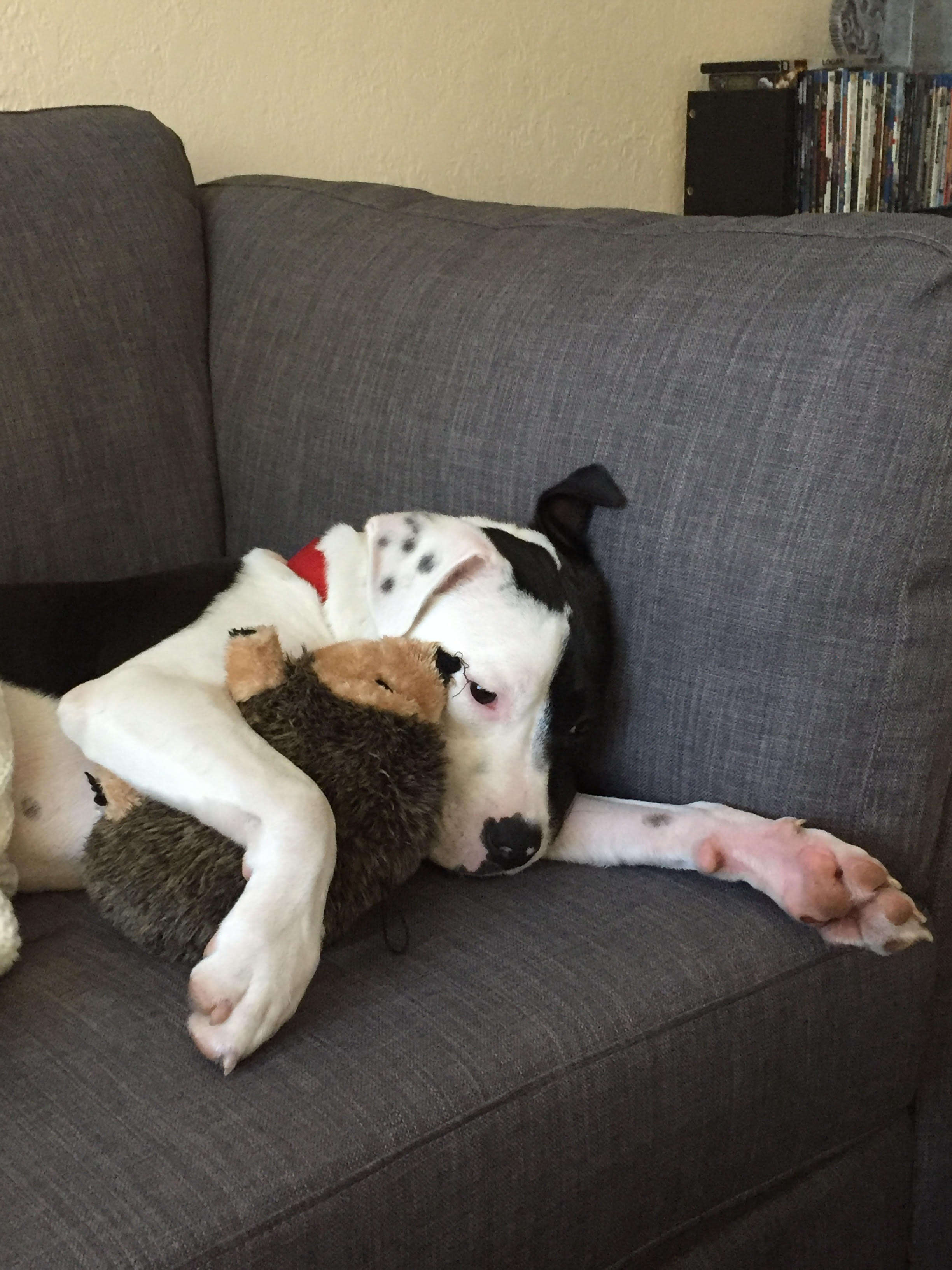 Luna played a bit with her hedgehog, but she mainly wanted to cuddle with it, Ferguson explained.
"She's very lazy, and has always been very sleepy from the day that we got her … and she'd climb up on the couch with her hedgehog and fall asleep," Ferguson said.
While Luna fell in love with her hedgehog toy, Ferguson and her fiancé fell in love with Luna — and they officially adopted her, forming a family of three.
"I can't imagine if we had passed on her and said, 'No, we want to wait for a different dog,'" Ferguson said. "I can't even imagine."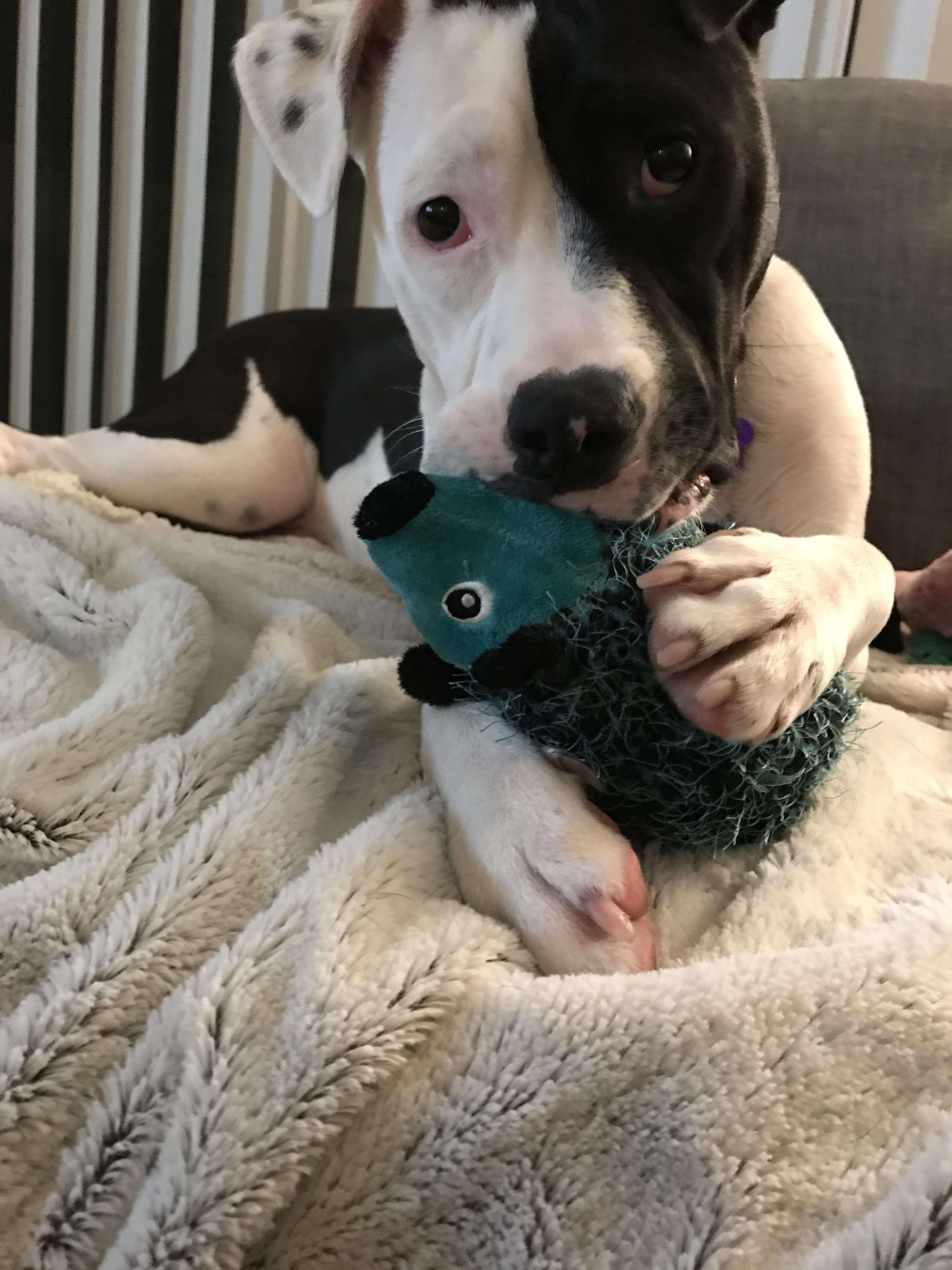 Luna eventually grew to love the outdoors, and she now takes frequent trips to the beach and forest, and enjoys playdates with other dogs. But nothing has changed for Luna when it comes to hedgehogs. She doesn't only like the original hedgehog toy — Luna adores every new one her parents buy for her.
"We subscribe to BarkBox, and so we have tons and tons of toys," Ferguson said. "She destroys the other ones, but not the hedgehogs. It puzzles me so much."
"She loves to sit out in the sundeck in the sun ... and she brings them out there and sucks on them and falls asleep with them," Ferguson added. "She has pretty bad separation anxiety, and she has this habit of bringing toys to the door while we're gone. So we come home, and there's just a pile of toys at the front door. And there's always hedgehogs."
"We just don't know why she loves them, but my best guess is that it's some sort of comfort for her," Ferguson added. "The first toy that she had was some kind of representation of safety for her, but just the fact that she carries it around with her and takes it outside, falls asleep with it — it's adorable."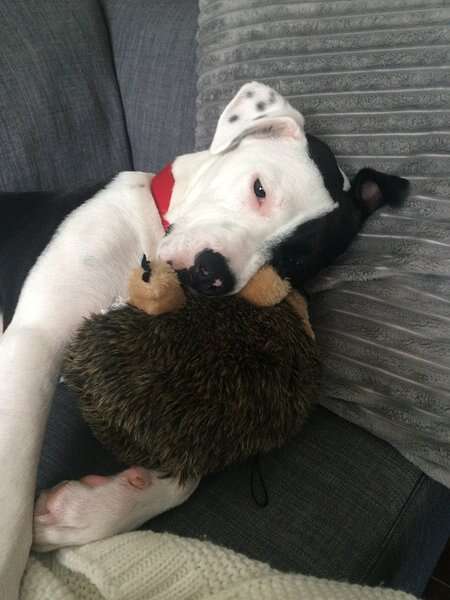 Whatever the reason is for Luna's obsession, Ferguson and her fiancé think they're the luckiest people in the world for having Luna in their lives. Hedgehogs included.
"I've never had a dog that appreciates things so much," Ferguson said. "She's just so expressive, so thankful and she has such a personality. She's just the happiest dog."
To see more photos of Luna and her hedgehog collection, you can follow her
Instagram account
.