Mom Dog Tries To Hide Her Baby In Crowded Shelter
"They were very, very, very frightened, especially the baby. They just needed help."
In an overcrowded shelter located in the southernmost tip of South Texas, a mother dog tried desperately to shield her only baby.
Both dogs quivered in front of the woman holding the cell phone camera, and the baby kept hiding her face between her mom's leg and the cinder block wall of their kennel.
The frightened dogs' time was running out, and the volunteer capturing their nervous reactions knew that they wouldn't make it out alive if somebody didn't step forward to foster or adopt the bonded pair.
Rescue Dogs Rock, a foster-based rescue in New York City, shared the heartbreaking video on Facebook accompanied by a plea for help.
"Momma Sadie doesn't know what to do," Rescue Dogs Rock wrote on Facebook. "She doesn't know how to help her baby, Benzy. She knows they are both in danger at the kill shelter they were abandoned in and baby Benzy is so petrified she hides behind her Momma, hoping she can protect her, like all moms try to do for their children."
"They were very, very, very frightened, especially the baby," Stacey Silverstein, cofounder of Rescue Dogs Rock, told The Dodo. "They just needed help."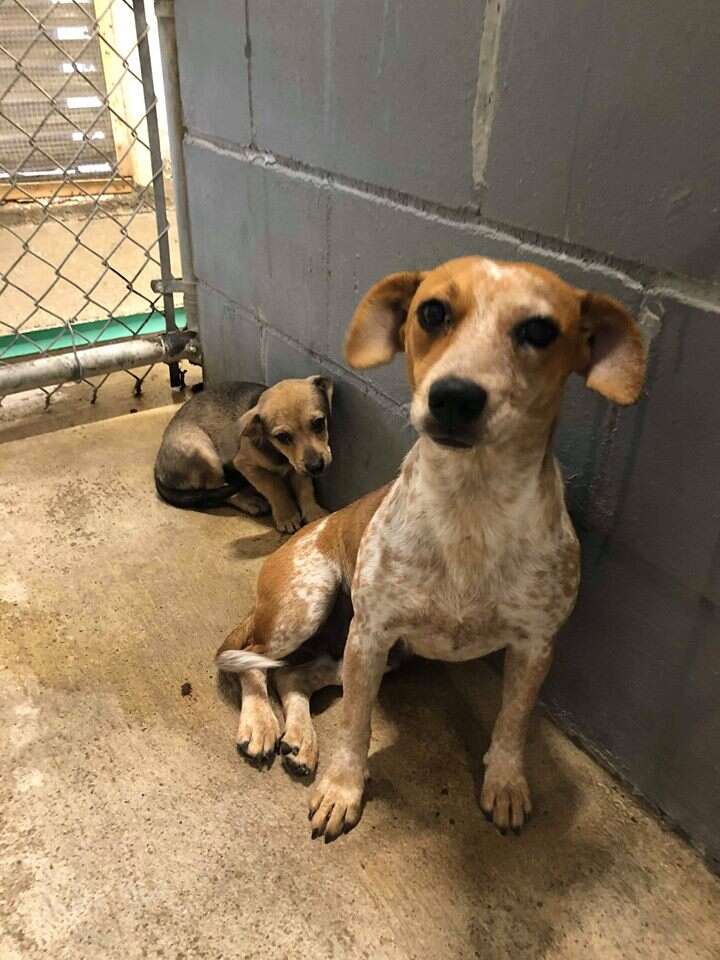 When Dava Hammack came across the video in her Facebook feed earlier this month, she couldn't believe the two sweet dogs were still suffering in the rural shelter. "I saw that and I was like, 'Oh my gosh,'" Hammack told The Dodo. "It had been shared 1,600 times, and I was like, 'Are you kidding me? Nobody has stepped up to foster or adopt these dogs after that many people shared it?'"
Living over nine hours from the shelter and with four rescue dogs at home, Hammack knew fostering the mother-daughter pair would be complicated, but she was determined to help. So she made a call. "I was like, 'I'll do what I have to do to help them. I'll drive nine hours, whatever needs to be done,'" Hammack said. "And they were like, 'Are you sure?'"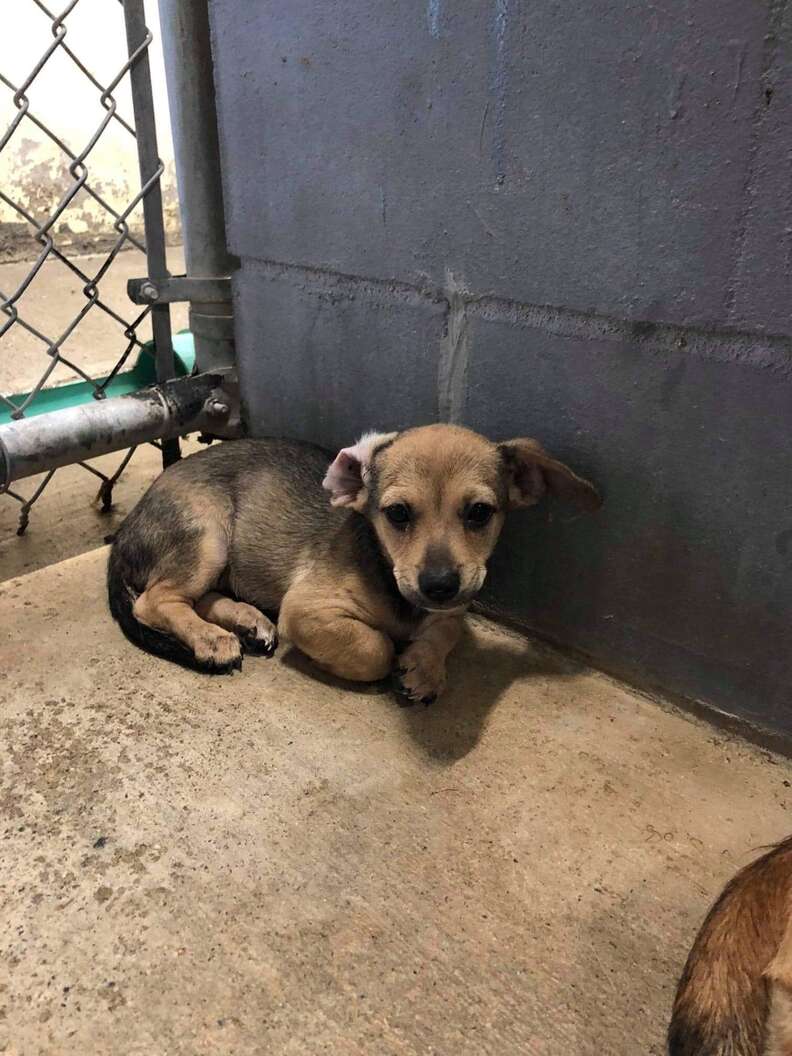 A group of local volunteers stepped forward to help transport the two little dogs across Texas, making stops in Austin and San Antonio, and finally meeting Hammack in Fort Worth. Out of the shelter and in the cozy air-conditioned car, the two exhausted dogs could tell they were finally safe.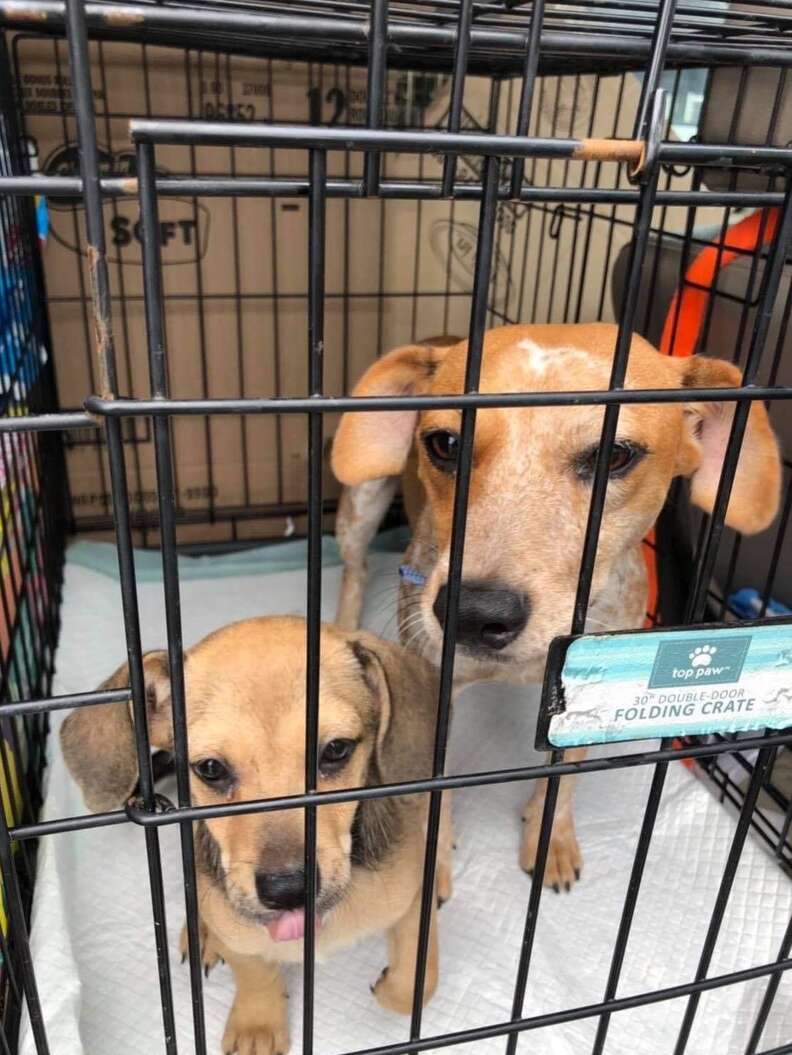 Hammack's 12-year-old daughter kept a careful eye on them the whole way home, and soon, the pups began to relax. "The mama put her head over the baby, and they slept on the way back," Hammack said.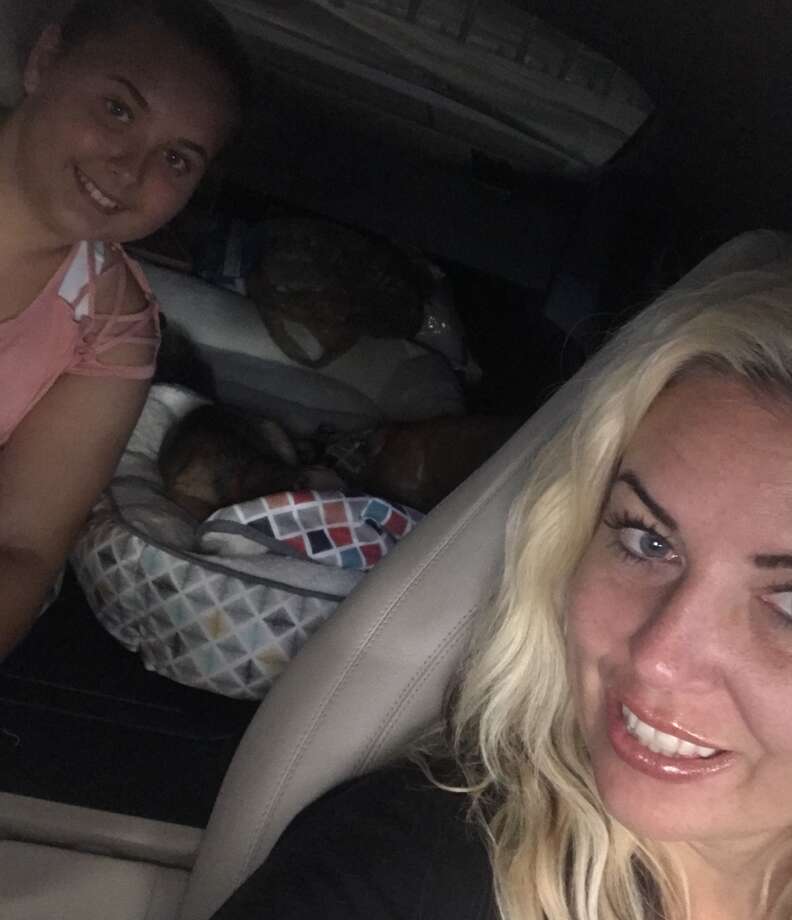 While Sadie and Benzy were clearly happy to be out of the shelter, Hammack could see that the mother dog was still extremely protective of her little baby.
"The mama is always going to check on the baby," Hammack said. "Whenever you pick the baby up she will follow you like, 'What are you doing with my baby? Where are you taking her?'"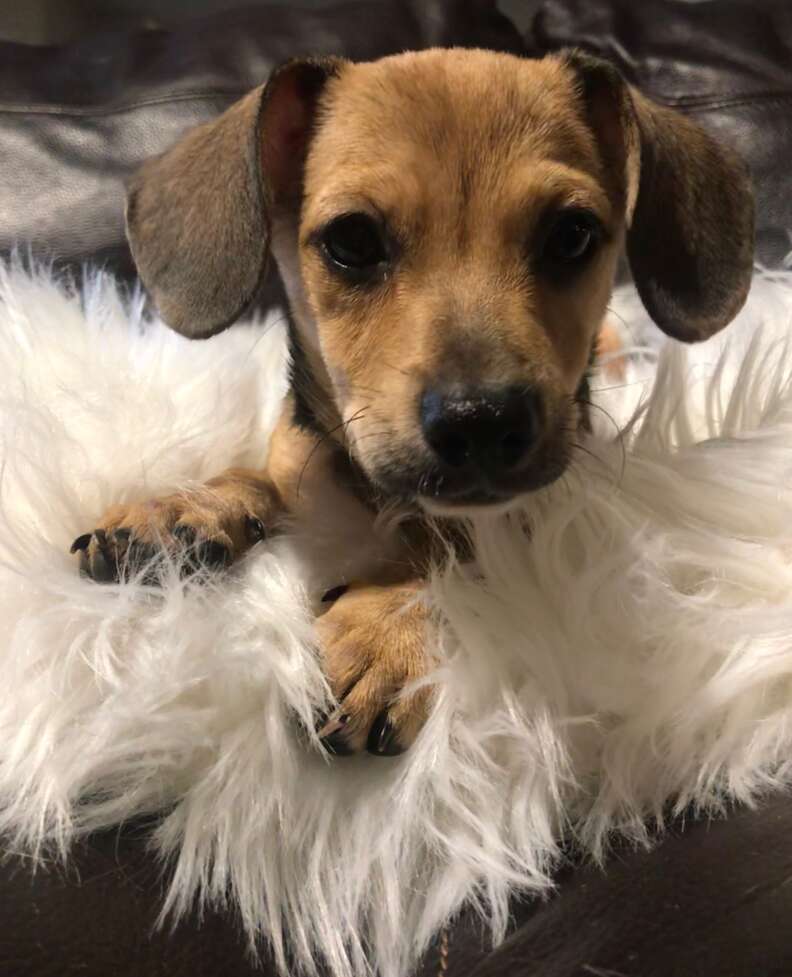 Introducing the two newcomers to Hammack's pack of rescues took a little time. Sadie didn't want anyone around Benzy, and Hammack had to hold her while her dogs played with the puppy to show the doting mom that everything was going to be OK. Benzy, on the other hand, was eager to tussle with her new pit bull friends.
"The baby opened up faster because she wanted to play. We put the toys out around them, and the baby automatically went to the toys," Hammack said. "The puppy will even go steal the toys from my big dogs, which is hilarious."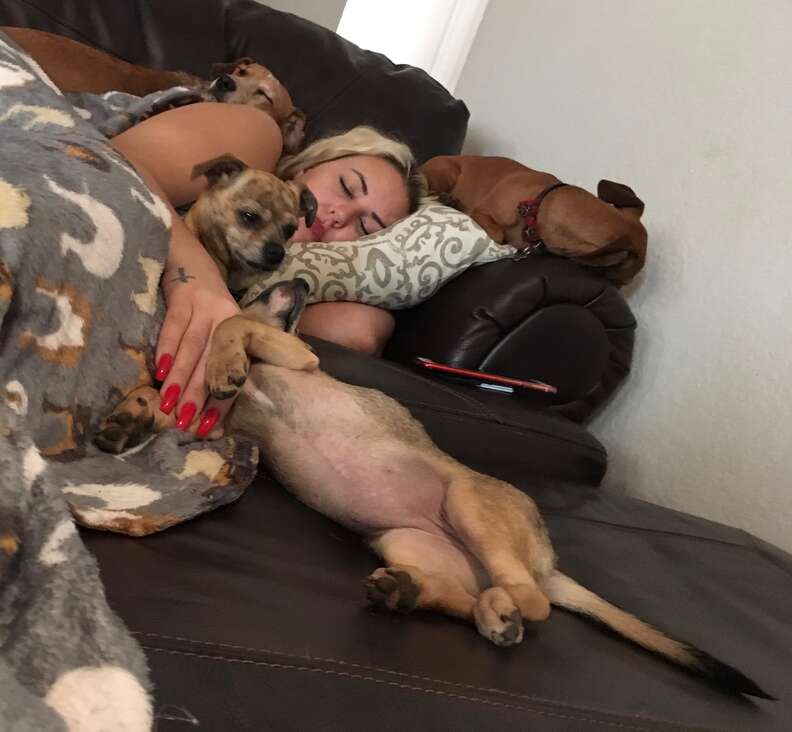 After about a week, the six dogs began playing as a group, and Hammack's pack has taught Sadie and Benzy all the rules of the house. "The mama now loves to play with all of them, and they all go outside together," Hammack added.
While Sadie was fearful at first, cowering at the sight of Hammack, over the past three weeks she's finally opened up and begun to show her true personality.
"The mama is a big-time licker and very loving," Hammack said. "The mama wants you to hold her almost like a baby, she wants to be close, next to you."
It's uncertain where the bonded pair will end up, but one thing is clear — no matter where Sadie and Benzy go, they will remain together.