Dog Always Hated Other Dogs — Until He Met His New Neighbor
"He started sniffing Bailey more than he sniffed other dogs. His tail wagged more. He didn't seem to wander off whenever she came around."
Kenai the golden retriever is 11 years old, and has been with his family since he was a puppy. While he has always absolutely adored humans, he's never really taken to other dogs, and has shown pretty much zero interest in them his entire life.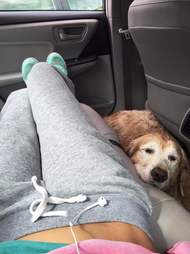 Alyssa Taylor
"Kenai isn't like most dogs," Alyssa Taylor, Kenai's sister, told The Dodo. "He's not very playful, but he has his spritely moments. He is typically a very calm, chill dog who loves to be around the company of humans. When we go to the dog park, he will typically just sniff, greet and wander off on his own. He doesn't even like to fetch! I think of him as Ferdinand the Bull."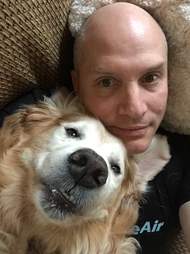 Alyssa Taylor
As the years went on, Kenai's family got used to the fact that he wasn't really into other dogs, and never pushed him to make friends — but when he met a dog in his neighborhood the exact same age as him, everything changed.
Bailey is also an 11-year-old golden retriever, and recently moved in next door to Kenai. When he first met her, his family was shocked at his very friendly, eager reaction, something he'd never shown before when meeting another dog.
"He started sniffing Bailey more than he sniffed other dogs," Taylor said. "His tail wagged more. He didn't seem to wander off whenever she came around."
Alyssa Taylor
Now, whenever Bailey and Kenai are both outside in their yards, they like to sniff each other through the fence and hang out. Kenai still doesn't seem to want Bailey coming over into his yard and invading his territory, but he loves to watch her through the fence or whenever he sees her outside through a window. He even tries to go for a walk whenever she's out walking, just so he can say hello.
"He can't help but sniff and talk to her and wag his tail whenever he sees her on the other side of the fence, and he will stick his head over the window in front of the house and continue to wag his tail when he sees she is going for a walk."
Alyssa Taylor
Bailey is a tad more energetic than Kenai is, but that doesn't seem to bother either of them. They complement each other, and Bailey seems to be the perfect first friend for Kenai.
"Bailey seems to enjoy his company as well, but she's also a bit feistier," Taylor said. "She barks more than he does, but I think Kenai needs a little spice and sass in his life. She'll keep him on his toes! With other dogs, they don't matter so much. But Bailey isn't just another dog to Kenai!"