Dog Has No Interest In Stray Cat Her Family Adopted — Until She Has Kittens
"I guess her maternal instinct kicked in. She would lay with them and protect them."
Hayley Cameron's boyfriend was out and about one day when a stray cat came right up to him. The cat was not at all cautious or scared, which seemed unusual, and it was almost as if she was asking for help.
The next day, Cameron decided to go back to the area where the stray cat had been to see if she could find her. She quickly found the cat, along with a woman who'd been feeding her, who explained that she wasn't going to be able to help the cat much longer.
Cameron named the cat Amber and took her home as the newest member of her family.
Cameron and her boyfriend already had a dog named Chloe at home, and at first, Chloe was completely uninterested in Amber. The two coexisted just fine, though, and Amber seemed to be adjusting well to her new home — and then her parents noticed she had started to gain some weight.
"A few weeks passed and she got really fat," Cameron told The Dodo. "I thought she was just eating well, until I touched her stomach and realized she was pregnant."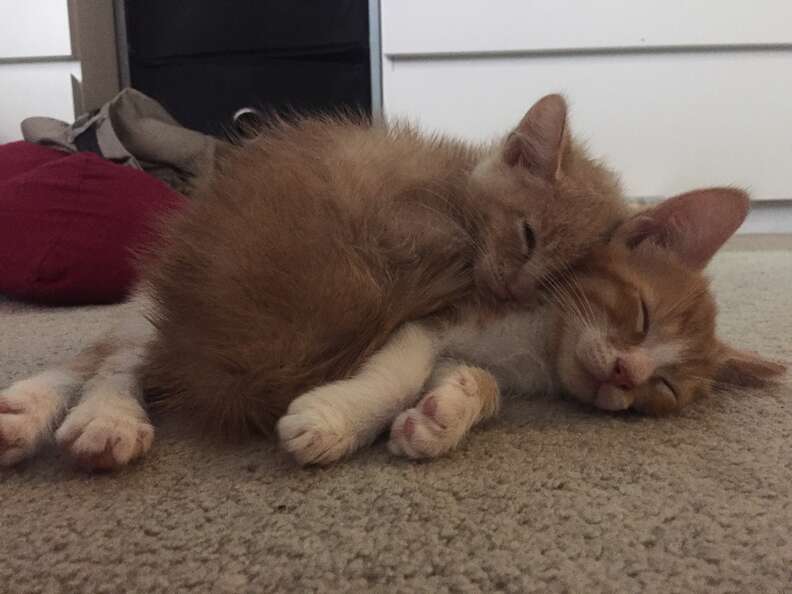 Amber ended up giving birth to four healthy kittens, made up of three boys and a girl. The couple assumed that Chloe would be just as uninterested in the kittens as she was in Amber — but they were completely wrong.
"She started acting like their mother," Cameron said. "I guess her maternal instinct kicked in. She would lay with them and protect them."
Chloe absolutely adored the kittens and attempted to care for them every chance she got. Amber was a tad thrown off by Chloe's sudden interest, but mostly appreciated the help. Chloe became like a built-in babysitter for the kittens and was always around to make sure the little family was protected.
Three of the kittens — Ollie, Felix and Gracie — were adopted by Cameron's boyfriend's family, but the couple decided to keep little Leo since he had a lot of digestive issues. Leo loved Chloe so much, and she returned his affection — until he kept growing and became a big cat like his mom.
"The kitten we kept is in love with my dog but the dog does not reciprocate the same feelings now that he is full grown," Cameron said. "She doesn't give the grown cats any attention."
Apparently, Chloe just really, really likes acting like a mom!