Dog Whose Owner Died Has A New Best Friend To Help Her Heal
Her dad did everything he could to make sure she'd be OK without him ❤️
After a veteran named John found out he had terminal cancer earlier this year, he posted a plea on Craigslist to find a home for his 5-year-old beagle-shepherd mix, Yola.
John and Yola

| Beverly Hughes
John, who adopted the once-stray dog in 2016 from a local shelter in Yuma, Wyoming, would soon have to enter hospice care and he needed a new caretaker for his beloved pet.
Yola and John

| Beverly Hughes
A woman named Janet Marschner saw Yola's story on Facebook and was immediately drawn to her. "I felt so sorry for both John and Yola — it was heartbreaking," Marschner told The Dodo. "Without hesitation, I responded to the Craigslist ad and told them that I had a country home in Cheyenne, [Wyoming]. John read through all the responses and liked mine the best."
Val Rothwell
Though Marschner never met John in person, she coordinated adopting Yola through his friend, Beverly Hughes. In addition to Yola, Hughes told Marschner about a 5-year-old French bulldog-boxer mix named Boogy who was also looking for a home, and Marschner agreed to take him as well. "I wasn't sure about taking two new dogs, but I am so glad I did," Marschner said. "I love them both very much."
Sadly, John passed away on August 1, 2017, just a few weeks after Yola found her new home.
Beverly Hughes
But Yola would soon have plenty of company to help her heal. Marschner, a lifelong animal lover, is very active in animal rescue and an advocate of adopting adult and senior pets. Yola and Boogy joined Marschner's existing crew of four dogs, three cats, three horses, two miniature donkeys, a miniature horse and a miniature cow. Besides all the animals for the new dogs to play with, Marschner's country home has tons of space for them to run around.
Marschner with Yola (left) and Boogy (right)

| Val Rothwell
Yola and Boogy adjusted quickly to their new life and seem to be loving the space and camaraderie.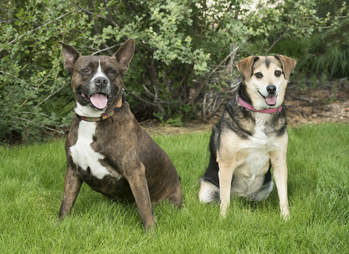 Boogy (left) and Yola (right)

| Val Rothwell
"[Yola] has done very well," Marschner said. "We go on daily walks to the barn, and she sleeps on a bed in the bedroom. She is quite the little dog — very sweet."
Beverly Hughes
Yola especially loves playing with Marschner's 6-month-old border collie puppy named Flint ...
Janet Marschner
And chewing on her toy bones.
Janet Marschner
Boogy has also adapted well to the ranch, and is loving his new life with Marschner and the other animals.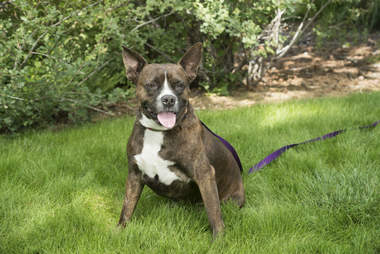 Boogy

| Val Rothwell
"[Boogy] is very happy," Marschner said. "He snorts when he gets excited. He sleeps beside me every night on the bed." Boogy also enjoys playing hide-and-go-seek with the cats, fetch and joining Yola on walks to the barn.
Boogy in the barn

| Janet Marschner
"Boogy is very sensitive, and he shows it," Marschner said. "If puppy Flint is naughty, Boogy takes everything personally. It adds to his charm."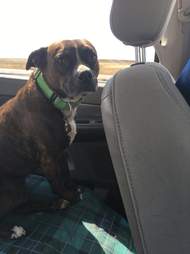 Janet Marschner
Nearly all of Marschner's animals have been rescued, and most were adopted from animal shelters and rescue organizations, while others were found as strays. Marschner also fosters for various shelters and rescues.
Some of Marschner's menagerie, clockwise from top left: Flint, Razberry and Mini Moo, Slim, Winston, Theodore and Harley

| Janet Marschner
After Yola came to live with Marschner, she was inspired to fulfill her dream of starting a rescue organization of her own, and has applied for 501(c)(3) nonprofit status to help even more animals. "The mission is to sponsor spay-and-neuter programs and advocate for the adoption of adult and older rescue animals," Marschner said.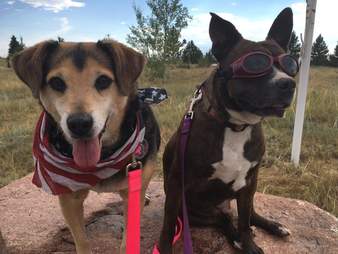 Yola (left) and Boogy (right)

| Janet Marschner
In addition to those very necessary and important goals, Marschner would like to start a foster and rehoming program that helps pets whose owners have entered hospice or rehabilitation, inspired by John and Yola. "Yola and Boogy inspired me to finally put something in place," Marschner said. "The real part for Yola and Boogy is to help people that are ill be able to keep their dogs during their illness."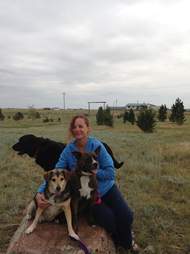 Marschner with Yola (left), Boogy (right) and a foster named Gus (behind)

| Janet Marschner
The program would help honor John's final message to the many people who emailed with interest in adopting Yola. Hughes updated the Craigslist ad to let people know that Yola had found a home, but added his plea to continue helping the millions of adoptable animals still out there.
Janet Marschner
"John, Yola's person, asks that if you had room in your home for Yola, please consider opening your hearts and your home to another deserving rescue who may not be so lucky to have someone advocating for her/him and trying to find them a home," Hughes wrote. "There are too many dogs in animal shelters — too many sweet, loving souls being killed every day. Please consider saving one."
Yola and Boogy

| Janet Marschner
Continue following Yola, Boogy and their siblings' adventures on their
Facebook page
. To learn more about the Yola and Boogy Fund and how you can help,
visit its website
.