Dog Discovers Cute Way To Stay In The Pool When She's Tired
"She looked somewhat ridiculous ... we laughed and laughed."
Cassidy has always been a very active dog, and when she was younger all she wanted to do was run and play catch as much as she could. Now that she's older, she's had to find some slightly calmer activities to occupy her time, and her favorite one is definitely swimming.
"She is nearly addicted to swimming," Kristine Briggs, Cassidy's mom, told The Dodo.
Cassidy's favorite thing to do in the pool is to swat her toy as far into the middle of the pool as possible and then swim over to get it. She plays this game over and over again and never gets tired of it — and gets very upset if her toy gets stuck.
"One time, the pool toy went into the skimmer slot on the side," Briggs said. "She swam over and was hovering all around the skimmer looking for her toy. I thought she was treading water."
When Briggs looked over at Cassidy searching for her toy, she was amazed at how long she was able to stay afloat and was so impressed with her swimming skills. She seemed to be treading water, just waiting for someone to free her toy — but as Briggs got closer, she realized that Cassidy wasn't swimming at all.
"When I got out of the pool to get her toy, I noticed she was actually standing," Briggs said. "Too funny. She looked somewhat ridiculous and we laughed and laughed."
Apparently, Cassidy had learned how to stand in the pool, and accidentally tricked her parents in the process.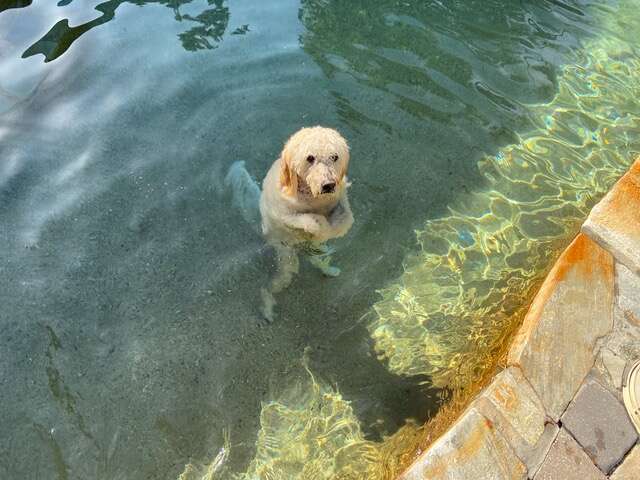 For the most part, Cassidy still prefers to swim when she's in the pool — but if her toy gets stuck and she has to wait for it to be freed, she likes to take a load off by standing for a while, much to her parents' amusement.
"She will only stand if her toy is trapped in the skimmer and she will stand there waiting for us to retrieve it," Briggs said.