Two animals recently came into a shelter in Kentucky with very uncertain futures.
An 8-month-old puppy now named King was in bad shape, limping because his leg had been broken months earlier and had never been mended. "His left femur was shattered, and X-rays indicated that the leg could not be repaired," Beth Haendiges, a spokesperson for the Kentucky Humane Society (KHS) told The Dodo. "Veterinarians recommended the leg be amputated."
So King underwent surgery with the KHS veterinary team. This week he was recovering in his crate when something very sweet happened.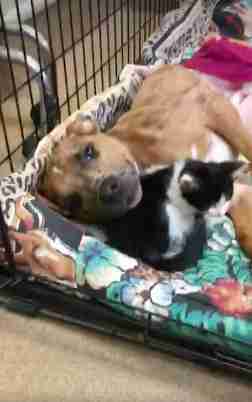 Laila is a 4-week-old kitten who arrived at KHS with symptoms of severe anemia. "She was extremely weak and unable to eat on her own," Haendiges said. "But this little girl is a fighter."
King and Laila, who was being treated by devoted vet staff all through the day and night to save her life, were recovering in the same room. "Both of these little patients were crying and meowing for attention so we put them together," KHS veterinary staff wrote on Facebook. "They just didn't want to be alone."
Given the opportunity, Laila immediately curled up next to King's head. "It worked wonders," Haendiges said, "calming them both and letting them relax and rest."
"The next morning, King was a very happy dog, and Laila was following him around," Haendiges added. "They appear to find comfort in each other."
By Friday, both King and Laila were feeling much better. "We hope that we can give them the opportunity to be adopted together," Haendiges said.