Dog Who Spent Years Locked In Crate Runs Free For The First Time
"He looked really happy ... It was lovely to see him enjoying the freedom."
Ty's family started keeping him in a crate all day and all night when he started destroying things in their home, and they weren't sure how to handle it. They knew keeping Ty in a crate all the time wasn't a good solution, though, so finally they decided to surrender him to the RSPCA, in hopes that it could find him a more suitable home. 
Animal collection officer Cara Gibbon went out to Ty's home to get him and brought him to the RSPCA's Coventry, Nuneaton and District Branch shelter. When they arrived, she could see that Ty had a lot of energy and was going a little stir-crazy from being kept in a crate for so long. So, instead of bringing him right to his enclosure, she decided to let him have a little fun.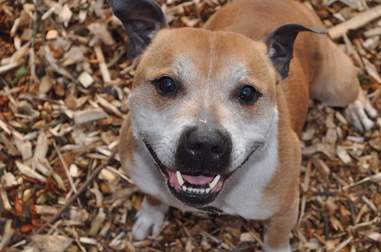 RSPCA
"This poor boy was confined to a crate 24/7," Gibbon said in a press release. "I took him down to the dog run at the rehoming center so he could run free."
As soon as Gibbon let Ty off of his leash and into the dog run …
RSPCA
… he went NUTS, and could not have been happier to finally be free to run, play and just be himself. 
RSPCA
"He looked really happy and his tail was wagging nineteen to the dozen," Gibbon said. "It was lovely to see him enjoying the freedom and fresh air."
Ty took full advantage of his time outside, playing in the leaves …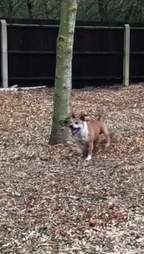 RSPCA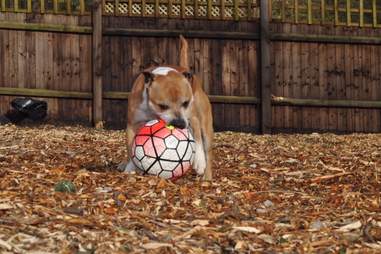 RSPCA
… and just generally having the best time ever. The 7-year-old dog acted just like a puppy again, and seemed grateful to finally have some space to run around.
RSPCA
Ty has been doing wonderfully at the shelter, and staffers are confident that he'll be ready to find a new home very soon.
"Hopefully we'll be able to find him the paw-fect home where he'll be able to run, explore and play games with his new garden — and where he'll never be locked in a cage again," Gibbon said.