Dog's Surprise Appearance Is The Best Part Of This Newscast
"What is this dog doing in the studio?"
This just in — specifically, this pup.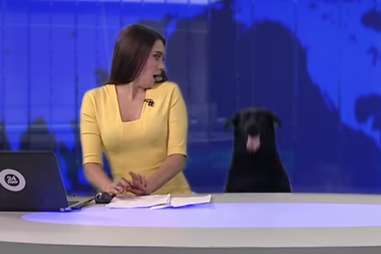 A Russian news broadcast was suddenly (and delightfully) interrupted last week when a friendly black dog wandered in and let his presence be known live on air. Anchorwoman Ilona Linarte, from Mir24 TV, tried her best to continue despite the surprise guest's insistence on being the center of attention, but she was soon forced to acknowledge the breaking news.
"I've got a dog here. What is this dog doing in the studio?" Linarte shouted to someone offscreen before turning to address the audience: "I actually prefer cats. Yeah, I'm a cat lady."
Still, she was charmed enough to give the pup a few pets.
The dog's appearance on television may have been brief, but it's already made him a star. Online, the clip has gone viral — racking up more than 3 million views in just a matter of days.
In a follow-up story, the news station explained that the dog belonged to a guest from a different segment, and he somehow got loose.
Turns out, this wasn't the first time an otherwise boring broadcast has been made so much better by the unexpected entrance of a playful pup. And sure enough, it's always good news.