Milo was living on the streets of Los Angeles when he injured his paw, and was in desperate need of help. After wandering around awhile, the pain became too much for him to bear, and so he found the closest yard and collapsed — and luckily, someone noticed him.
When a family first spotted Milo lying in their yard, they thought maybe he just needed to rest. But after several hours had passed and the dog hadn't moved, they realized something was very wrong, and called for help.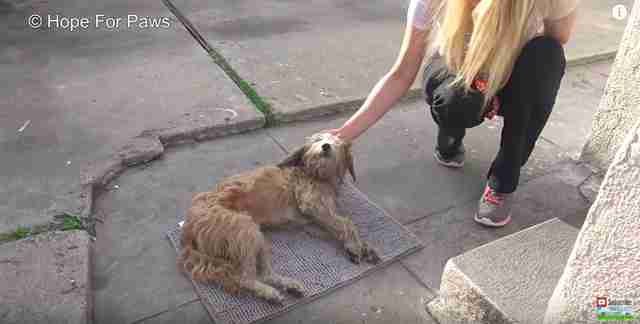 Hope for Paws got the call about Milo and immediately drove out to help. When rescuers first approached the injured dog, he was very scared and tried to move away from them, but his injured paw wouldn't allow him to go very far.
He growled a little to warn his rescuers that he was in a lot of pain, and they realized there was no way he was going to allow them to pick him up.
"Loreta reached to touch him, but he was scared and in pain, so she quickly placed a leash on him so he wouldn't escape," Eldad Hagar, founder of Hope for Paws, told The Dodo. "We spent five minutes with him, and when we realized that he wouldn't let us pick him up, we created a makeshift gurney and carried him to the car. As soon as he entered the Hope For Paws rescue vehicle, he relaxed."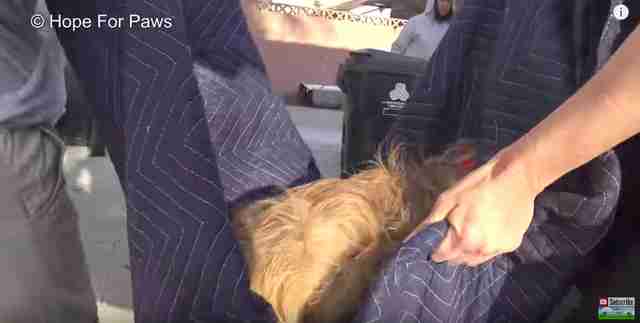 Once he realized his rescuers were there to help him, Milo began to warm up a little, and once at the hospital, he allowed the vet to examine his paw with no problem. While it didn't appear to be broken, Milo had several puncture wounds on him, suggesting he had been bitten by another animal. Still, the vet could tell the bite wounds weren't the only thing causing Milo pain.
"Milo had a couple of puncture wounds that seemed older, but Dr. Goldman had a feeling that something more serious was happening there," Hagar said.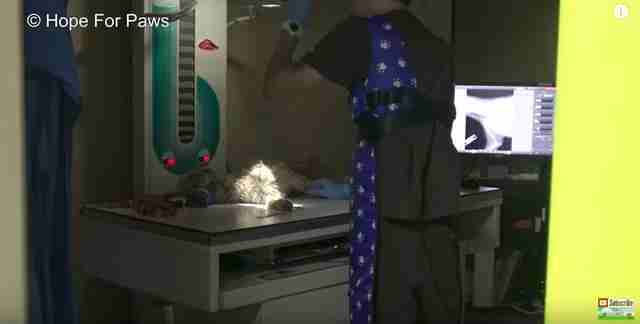 As it turned out, poor Milo had a serious infection from the bite wounds, which was the main source of all his pain. The vet began treatment for Milo's infection, and he started to feel better almost immediately, becoming friendlier and friendlier to everyone around him. Once he was no longer in excruciating pain, his true, wonderful personality began to shine through.
"As soon as he had some pain meds and antibiotics, Milo was happy," Hagar said. "The next day he was wagging his tail and from that point he was just a super happy dog."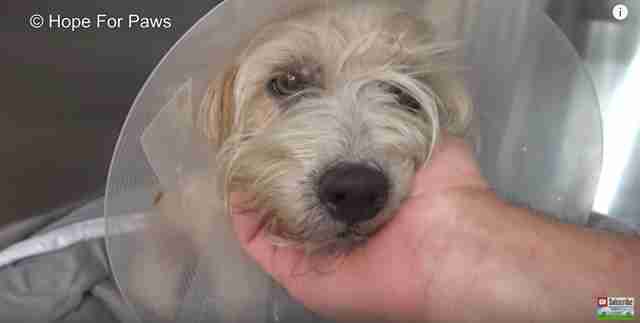 Milo had to wear a cast for a while, but that didn't stop him from becoming a loving, active dog who just wanted to play and cuddle with everyone around him. As soon as Milo was healed, he found an incredible forever home, and even has a dog sibling now.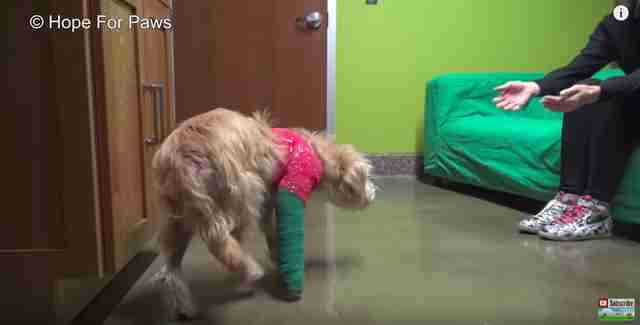 "A couple of weeks ago, Loreta and I visited him, and it was so cool to see him happy in his forever home with his new adopted mom, dad, sister and Grace — the senior dog."
Since arriving in his new home, Milo has brought so much joy and puppy-like energy to his new dog sister Grace. When he was first found, his spirit seemed broken, but now he's completely renewed, and sharing that newfound love of life with everyone around him.
Watch the full video of Milo's rescue below: