Dog Tangled In Sheet Gives Sweetest 'Thank You' To The Cop Who Saved Her
Such a beautiful moment 😍
How this poor dog became hopelessly entangled in a piece of fabric outside her home in Chile isn't clear, but there's no doubt about who to thank for setting her free.
And it's clear she knows it, too.
Earlier this week, Giovanni Domke of the police force Carabineros de Chile was alerted to the dog's painful situation by neighbors who'd heard her desperate calls for help.
"The neighbors told me that the homeowners were not there," Domke told news outlet Fernanda Familiar. "I asked a neighbor for a knife and I jumped into the house to rescue the dog."
The frightened pup was understandably wary as Domke approached to cut her free, even nipping at his outstretched arm. But nevertheless, Domke persisted — and his persistence paid off.
And as video of the dramatic scene shows, Domke received the sweetest reward for his efforts:
"We are where we are needed most," authorities later wrote online, in a post that's since garnered plenty of praise for Domke's heroic actions.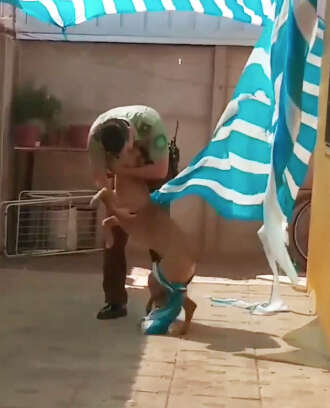 "What a nice gesture from the policeman," one commenter wrote. "And more beautiful still was the gesture of the dog!"
Truly a job well done.