Homeless Dog Hit By Car Has Waited More Than 2 Years For A Family
"It's amazing how many friends he makes everywhere he goes, but how he hasn't found a home."
Charlie the pit bull was found by a Good Samaritan after being hit by a car and left for dead on the side of the road. The man rushed Charlie to a local animal hospital, which kept him for a few months while he recovered, before he ended up at the Town of Hempstead Animal Shelter.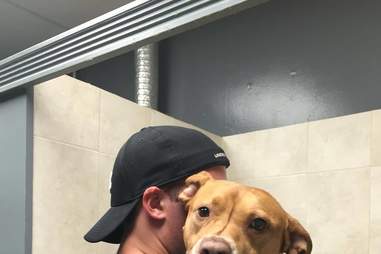 Get A Bull Rescue
Charlie was with the shelter for two months before being pulled by Get A Bull Rescue. During his time at the shelter, staffers discovered that he had heartworm disease, and the rescue pulled him so that he could have a quiet, calm place to finish out his treatment. On top of the heartworms, Charlie also had several permanent injuries from being hit by a car, including nerve damage in several parts of his body. His right front leg had some issues, and so the rescue put him in water therapy with hopes of improving it.
It's now been two years since Charlie joined the rescue, and unfortunately, he's still looking for his forever home. Charlie is the sweetest dog you'll ever meet, and everyone who knows him is simply baffled that he hasn't found the right family yet.
Get A Bull Rescue
"Charlie is very outgoing and very, very loving and affectionate," Laura Reilly, Get A Bull cofounder and Charlie's foster mom, told The Dodo. "He loves attention. He wants belly rubs, he wants to kiss you. He wants to be by your side all the time (especially if that time includes watching TV on the couch)."
One of Charlie's favorite things in the whole world is going for car rides, and he's never calmer than when he's staring out the window, just watching the world go by. He even got to go on a boat adventure once, which he loved just as much.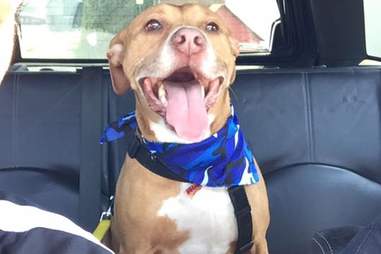 Get A Bull Rescue
Charlie is currently in foster care, but because he needs to be the only pet in his home and his foster family has other animals, he has to be kept in a separate part of the house. All he wants more than anything is a home where he can be around the people he loves, all the time.
Get A Bull Rescue
"For a dog that thrives on human attention, the loneliness is difficult for him," Reilly said. "He occasionally goes to boarding for a few weeks at a time which he does OK with but sometimes he gets stressed. At this point in his life he is just tired of being bounced around. He needs stability."
The sweet 6-year-old dog just wants to be someone's best friend, and spend every minute of every day loving them as much as he possibly can.
Get A Bull Rescue
"We think because he has special needs a lot of people looking for a therapy dog have been drawn to Charlie, but he just needs a nice home where he can be a pet. He is not going to be a therapy or service dog," Reilly said. "It's amazing how many friends he makes everywhere he goes and how much people love him and how he can charm even strangers, but how he hasn't found a home."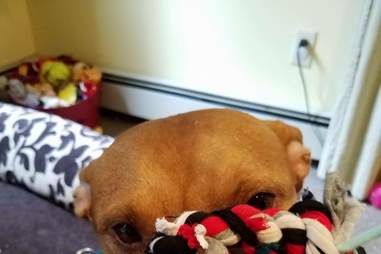 Get A Bull Rescue
Charlie would do best in a house rather than an apartment setting, with a family made up of adults or teenagers. He needs to be the only animal — no rats, no bunnies, no furry or scaly creatures of any kind. He tends to get a little fixated on things, and sharing a home with another animal in a tank wouldn't be ideal for him. He would also need a family who would be willing to work to keep muscle tone in his leg.
Get A Bull Rescue
Charlie may have some quirks, but really all he wants in life is a home to nap in, a car to adventure in and a family to snuggle and love until the end of his days.
If you're interested in adopting Charlie, you can contact Get A Bull Rescue for more information.