Dog Finds The Perfect Hiding Spot To Sleep In
Can you spot him?
Hoss has always been a sneaky pup and loves getting into things and places he isn't supposed to. He and his dog best friend spend hours playing and being silly together, and their family spends most of their time just trying to keep up.
"We live in the middle of the woods in south Mississippi on 40 acres with a lake so they run and play and stay dirty most of the time," Sandy Burke Moody, Hoss' mom, told The Dodo.
At night, Hoss sleeps in bed with his mom, but when he needs a change of scenery, he jumps down and settles onto a white fluffy rug instead. Hoss is pretty white and fluffy himself, and when he's all snuggled into the rug, he completely blends in — and occasionally, even his mom has trouble spotting him.
Hoss was taking a nap on the rug one day when his mom passed by — and realized she couldn't see him at all. In theory, she knew that's where he was, but she just couldn't believe how well the fluffy dog had camouflaged himself into the rug.
"This time he was nearly invisible," Moody said.
Eventually, Moody could see Hoss breathing and was able to confirm that part of the rug was her dog, but without that clue, it was impossible to tell. Moody decided to snap a photo of Hoss on the rug and post it on Facebook to see if anyone could spot him — and the results were hilarious.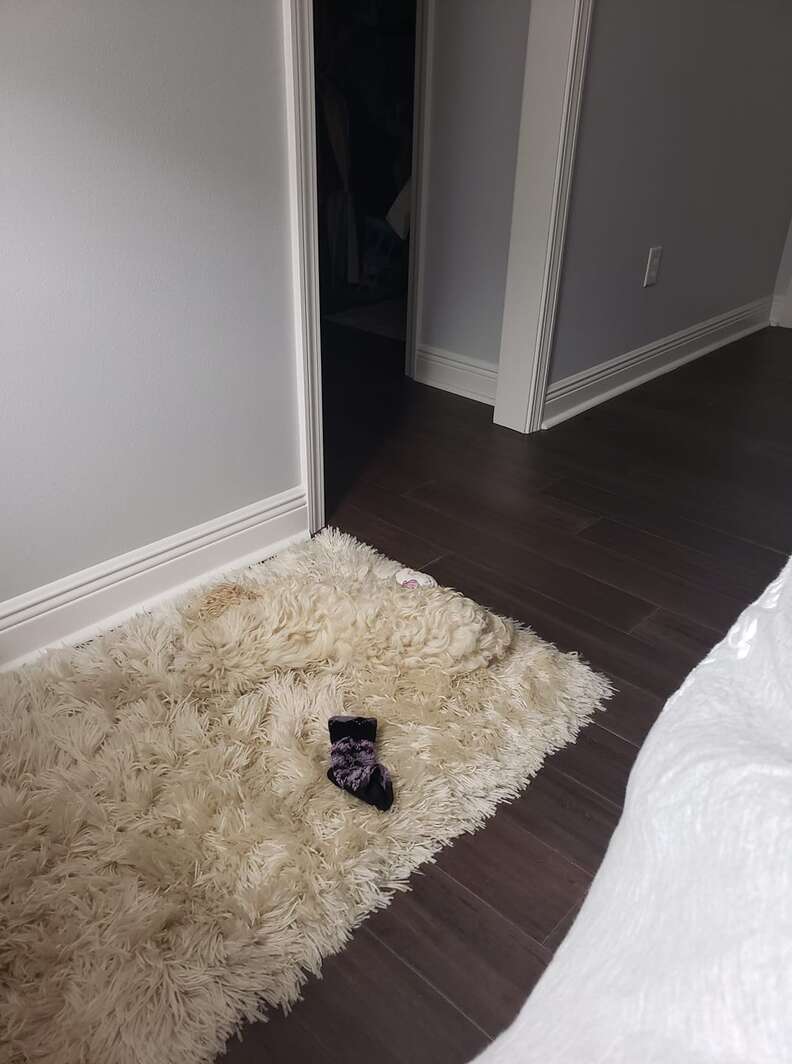 "Most were not able to spot him," Moody said.
Hoss blends into the rug so well, not many people were able to actually spot him on it. If he's ever playing a game of hide-and-seek, there's no doubt that he's going to win.
Hoss is a silly, energetic pup who is always keeping his family entertained, and now he has one more trick up his sleeve — his famous disappearing act!