Man And His Dog Leap Into Water To Save Pups Trapped In Icy Lake
"I knew she was going to follow me. We were going to do it together."
Since meeting one another last year, Timofey Yuriev and his faithful dog Kira have been inseparable companions. Indeed, the happy duo do just about everything together.
And that includes saving lives.
Last Saturday, Yuriev, his wife and Kira headed out for a sunset stroll around an ice-covered lake near their home in New York. It's a tranquil spot, but on this chilly early evening, the quiet, peaceful air was shattered by the sound of a tragedy unfolding.
"We heard a woman screaming something across the lake, so we went to see what was happening," Yuriev told The Dodo. "Her two old Labradors were crossing the lake, when they got to a spot where the ice is much thinner. One fell in, then the second. They tried to climb out but they couldn't."
Yuriev watched as the dogs' energy was quickly sapped by the freezing water — and he knew time was of the essence.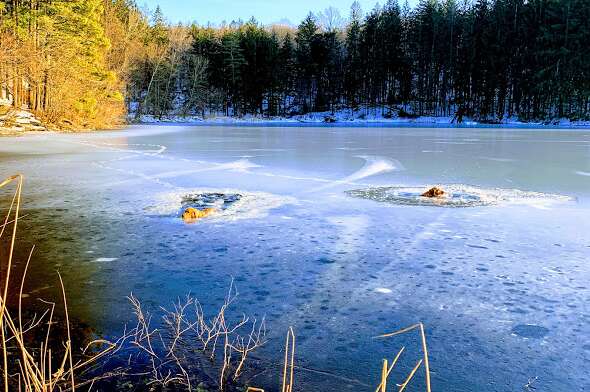 Having experience swimming in icy waters, Yuriev decided to take the plunge in order to save the two dogs himself — but he was not alone.
After Yuriev undressed and leapt into the freezing lake, he looked and saw Kira by his side entering the water as well to lend him her paw in the rescue effort.
"I knew she was going to follow me," Yuriev said. "We were going to do it together."
Here's video taken by Yuriev's wife showing him and Kira reaching the nearest dog first:
"She was great moral support; I was not alone," Yuriev said. "There was my little helper."
After leading the first dog safely to the shore, Yuriev and Kira headed out for the second:
"She came to each dog and touched them with her nose, then helped guide them back."
Once back on dry land, both of the rescued dogs were frazzled but in good health.
Yuriev and Kira had saved the day.
"The owner, of course, was in tears," Yuriev said. "She was so thankful."
Kira has always been a kindhearted and intelligent dog, able to assess situations and sense when she's needed.
And on this day, it was clear for all to see.
"We told her that she's a dog-saving dog. I'm sure she understood that something was happening. She could see the dogs were in distress. I'm positive about it," Yuriev said, adding that he's just happy they were able to help.
"It was pure luck that we were at that place at that time. It was like the universe smiled at us."