Dog Tries To Comfort Simba During Sad 'Lion King' Scene
"We could all relate" ❤️️
Luna might be a couch potato — but her mom, Alexa Moore, wouldn't have it any other way.
The 9-month-old rescue dog loves nothing more than snuggling up with her parents and watching a movie. "We both had dogs growing up and none of them watched TV like Luna," Moore told The Dodo.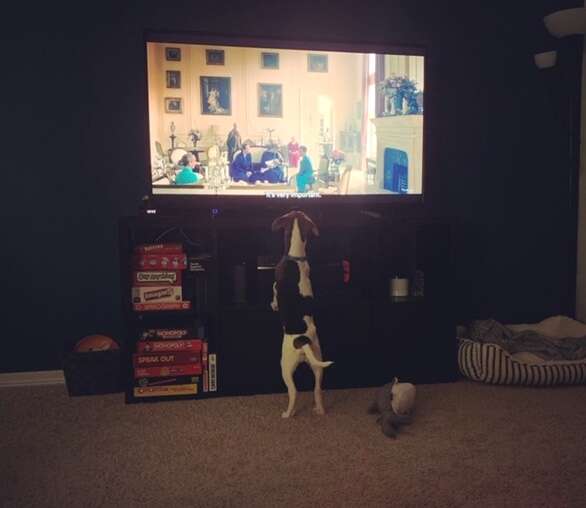 But there's one movie that Luna loves above all others: "The Lion King."

It all started when Moore began to notice something peculiar every time Luna saw a preview for the Disney movie. "Every time a 'Lion King' commercial came on, she was always so interested," Moore said. "I decided to open up the Disney+ app and play it. She was immediately interested in the movie."
Like generations of children before her, the pup was captivated by the animated classic. She pushed her face right up against the screen and began to quietly watch. Luna is a sweet, empathetic dog, so when she sensed that her friends on the screen were hurting, she became distressed.
This was particularly evident during the heartbreaking scene where Simba discovers his dad Mufasa trampled by a stampede. "She reacted in the cutest way," Moore said. "She was following Simba on-screen and her ears were moving around."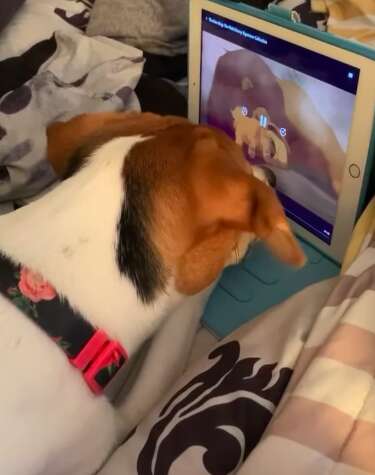 Luna nuzzled and pawed at Simba as he mourned his father, seeming to want to help ease his pain.
"Her reaction was just so amazing," Moore said. "It shows how animals understand feelings and empathy. I always knew animals could feel emotions and react in such a comforting way."
You can watch Luna's sweet reaction to the movie here:
When the movie was over, Moore made sure to give her pup lots of snuggles and love — just like Luna does for her when she senses her mom needs a little extra TLC.
"When I'm having a bad day Luna stays extra close to me and snuggles more than usual!" Moore said. "We all shared Luna's emotions with that scene. We could all relate."
But the movie-loving dog is far from done with her streaming binge. What's next on Luna's watch list?
You guessed it: "101 Dalmations."