Pit Bull With The Sweetest Smile Has Been Waiting For A Home For 981 Days
There's got to be a family out there without pets who will love him forever!
Nitro was brought to the Brookhaven Animal Shelter in New York as a stray after being found by a Good Samaritan in late August of 2016. It didn't take long for all the staffers and shelter volunteers to fall in love with the sweet pit bull, and everyone assumed he would be on his way to his forever home in no time.
Unfortunately, it's now been over 981 days, and poor Nitro is still waiting in his kennel at the shelter, wishing for a family.
Over the past several years, shelter life has been hard on Nitro. The 5-year-old pit bull doesn't seem to understand why he's there, and struggles whenever he has to be in his kennel, waiting for love and attention. Luckily, he is well loved by everyone who works and volunteers at the shelter, but of course, it's not the same as having a home and a family.
"He is handling shelter life pretty hard," Brittany Broderick, a volunteer at Brookhaven Animal Shelter, told The Dodo. "He will cry in his kennel thinking when will his day come, but when he's out of his kennel, he will have a big smile on his face, and is loved by so many volunteers."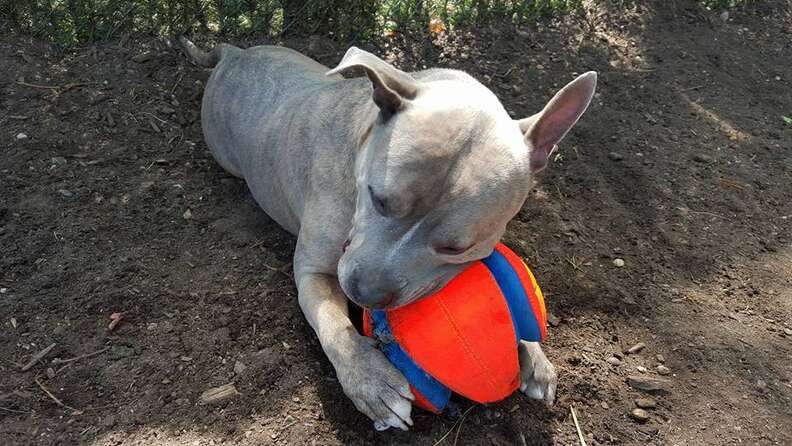 Despite his struggles with handling shelter life, Nitro so often has a huge smile on his face …
… and is definitely one of the smiliest dogs around.
He has the biggest smile on his face whenever he gets to play outside, and is always willing to pose for the camera as he frolics around. He doesn't ask for much — he just loves being outside with some of his favorite people.
His smile is unique and definitely brightens the days of everyone who knows him, and would surely brighten the lives of any lucky family who decides he's the dog for them.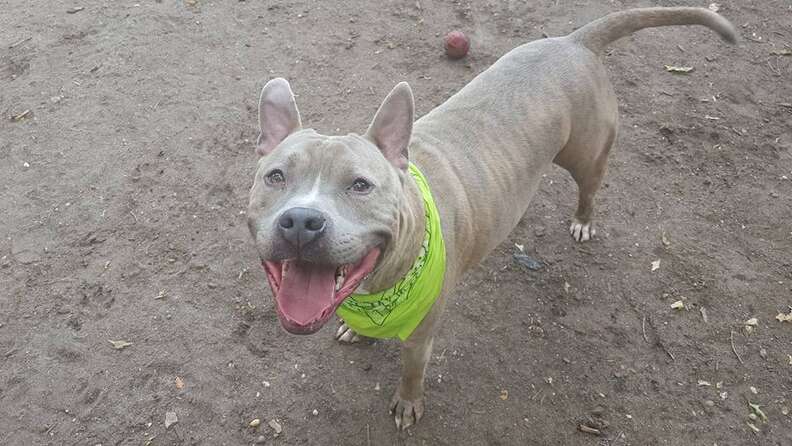 Nitro is a super active dog, and loves to run around outside, play fetch and go for walks. He would love a family who can keep up with his energy and play outside with him as often as they can. He also needs to be the only pet in his future home, and would do best in a home without young children. Other than that, Nitro just wants a family who will take him away from the shelter and give him all of the love, and in return he'll give it all right back to them, every single day.
"All he wants is to be loved and be at home where he belongs," Broderick said. "Not a shelter."