Playful Senior Dog Has Been Waiting In The Shelter For 9 Years
He's never had a home before 💔
Max was rescued in Georgia and brought to Eleventh Hour Rescue in New Jersey when he was around a year old. His rescuers didn't know much about his background when he arrived, other than that he'd been found with BB gun pellets embedded in his hind legs. The poor pup had clearly had a rough start to life, and all his new rescue friends hoped they could soon find him a family to show him all the love he'd never had before.
Even as a young dog, Max was quite large, and it seemed that his size often scared away potential families. Looks can be deceiving, though, because Max is actually the sweetest, most gentle dog around, and everyone at the shelter has taken to calling him "Max the Mush."
"Max is a happy boy smiling from ear to ear," Paul Barish, a volunteer at Eleventh Hour Rescue, told The Dodo. "He has completely stolen my heart from the time I met him. He can be stubborn but is a mellow, playful boy."
Max may be 86 pounds, but he often acts like a tiny puppy. He just wants to play and be loved, and while his friends hoped his personality would be enough to win over a forever family, he kept getting overlooked time after time — and now, poor Max has been waiting for a home for nine years.
Max has spent most of his life at the shelter, and it's starting to affect him in a negative way. All he wants is a family to love him and a home to relax in, but for some reason, the big lovable dog can't seem to find that.
"He handles it as well as can be expected, but it has taken a toll on him and has been very stressful for him," Barish said.
Everyone who knows Max is convinced that the right home for him is out there. He's such a loyal, sweet, happy dog, and any family would be lucky to have him — it's just a matter of finding the right fit.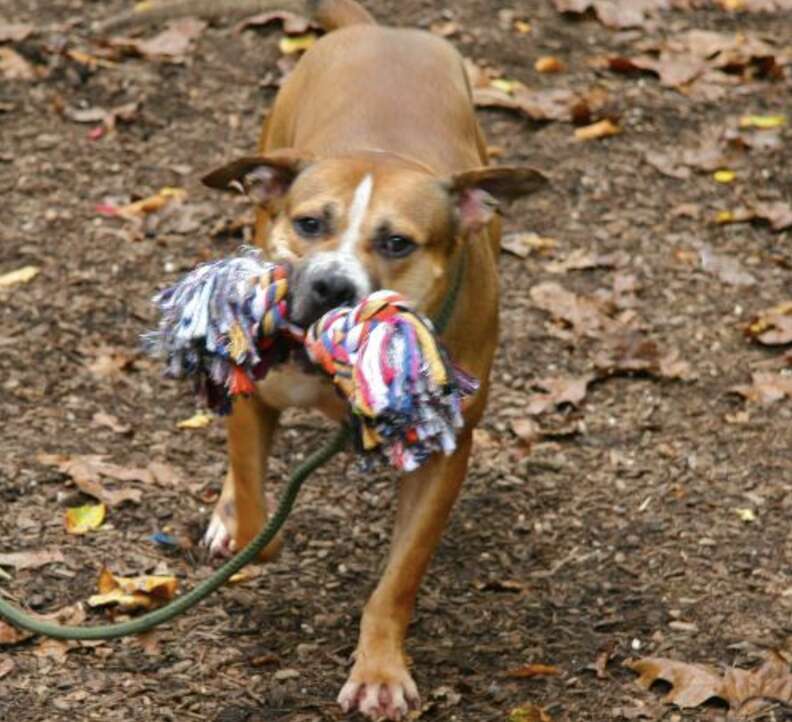 "Max is a rare gem that has gotten overlooked because he is a strong boy and a senior," Barish said. "The best home for Max would be a laid-back, child-free home. He will require a patient and experienced owner who will allow him time to decompress after stressful shelter life. He would do best as the only animal as he plays very rough and can be dog selective."
Max absolutely loves going for car rides, running around outside and, of course, taking a good long nap. He has such an intense joy for life, and he just wants to be able to share that with a family who loves him. The right family for Max is out there somewhere, and hopefully they'll find him very, very soon.