Everyone's Confused By This Perfectly Normal Photo Of A Dog
"10 min into his haircut and he CANNOT sit still any longer."
Scamper is a perfectly normal pup — but once you see a photo of him, you'll beg to differ.
The fluffy Shih Tzu mix appears to have a tiny head and a disproportionately large body. But it wasn't some trick of photo editing or perspective that created such a perplexing image.
It was a haircut.
Scamper is always impatient when it comes to getting his hair done. The excitable pup refuses to sit still — which means his haircuts take quite a long time.
Scamper's mom's first attempt at trimming his thick coat took a week to complete. But dropping the rescue dog off at the groomer's isn't an option. "He's very nervous with new people and when I took him to the groomer he just cried and shook the whole time," Kyra Driscoll, Scamper's mom, told The Dodo. "I never wanted to make him do that again."
Driscoll has since gotten faster at grooming her pup, but she still has to do it in stages. "Now I've been doing it for a while and it only takes a few days," Driscoll said, "but I have to do it in multiple sittings because he gets so excited and wants to play."
During Scamper's latest haircut on Tuesday, Driscoll couldn't resist sharing a photo of her handiwork on Facebook, with the caption: "10 min into his haircut, and he cannot sit still any longer. Now he looks like a disproportioned mutant."
Starting with the head is an unorthodox way to groom, and Driscoll quickly learned why.
"He always looks so silly mid-cut because his hair is so fluffy," Driscoll said. "Sometimes I start with his feet and then he has tiny little chicken legs and a huge body. Other times, I start with his midsection ... this time we started with his head and everyone thought it was hilarious."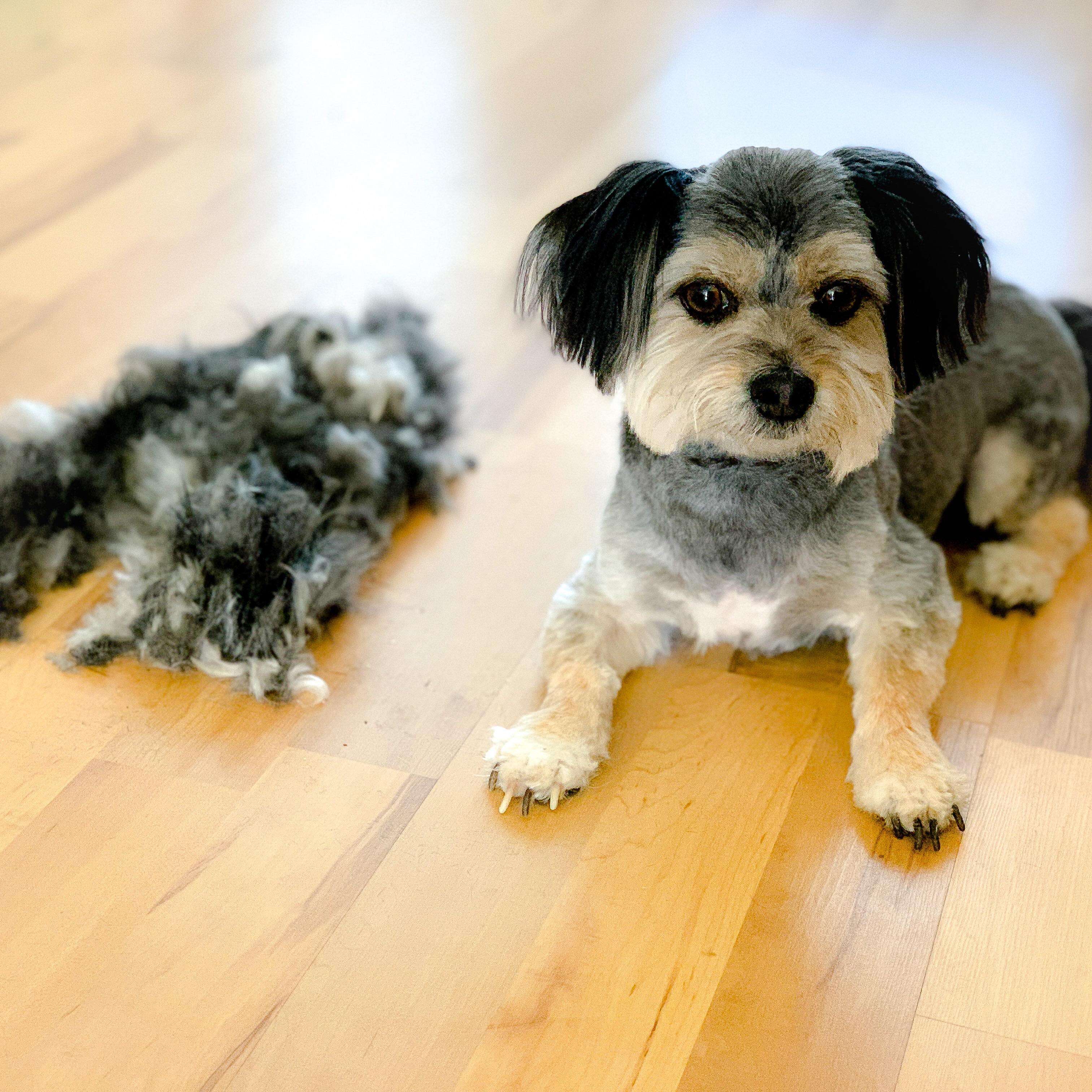 Scamper's photo quickly went viral, gaining over 19,000 likes and confusing viewers. Commenters dubbed him the "shrunken head dog" and a "doggo with a mullet."
Of course, Driscoll doesn't mind how long his haircuts take — as long as Scamper's happy.
"He's an incredibly loving dog," Driscoll said. "He makes our lives so much better than we ever thought possible."