Little Dog Who Lost His Best Friend Gets A Toy That Looks Just Like Her
He misses her so much, but his family and his new stuffed animal are helping him get through it.
Paddy the Chihuahua was rescued after he was found trying to cross a busy four-lane highway. He was very thin and frail, and kept falling over due to a misaligned disc in his neck. He was adopted by a family who understood and helped him through his differences — and a few months after he was adopted, he got a sibling who also knew a lot of struggle.
Janell Jensen
Lily the lamb was the smallest of a set of triplets, and when she was in the womb, her legs didn't have enough room to develop correctly. After she was born, her mother rejected her in favor of her healthy siblings, so she was brought to a vet in an attempt to save her. Unfortunately, the vet did not have the time or resources to help her, and was planning on euthanizing her — until he found someone who was willing to take her in.
Janell Jensen received a call from the vet asking if she would take Lily in and immediately agreed. She and her husband knew that caring for the sick little lamb wasn't going to be easy, but they also knew they had to try. They have a knack for taking in animals who need a little extra help, and as soon as Lily arrived in their home, Paddy stepped up to help care for her, too.
Janell Jensen
"When we adopted Lily, Paddy took her under his wing right away and became her official face washer after each and every bottle of lamb's milk, which at first was every hour," Jensen told The Dodo. "He snuggled with her to keep her company; she was HIS baby lamb. Lily would also walk over to Paddy and snuggle up to him. They loved each other … they were VERY close."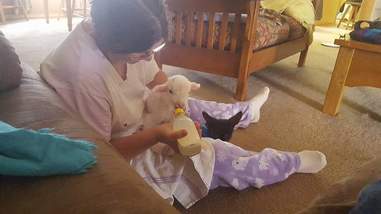 Janell Jensen
Both Lily and Paddy had some balance issues, but that never stopped the pair from running around their house together, pulling toys out of their toy basket and stopping frequently to cuddle. They were the absolute best of friends, and seemed to understand each other so well.
Janell Jensen
Lily got around on her crooked legs the best she could for her first four months of life, but as she grew, her body became too heavy for her frail legs to support. Her family got her a bright pink wheelchair and helped her in and out of it each day. When she became too heavy for them to lift into her wheelchair, they built her a lift to help instead. Paddy and his parents dedicated their lives to helping Lily live hers, until finally, Lily lost the use of her back legs completely.
Janell Jensen
Lily the lamb passed away in February at just 15 months old. Her whole family was devastated, and poor Paddy seemed so confused as to why his best friend was suddenly gone.
Janell Jensen
"We could definitely tell that little Paddy missed Lily after she was gone, but we gave him lots of special attention and that seemed to help his grief," Jensen said. "We all grieved for her in our own way, I guess. She was such a big part of our little family."
Janell Jensen
To help with his grief, Paddy's aunt decided to send him a stuffed lamb, so that he would have something to cuddle with in place of Lily. When Paddy's mom opened up the package and he saw what was inside, he immediately pulled it out of the box and began to cuddle with it, so excited that the soft toy looked just like his best friend.
Janell Jensen
"I put it in his big dog crate, that we call his 'mancave,' and he snuggles up to it on his heating pad," Jensen said. "I leave the door open and he goes in on his own to snuggle up with his plush Lily."
Janell Jensen
Paddy clearly misses his best friend so much, but having a stuffed toy that looks just like her is helping him through his grief, and will serve as a beautiful reminder of what a wonderful friend Lily was.