Sweet Dog Gets Her Very Own Hand Sanitizing Station
"My boyfriend gasped and told me to look to my right. We saw the sign" 😂👏🐕
It's hard to resist petting a cute dog on the street. But with social distancing in effect, many pups have to go without attention from their neighbors.
Sparkle, a beagle mix, likes to sit on the porch of her home, saying "Hi" to whoever passes by. To keep her happy during quarantine, Sparkle's parents came up with a way for her to continue to socialize while helping everyone stay safe.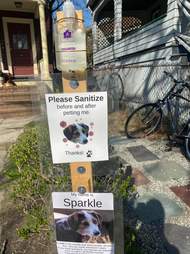 Jennie Ross
Sparkle's parents made a special sign to let neighbors know that it's OK to give their friendly rescue pup pets — as long as they use hand sanitizer before and after. And the sweet sign is cheering up everyone who sees it.
"A few days ago, my boyfriend and I decided to go on a walk," Jennie Ross told The Dodo. "We were about a mile or so from where we live, and my boyfriend gasped and told me to look to my right. We saw the sign and saw Sparkle on the front steps."
"I thought she was just the sweetest thing," Ross added. "She was completely relaxed and was obviously having a wonderful day in the sun! The hand sanitizer and sign were a great idea. We love a socially responsible gal!"
Jennie Ross
Sparkle's sign reads: "My name is Sparkle. I LOVE to be outside and meet people, all year! But I also go inside whenever I want. If you have questions, my tag has my adoptive mom or dad's cell phone number."
Facebook/Melora Rush
Ross snapped a few photos of Sparkle and posted them on Facebook. Soon, people from all over the country were begging to give Sparkle a pet. A few Facebook users even recognized the pup and confirmed what Ross already knew to be true.
"Glad she's getting the recognition she deserves," one Facebook commenter wrote. "She's the cutest, I'd always stop to pet her and then end up sitting on the sidewalk for like 15 minutes. She loves attention and is the sweetest thing."
Sure enough, the attention keeps Sparkle happy and the hand sanitizer keeps her sparkling clean.