'Angel' Dog No One Wanted Looks So Different Outside Of The Shelter
"It's almost as though he can't believe how much yummy food he can eat, or how many treats his foster mommy gives to him, or how soft and snuggly a dog bed can be."
Ron, a black lab, needed a miracle.
For three weeks, the stray dog sat inside a kennel at San Antonio Pets Alive (SAPA), a shelter in Texas, after arriving there in December 2016.
Though volunteers at SAPA did everything they could for the dog, whom they named Ron, no one came to claim him or offered to adopt or foster him.
The clock was counting down on Ron's life. His time at the shelter was nearly up. Local volunteers took more pictures of Ron and posted their desperate pleas on Facebook, begging for someone to save him. The post about him was shared more than 1,200 times.
Ron didn't look very appealing to most, but behind his broken-down body, and behind his balding face, rescuers with Lucky Lab Rescue and Adoption saw the pleas and decided Ron would be their Christmas miracle. Every holiday season, the rescue group, which saves thousands of dogs a year, focuses its attention on one special pup who needs help more than most.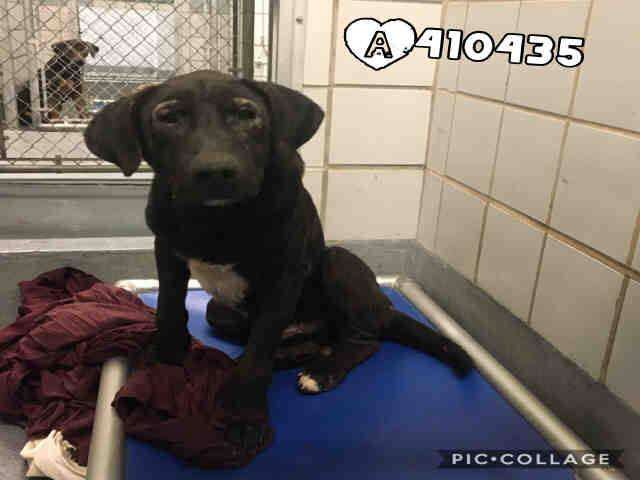 "Though we like to think we pull off miracles 365 days a year, during the holidays we keep an eye out for a special dog who really needs us. A dog no one wants, one who needs some love and care," Cori Johnson, from Lucky Lab, told The Dodo. "Once we saw Ron, we knew he was the one!"
The rescue joined in on the social media pleas, begging for a foster in Texas to save Ron. That's when Marie Guadagno saw the group's post. "He just looked so alone," Guadagno told The Dodo.
As it turned out, Guadagno had room for Ron, and on Christmas day, he arrived at Guadagno's home.
But Ron was extremely sick, and Guadagno thought she might end up becoming the dog's hospice caretaker rather than a foster mom. "He was emaciated. He weighed 39 pounds," she said. "He was heartworm positive; he had fungal, eye and ear infections; ground-down teeth; and skin sores that reached almost down to his bones."
Guadagno immediately brought Ron to Lucky Lab's vet in Austin and he started receiving treatments. But the dog's road to recovery was rough at first. "Ron slept for a week straight, only moving to eat and get pet," Guadagno said. "Slowly, he began to feel a bit better and look more alive. The multiple medications and ointments seemed like they were starting to work."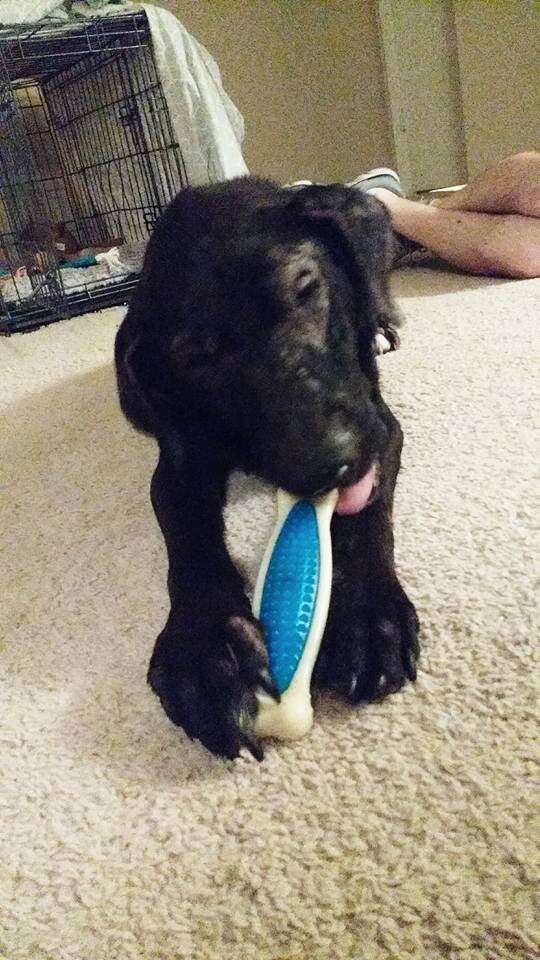 With good food, and lots of love and care, Ron began to transform. His hair grew back. His sores healed up. By early January 2017, he had gained 12 pounds. Before and after photos of Ron show what seem to be two completely different dogs.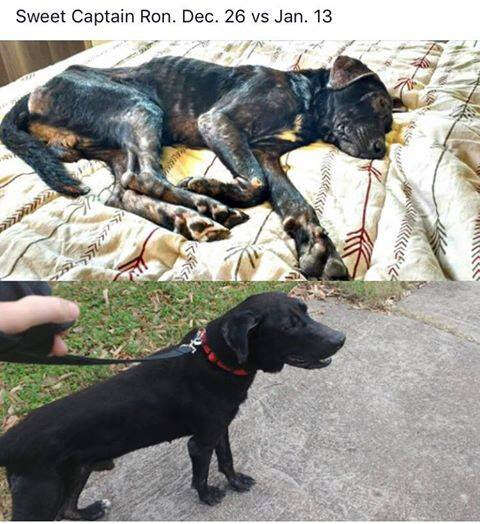 And he's also learned how to have some fun — he loves to swim and be out and about. "He looks so happy and cute now!" Guadagno said. "Every day is the best day of his life."
Fostering Ron has been an incredible experience for Guadagno, too. "Ron has been nothing short of sweet, happy and filled with gratitude," Guadagno said. "It's almost as though he can't believe how much yummy food he can eat, or how many treats his foster mommy gives to him, or how soft and snuggly a dog bed can be."
Now, six months later, Ron weighs 62 pounds. He has a gorgeous coat and most of his health problems are behind him. Ron was finally listed for adoption and is ready to find his forever home in Texas.
"Watching Ron blossom from what I thought was a sure death to becoming a beautiful, sleek, playful black Lab has been most rewarding," Guadagno said. "He is truly an angel dog — he captures the ability of dogs to overcome and to remain loving and loyal."