Abandoned Dog Who Was Afraid Of Men Finds Perfect Woman To Help Him
He had spent months alone at a rest stop — and was so happy when he realized he was finally safe.
Gershwin was abandoned at a rest stop in the middle of nowhere in California. He spent his days outside in 100-degree heat, struggling to find food or water and terrified of anyone who came near him. He lived like this for two months before someone at the rest stop finally noticed him, and refused to forget about him.
The man who finally spotted Gershwin contacted Hope for Paws, and then waited two and a half hours at the rest stop for rescuers to arrive. When they finally got there, rescuers found Gershwin huddled up behind some bushes, soaking up the little bit of shade he could find.
Rescuers attempted to block both ways that Gershwin could escape, and tried to approach him …
… but the poor dog was so scared he tunneled through the bushes instead, and ran out into the parking lot away from his rescuers.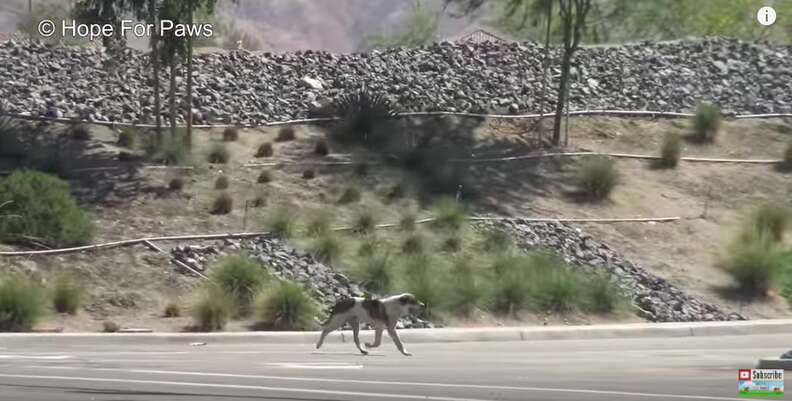 After a few more attempts, it became clear that Gershwin was the most terrified of men, and so one of the female rescuers, Loreta Frankonyte, decided to try approaching him alone. She grabbed some food, and moved very slowly …
… and after a little while, Gershwin started to come near her, fueled by his hunger and exhaustion.
At one point, Gershwin got a little spooked and ran away again, so Frankonyte had to sneak up on him …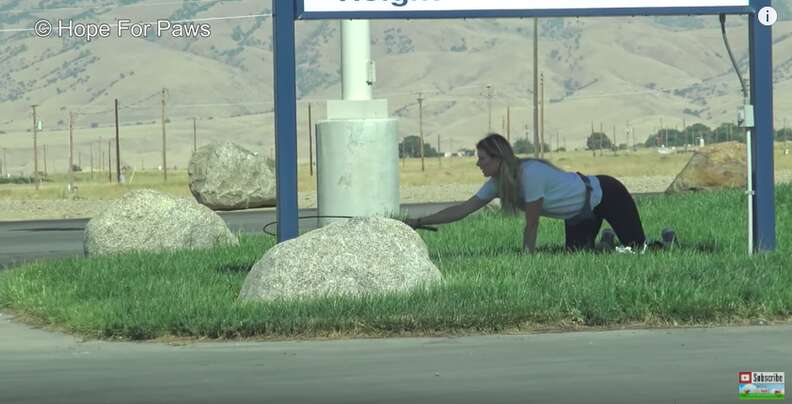 … and was finally able to get a leash around him. Initially, Gershwin panicked and tried to break free of the leash, dragging Frankonyte with him. The 110-pound dog was very strong, but Frankonyte was able to hold her ground until someone else rushed over and got a second leash around him.
After the initial panic wore off, Gershwin began to relax, and even let his rescuers pet him a little bit.
They led him over to their car, and to their surprise, the gigantic dog jumped right in with no issues. Once he realized they were there to help him, he was more than willing to go with them, excited to drive away from the rest stop forever.
Once he was at the vet, Gershwin became a gigantic mush, loving all of the attention from his new friends. They got him all cleaned up and checked out, and he began treatment for a pretty nasty infection in his shoulder. Luckily, he was able to make a full recovery, and is now loving life in his foster home. Gershwin is an energetic, happy dog who just wants to find a family who will love and play with him for the rest of his days.
Watch the full video of Gershwin's rescue below: