Dog Experiences Pure Joy When Owner Puts Toilet Paper On Ceiling Fan
"I was just like, 'Wow.'"
Natalee Salvador was scrolling through Facebook when she saw something she had to try. It was a video of a happy cat playing with toilet paper suspended from the blades of a ceiling fan.
The idea seemed too good to be true — something that could provide hours of entertainment for her pet using stuff she had lying around the house.
But Salvador's cat Merlin was not so easily convinced.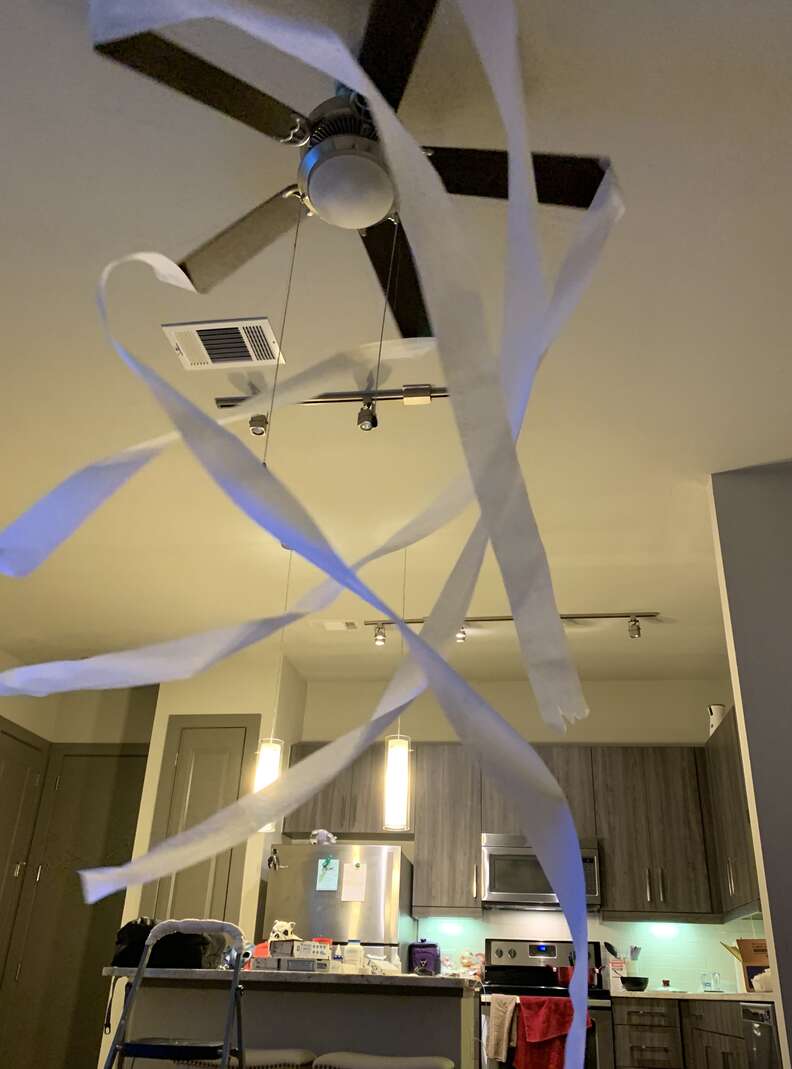 "My husband got our stepladder out and he taped the toilet paper to the fan," Salvador told The Dodo. "I thought [Merlin] would play with it, but he couldn't have cared less. He was not impressed!"
Salvador and her husband gave up on Merlin and left the toilet paper on the fan. But when their dog Bentley, a 6-year-old English bulldog, saw the setup, they got the reaction they had hoped for all along.
"Bentley always overreacts to any little thing that is different than his usual 'norm,'" Salvador said. "He goes after our vacuum … he gets startled if I move the barstool too fast. So really anything that bothers him he will react to and it's pretty funny."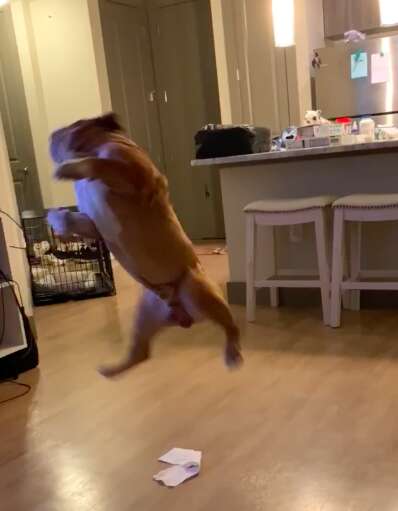 When Bentley saw the fan spinning he immediately darted toward it, hurling himself at the toilet paper. Much to the surprise of his parents, the look on his face was one of pure joy.
You can watch the adorable moment here:
"He was twirling and hopping and I was just like, 'Wow,'" Salvador said. "I don't usually let him jump like that due to the fact I don't want him hurting himself but … I couldn't stop laughing. He is such a happy boy."
After a few minutes, the Salvadors had to stop the fun and take down the paper: "He would've kept going if it stayed up," she added.
When Bentley isn't chasing his toilet paper "monster," he prefers to take it easy and cuddle with his parents.
"He thinks he is a lap dog," Salvador said, "but he weighs 54 pounds."