Dog Found Wandering Alone With A Heartbreaking Note On Her Collar
"I am lost and looking for a home."
When this sweet pup named Ghost was first spotted wandering all alone through a stranger's yard in western Michigan, it wasn't immediately clear whether she was lost or had been abandoned.
But a closer look at her collar soon revealed the sad circumstances that led her there.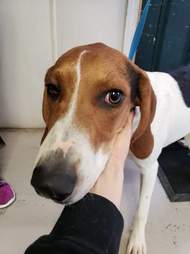 Luvnpupz
Upon checking for an ID tag on the dog, the Good Samaritan who found Ghost instead discovered a heartbreaking note, presumably written by her former owner.
Ghost, it seems, hadn't been set loose in the world out of malice or uncaringness — but rather as a misguided act of compassion from a person who had suffered a medical emergency.
Luvnpupz
Luvnpupz
After reading the note, the person who found Ghost contacted Luvnpupz, a group that rescues and rehomes needy animals. When founder and president Carri Shipaila saw what had been written, she sensed right away that this wasn't a typical abandonment case.
"At first, when I saw her with the note, I was taken aback," Shipaila told The Dodo. "But once I read it and saw how lovingly it was sealed to avoid moisture, I knew there has to be more to this."
Luvnpupz has since placed Ghost with a foster family. Shipaila, meanwhile, has put out a public appeal to help find her owner — not to shame them, but to offer help in restoring the life that Ghost had known.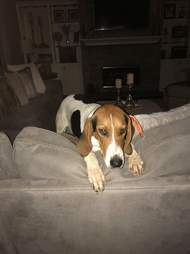 Luvnpupz
"If the owner felt they couldn't provide for the dog financially due to circumstances, then I believe we can help to keep the dog in the home," Shipaila said. "I also want to make sure that this owner knows what happened, and if the owner personally needs help after the stroke, I would like to invite the community to come together to help."
Shipaila asks that people will withhold judgement about the owner, and give them benefit of the doubt that they truly believed setting Ghost loose was their most loving option.
"We need to look at this as a lesson in compassion, not with anger and disrespect," Shipaila said.
Luvnpupz
Ghost is doing well in her foster home, and will be made available for adoption if things can't be set right with her owner. But Shipaila hopes that cases like this can be avoided for other pets — by way of community involvement.
While rescue groups like Luvnpupz exist, as an individual it never hurts to offer help to a friend, family member or neighbor you think might need it.
After all, abandoning a pet should never be seen as the best option.
"We need to begin creating new ways to help people retain their pets and sometimes that means looking outside the box," Shipaila said. "People say they don't want to intrude or offend someone by offering help to someone who didn't ask. It's time to change that. It's time we all communicate and reach out positively."