Footage has emerged showing the dramatic moment a little dog dangling from a third-story balcony plummeted toward the ground below. But the pup was saved from likely death — all thanks to some kindhearted people who knew they had to help him.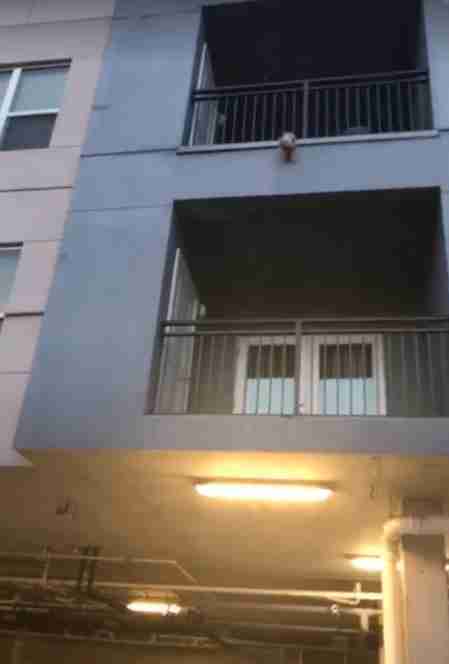 Terlisa Perry was among the group of neighbors who first spotted the dog precariously perched between railings at an apartment building this week in Tampa, Florida. They called 911, but with each passing minute, it became clear they needed to take initiative themselves.
"His hind legs is what was holding him up there, and he was bracing with his front paws and he was dangling there for so long, and every time he would move, everybody was gasping," Perry told News Channel 8.
One of the quick-thinking neighbors supplied a blanket, and together the group held it out below the dog. That's when he took a leap of faith.
The group cheered after the successful catch, and for good reason. Aside from being scared, the little pup appeared to be OK, but one of the neighbors took him to a vet just to be sure.
Attempts to reach the dog's owner that evening were unsuccessful; they were apparently not at home during the time of the incident. Authorities said they planned to follow up with them the next day.
In the meantime, officer Jay Hollman, who was on hand to aid in the catch, says he's heartened by how everything turned out.
"It was the best feeling I ever felt," Hollman told ABC Action News. "He didn't hit the ground. He wasn't dead. The citizens were cheering like it's the Super Bowl. For everyone to come together for a small little dog shows the community has love for each other and they still care."