Dog Whose Best Friend Died Still Leaves Food Out For Him
"They loved each other very much."
Losing an animal companion is never easy — but pet owners aren't the only ones who grieve.
Easton Dufur had recently said goodbye to his 13-year-old dog, Stitch, who passed away of old age. The two had been close since Dufur first got him while just a kindergartner, but perhaps no one loved Stitch more than his family's other dog, a girl named Cookie.
The two even looked very similar.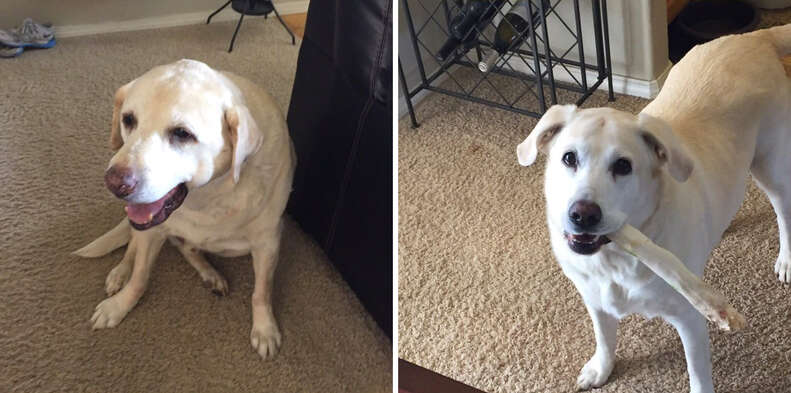 Being a few years younger than Stitch, Cookie seemed to help reinvigorate the older pup. And in return, he acted as a mentor of sorts for her. The two of them were as close as could be.
"They loved each other very much," Dufur told The Dodo. "Cookie would always egg him on so he would play with her and they would take care of one another."
Stitch and Cookie were so perfect together, in fact, that Dufur was able to feed them from the same dog bowl without worrying about them squabbling. Stitch, in his own way, had trained Cookie to eat only her half of the food provided, leaving the other half for him.
Sadly, though, with the older dog's passing, their time together has come to an end — but their special bond is clearly not broken.
"This is Cookie's first time alone," Dufur wrote on Twitter. "So since Stitch is gone, I've been feeding Cookie less food. Well before I went to bed, I wanted to check to see if she ate. And so I did, and she still left half of her food there so Stitch can eat."
Not having Stitch around has been difficult for the entire family. Dufur says Cookie has been sleeping more and acting more mellow since her best friend passed away. Still, they are making sure she knows she is not alone in her grief.
"We have been giving her so much love and attention," Dufur said. "We are getting past the mourning."