Dog Rips The Tail Off Every Single One Of His Toy Pigs
Same place, every time 😂🐷
When Diesel's parents first brought him home a cute little stuffed pig toy, they had no idea just how much the husky was going to love it. For two days he played with nothing else, and his parents figured that eventually, just like the rest of his toys, he would destroy it. One day, they finally found stuffing everywhere — but were confused when they realized that something was different this time.
Diesel had only ripped off the stuffed pig's tail — and that was it. Otherwise, the pig was totally OK. Diesel's parents bought him another pig, and after two days, the exact same thing happened again.
That was two years ago, and since then, Diesel has ripped only the tails off of dozens and dozens of toy pigs, and his parents have no idea why.
"I thought at first it was for the squeaker but we found the squeakers were intact still," Tim Eberts, Diesel's dad, told The Dodo. "Since then, we kept buying more pigs for him because he seemed to love them. He would play with them for about two days, focusing on the backside until one day he just decides to rip the tail off and get all of the stuffing out of it."
Every time he rips off another tail, Diesel seems so proud of himself, as if that's exactly what he was supposed to be doing, so his dad started taking pictures of him with all of his pigs …
… and occasionally Photoshops the funniest smile onto his face, to showcase just how proud he is.
"He never acts guilty," Eberts said.
Diesel loves posing with his collection of tailless pigs, but for some reason, he won't actually play with them anymore once their tails are gone.
"Once the booty-eating deed is done, and stuffing ripped out, he is no longer interested in the pigs," Eberts said.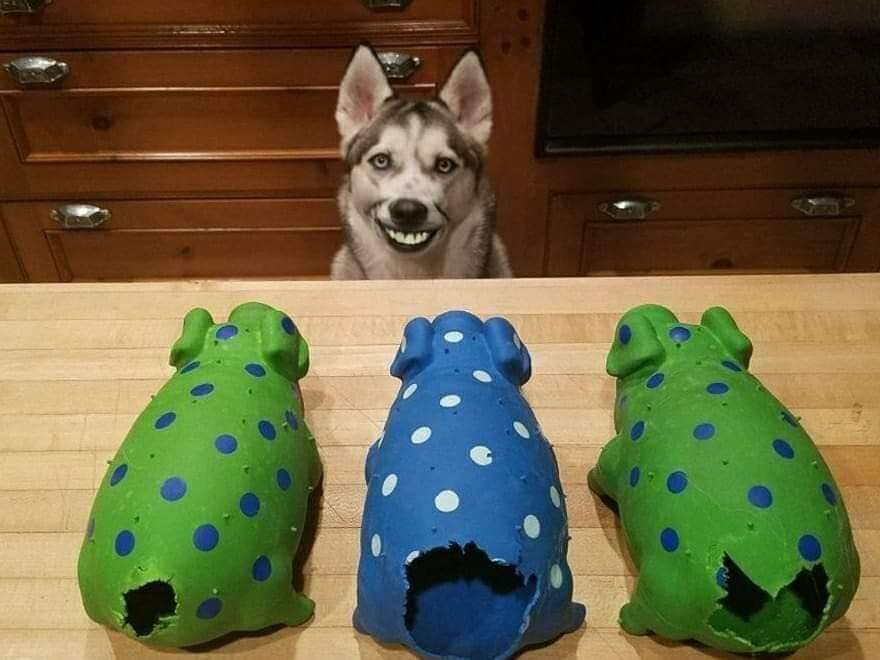 Instead, his parents just keep buying him more pigs, and the cycle continues.
Diesel's parents may never figure out exactly why he loves ripping the tails off of his pigs so much — but it brings him joy, so they've stopped asking questions and just keep buying more pigs.