Sweetest Dog Has Been Waiting For A Family For 5 Years
"It's would just be nice to see him on a couch in his senior years."
Chad is a Staffordshire terrier mix who loves to play and socialize, and who always has the biggest smile on his face. Yet he's been stuck in a shelter for the last five years, and the shelter staff can't understand why.
"He's just a big old chunky, sweet, sloppy-kissing, bouncy, happy guy," Layne Dicker, a volunteer at the Best Friends Animal Society shelter in Mission Hills, California, told The Dodo. "He's been at the shelter for a crazy amount of time."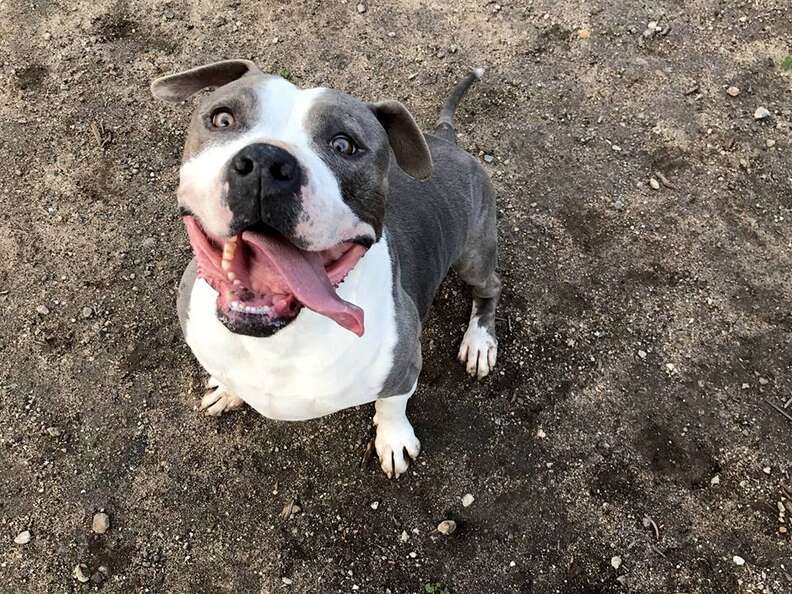 Five years ago, Chad turned up at a crowded city shelter run by Los Angeles Animal Services. Fortunately, he didn't stay there for long — rescuers transferred him to the no-kill shelter run by Best Friends Animal Society, where Chad would get individual attention and lots of playtime outside.
Seeing how sweet Chad was, the staff and volunteers imagined that he'd get adopted quickly — but he has had no such luck.
"He has some challenging aspects that make him harder to find a home for," Michelle Sathe, public relations specialist for Best Friends Society, told The Dodo. "He is very picky about his people, so he's what we call a relationship-building dog. Someone who would be interested in adopting Chad would need to come to the center several times to build a relationship with him, and that's really his primary obstacle."
Dicker, who's been volunteering at the shelter since Chad first arrived, explained that it just takes patience to get to know Chad.
"There are about 20 people who he adores and trusts, and who are family," Dicker said. "He can be introduced to new people if you do it well. It takes a little time."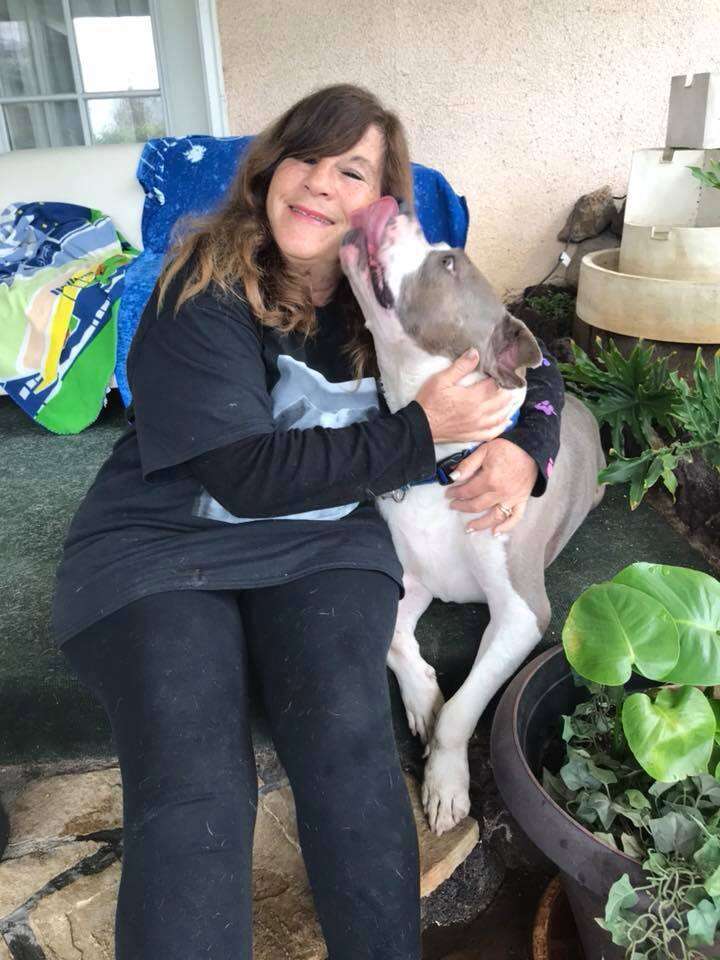 At 10 years old, Chad is a senior dog — and the family that adopts him would need to be aware of his future needs.
Despite these challenges, Dicker couldn't speak more highly of Chad, whom he describes as a "sweet, smart, playful, social" dog who loves giving and receiving affection.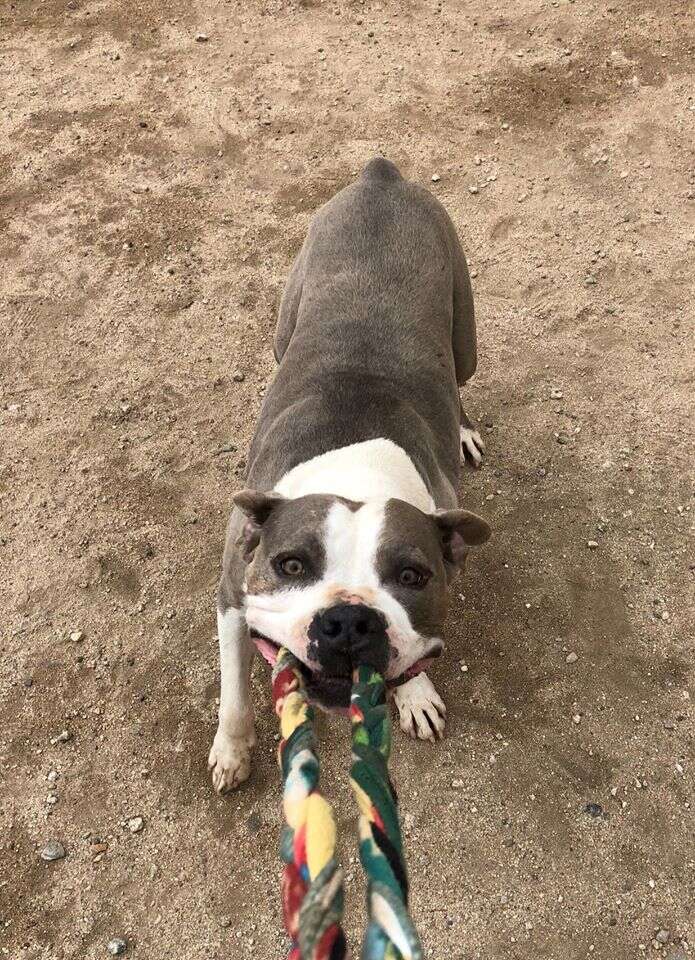 Not surprisingly, Chad is a favorite amongst the shelter staff and volunteers.
"I've been there for five years, and I've watched as Chad's fan club has grown," Sathe said. "Many dogs who are in homes don't get half the love or attention that Chad gets from the people at our center. He has at least a dozen passionate fans, and they constantly take him out for playgroups and one-on-one time. And some of our volunteers take him home for visits and sleepovers."
While Dicker describes the Best Friends shelter in Mission Hills as "an unbelievable shelter with highly trained people," he points out that shelters are still not ideal places for dogs. "As great as any shelter is, it's still a shelter, and it's inherently stressful," Dicker said.
What Chad really needs is a forever home, and Dicker believes the best person to adopt him would be someone who will be patient and understanding of Chad's needs.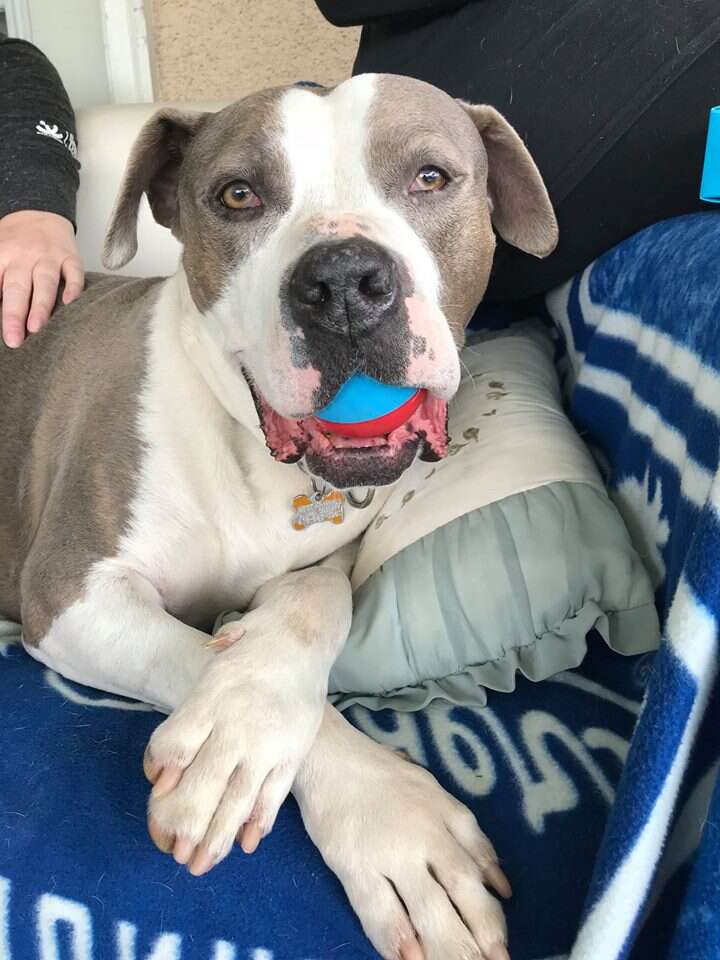 "He loves people so much," Dicker said. "It would just be nice to see him on a couch in his senior years."
If you're interested in adopting Chad, send an email to adoptla@bestfriends.org.
Thinking about adopting a dog? Then meet Dodo Adoptbot, an interactive guide for new pet parents. Get started on
Facebook Messenger
or text HOME to 38349.