Dog, Cat and Rat Brothers Have No Idea They're Any Different
"They kinda just met each other and were like, 'OK, I really like you.' They're my boys and I love them entirely."
When Lucia Lopez first brought home Bishop, she was amazed by how much he helped her mood. She instantly loved having him in her life — and before long she had five pets of all different kinds, and amazingly, they all get along and love each other so much.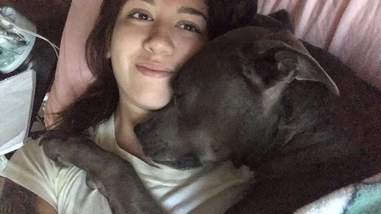 Lucia Lopez
When Lopez first adopted Bishop, he'd clearly been abused and had no idea how to be a dog. He would lunge at squirrels on walks and was very reactive in general, and it took a lot of love, patience and training to help him overcome his issues. He soon became a completely different dog than the one his mom first met in the shelter. So when she was suddenly presented with the opportunity to adopt a kitten, she decided to give it a try, hoping that Bishop had grown enough to take on the role of big brother.
Lucia Lopez
Some of Lopez's friends had found Doug and his sister abandoned on a highway, and called Lopez asking her what to do. She drove out to help them and collected the kittens, planning on bringing them to a rescue — but ended up deciding that she couldn't part with little Doug. She adopted him into her family, while his sister was adopted by one of Lopez's friends. She wasn't quite sure how he and Bishop would get along at first, but as it turned out, she had absolutely nothing to worry about.
Lucia Lopez
"I took him home and placed him next to Bishop, and they got along right away," Lopez told The Dodo.
Not long after Doug joined the family, Lopez adopted Simba as well. She now had two cats and a dog, which might seem like a full house to some people — but Lopez knew she and her boys had room in their home and their hearts for more. In October, she welcomed two adorable little rats named Joey and Chandler into the family.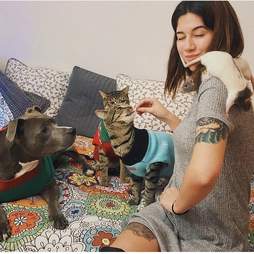 Lucia Lopez
Even though they're all incredibly different, Bishop, Doug, Simba, Joey and Chandler all get along amazingly well. They absolutely adore cuddling all together, and the bigger animals have no problems with the rats running all over them and snuggling up to them. They all follow each other around, and love doing everything they can together.
Lucia Lopez
"One time Simba even went inside the rat cage and took a nap," Lopez said. "We like sunbathing outside in the backyard together as well."
Lucia Lopez
Many people are shocked when they hear about Lopez's big, quirky animal family and think it must be difficult to keep the peace among them, but really, it's not an issue at all.
Lucia Lopez
"People are often surprised," Lopez said. "Dogs and cats? Rats and cats? People ask me how I get them to get along but I don't really do anything. They all got along by nature. There was never anything to enforce between them. They kinda just met each other and were like, 'OK, I really like you.' They're my boys and I love them entirely."