Dog Thrown From Car In Crash Gets Adopted By His Vet
His owner fled the scene on foot, but police officers rushed him to the animal hospital.
"Resilient." That's how everyone who has met Jacob, a 6-year-old pit bull, describes him. He's come a long way, mentally and physically, over the last year, but now he finally has a place to call home.
On December 14, 2015, Jacob was nearly killed riding in a pickup truck when the driver, who was charged with driving under the influence, hit a tree. He was later found incompetent to stand trial, Aaron Berube, police chief in Chester, New Hampshire, told The Dodo.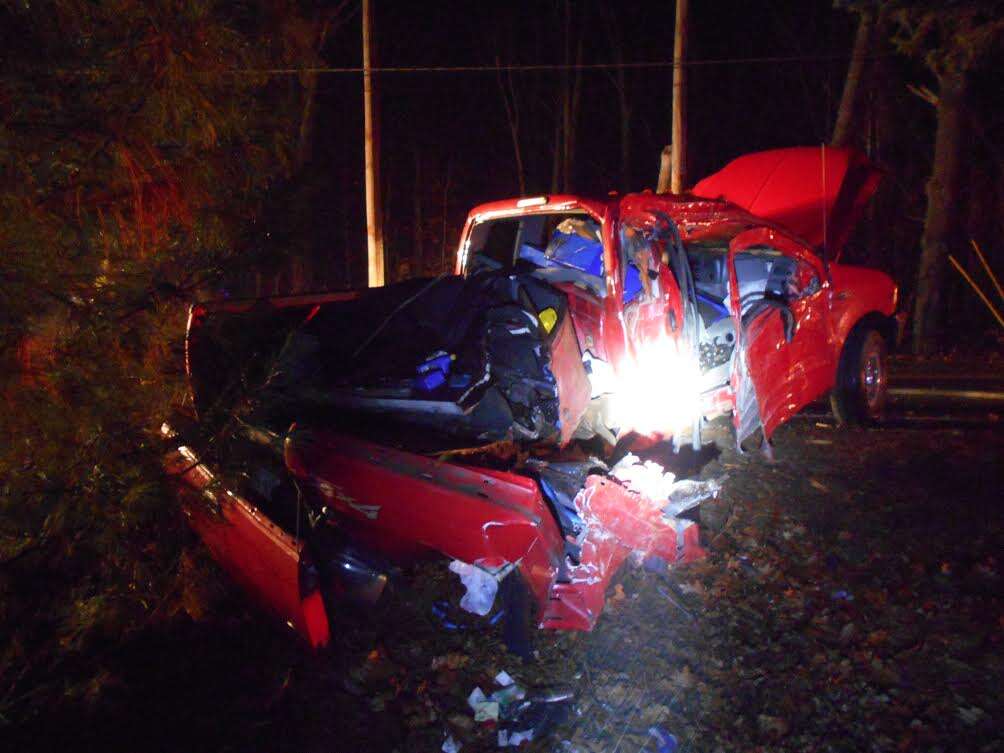 Police dispatched to the accident could immediately see Jacob was badly injured. "It appears the dog was thrown from the vehicle in this horrific looking crash. The driver fled on foot," Berube said.
Officers raced Jacob from the crash site to the Center for Advanced Veterinary Care in nearby Manchester.
Luckily, the clinic's owner, Dr. Deborah Kelloway, was on duty when Jacob arrived.
"He was clinging to life. Air was leaking from one of his lungs into his chest," Kelloway told The Dodo. "His hip was dislocated. He was in shock. He was bleeding internally."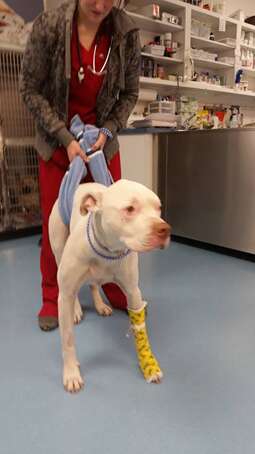 Kelloway and her team spent the entire night trying to save Jacob — and their efforts were a success. They got the air out of Jacob's chest and the bleeding to cease.
"We went to work as fast as we could. Miraculously we saved him," said Kelloway.
After Jacob recovered from those injuries, Kelloway had to tackle fixing his hip. He ended up needed two different surgeries to get him up, walking and out of pain. Jacob lived at the animal hospital during the entire ordeal.
Berube said the police department petitioned the court for ownership of the dog, and won. They then surrendered him to All Better Pets, an animal rescue organization located within the animal hospital.
Berube learned that Jacob's medical costs were massive, so officers with the local police and fire departments raised thousands of dollars for his care. "It was the right thing to do. We had plenty of support in the community. It's nice he has a second chance," said Berube.
But once Jacob recovered from the hip surgeries and was able to start moving around, Kelloway discovered he had another problem.
"He was a wild child and would charge at other dogs and growl and bark at them," said Kelloway. "He was calm before because he was so injured. We found out he had no manners. He was out of control. It was like a rodeo trying to get a leash on him."
To help get Jacob ready for adoption, the entire team at All Better Pets decided they needed to call in a new type of specialist: a dog trainer. "Together the trainer and the volunteers worked with Jacob. They were consistent," said Kelloway. "This time around it was the volunteers who saved his life. They are so important, we could not do what we do without them."
Even though Jacob was learning some new, constructive habits, people still weren't lining up to adopt him. Kelloway's 12-year-old daughter even made a video about his sad story and the new training he had learned to help spread the word.
Just when adoption prospects were looking bleak for Jacob, he found true love right inside the clinic.
"He would whine all night to get in the sleeping quarter. I'd finally let him in. Apparently human beds are better than dog beds and he had a really nice dog bed. He'd much rather be in snuggling with you under the covers," Wojtkiewicz told The Dodo.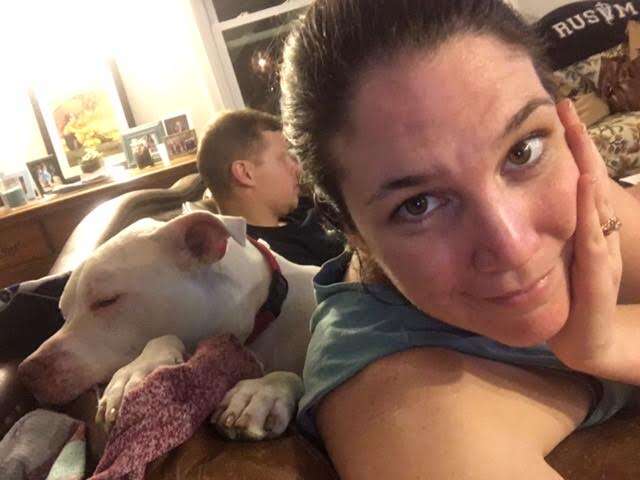 Not only does Jacob love to cuddle, he demands to sleep under the covers. "He paws at you to lift up the blankets so he can get under. He's a total character," said Wojtkiewicz.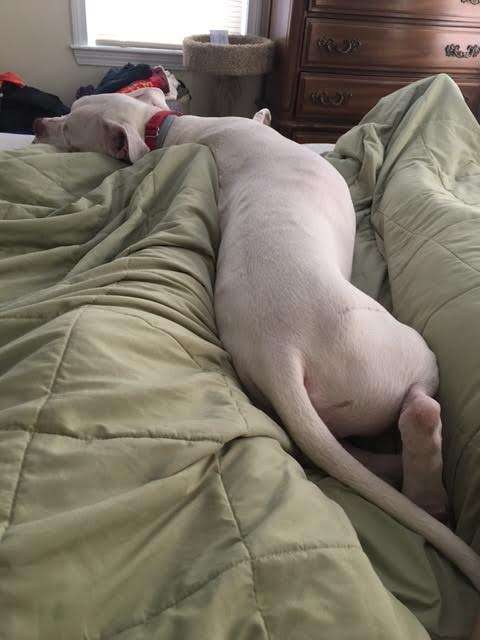 Jacob slowly wormed his way into bed as often as he could with his favorite veterinarian — so Wojtkiewicz decided to take him home permanently.
"The first night Jacob pawed at our covers. My husband didn't know what to do," Wojtkiewicz said. "I said, 'Just lift up the covers.'"
Everyone at All Better Pets was thrilled Jacob finally found his forever home. "He was pretty broken. It's amazing how well he gets around now. He acts like none of it ever happened. My entire family loves him," said Wojtkiewicz.