Little Shelter Dog Stays Glued To Best Friend To Make Sure They're Adopted Together
"They are as bonded as you can imagine."
These bonded shelter dogs, named Bonnie and Clyde, have no idea what the future holds in store for them, but they seem downright insistent upon facing it together.
In fact, you might say they're inseparable — literally.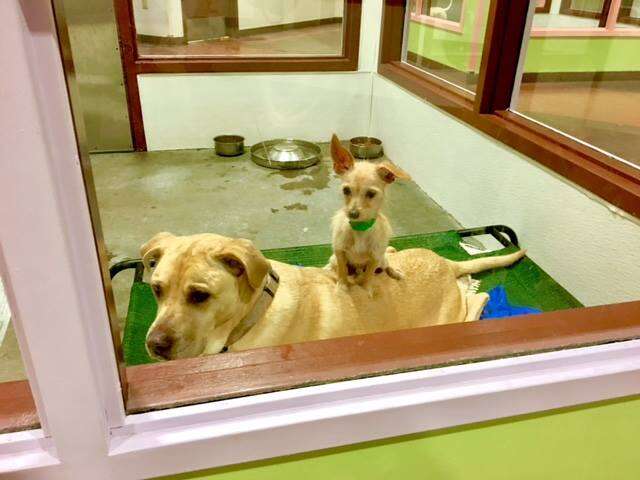 The sweet pups were found together recently, wandering the streets of Arizona as strays. Fortunately, they were rescued by Maricopa County Animal Care & Control (MCACC), where shelter staffers recognized that Bonnie and Clyde were a bonded pair. So, rather than tear them apart, they were given a kennel to share.
But rescuers soon learned just how connected the two dogs really were.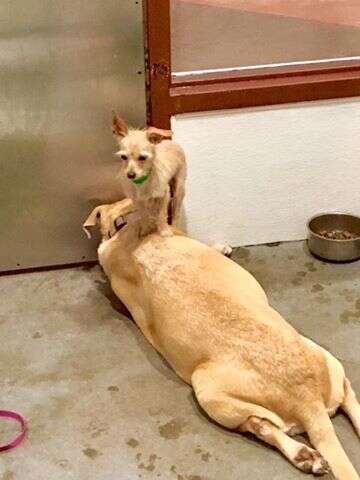 It's not uncommon for canine friends to cozy up to one another, but these dogs have taken things to a whole other level. Clyde, the smaller pup, actually spends most of his time perched atop Bonnie, something she doesn't seem to mind at all.
"Initially we thought it was a fluke, but it started happening a lot," MCACC's public information officer, Jose Santiago, told The Dodo. "Now it is unusual to not see them that way. They are as bonded as you can imagine."
The dogs even maintain contact during their naps, with Clyde preferring to be the little spoon.
While Bonnie and Clyde, of course, can't put into words just how much they mean to one another, their inseparability says it all: They want to stay together forever. And with any luck, that will be with a forever family.
"It speaks volumes about the trust and bond they have," Santiago said. "It's comforting to know that they are bonded so strongly to alleviate any stress, but it also stresses the importance of them going home together."