Dog Who's Been Through The Worst Can't Stop Kissing His Foster Mom
He's looking for a forever family who will love him just the way he is ❤️️
Legend healing at the vet clinic

| Rescue Dogs Rock NYC
But Legend, who's only 2 years old, was in horrible shape — he was covered in wounds, and he'd lost both his ears. If he didn't get to a vet, he was going to die in the shelter.
Luckily, a shelter volunteer named Fran Alexay realized this, and she got in touch with Jackie O'Sullivan, cofounder of Rescue Dogs Rock NYC, who agreed to take Legend under her wing. Then O'Sullivan made arrangements to immediately transfer Legend to a vet.
Rescue Dogs Rock NYC
"I spoke to the rescue coordinator at the shelter, and she literally put him in her car and took him to the closest vet, which I think was five minutes away," O'Sullivan said.
"He was very critical," O'Sullivan said. "He was on an IV, he had to be on a feeding tube — he couldn't eat in the beginning because his face was so swollen and injured."
After spending a day at this vet clinic, O'Sullivan and Alexay arranged to move Legend to a 24-hour vet clinic, where he'd get around-the-clock attention.
Alexay spending time with Legend at the vet clinic

| Rescue Dogs Rock NYC
"It was touch and go to see if he was going to make it, for at least the first few days," O'Sullivan said. "And then when they felt it was safe enough to put him under, they did, and they were happy to discover that even though the outside of his ears were destroyed, his ear canals were intact."
Alexay visited Legend at the vet hospital every day. By this point, she'd become quite attached to the Labrador-basset hound mix. If he survived, Alexay said that she'd foster him.
Legend after a few weeks of recovery

| Rescue Dogs Rock NYC
"She just fell in love with him at the beginning," O'Sullivan said. "He was very out of it in the beginning, so he didn't do much, but she just loved to be able to go and sit with him, and he would look for her. She would come to the vet and bring him something to eat."
The vets worked hard to patch Legend back together — and they succeeded. He doesn't have his ears anymore, but he's in relatively good health and the vets don't expect him to have ongoing health problems.
Rescue Dogs Rock NYC
A week after arriving at the clinic in a critical condition, Legend was able to go home with Alexay.
Alexay can't get over how well Legend is doing, and how much love Legend has to offer.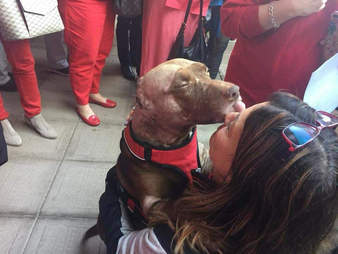 Legend giving Alexay a kiss on the face

| Rescue Dogs Rock NYC
"She said he's amazing," O'Sullivan said. "He loves to give hugs and he loves to give kisses. He's out walking in the neighborhood, and he's become a little bit of a celebrity out in Greenville, South Carolina."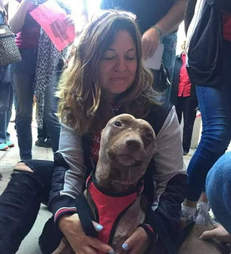 Rescue Dogs Rock NYC
Legend also doesn't seem to have any fear of other dogs, which is quite remarkable.
"People thought that he'd be terrified of dogs or not like dogs," O'Sullivan said. "He has met dogs out in the neighborhood ... and he's now met her dogs, and he's absolutely fine with everybody he's met."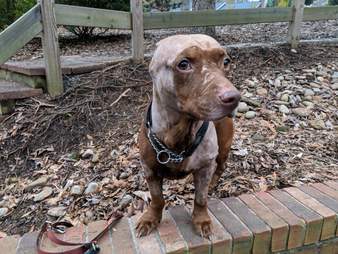 Legend out on a walk

| Rescue Dogs Rock NYC
"It's very surprising," O'Sullivan added. "He certainly has every reason to be fearful after what happened to him."
Alexay has loved every minute with Legend, but she wants to keep fostering dogs, so she won't be adopting Legend herself. Instead, O'Sullivan and the team at Rescue Dogs Rock NYC will move Legend to New York — and they'll make sure he finds the perfect family to adopt him.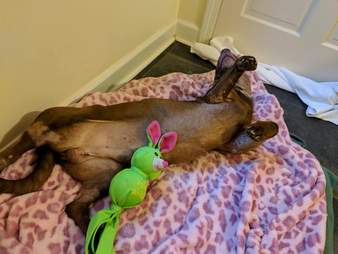 Rescue Dogs Rock NYC