Dog Who Lost Her Own Puppies Adopts Orphans Thrown From Car Window
"I find it very inspiring to see Blossom suffer such a heartbreaking loss and turn her full attention to caring for needy puppies, saving their lives."
When two of her three puppies died within a few days of being born in mid-June, Blossom searched the house for her missing babies.
The grieving mother stopped eating and became "frantic," Maggie Escriva, Blossom's foster mom, tells The Dodo, "which added to the heartbreak the rest of us were feeling."
Then, a day later, Escriva — who is the intake coordinator for Westie & Scottie Rescue Houston — heard about a litter of puppies who were also having a rough time.
Eight puppies had been thrown out the window of a moving pickup truck in a town about half an hour from Houston. Six survived. They were so young and vulnerable, their eyes weren't even open yet.
"It was obvious they needed a mom," Escriva says.
Escriva had some reservations.
Blossom is about 3 years old and had been given up to a busy Texas shelter by her owners in mid-May — pregnant and with advanced heartworm, which cannot be treated until she is finished nursing.
It's likely her puppies died from infections picked up in utero. So given Blossom's health problems, and how they may affect her milk, Escriva was concerned about bringing in the new pups.
There was also the question of whether Blossom would accept them, and how their presence might affect Princess Buttercup, her remaining pup.
But there were no other good options. Escriva thought it was worth a shot. The six puppies were brought to Escriva's Houston home, and she put them in with Buttercup.
"Blossom looked at the puppies," Escriva says. "Then climbed into the bed and started cleaning and feeding them."
The puppies were all given names to complement Blossom and Buttercup: Meadow, Fern, Petal, Reed, Forest and Ash. Escriva calls them Blossom's "garden," and they are blooming.
It's been about a week since the six arrived. The person who threw the puppies out of the truck hasn't been identified, and may never be. But Blossom is eating well and feeding the puppies as frequently as they demand, which is often. She's protective of all seven.
Their eyes, as well as Buttercup's, are still sealed shut. Escriva thinks they will be opening soon. Then the pups' personalities should emerge.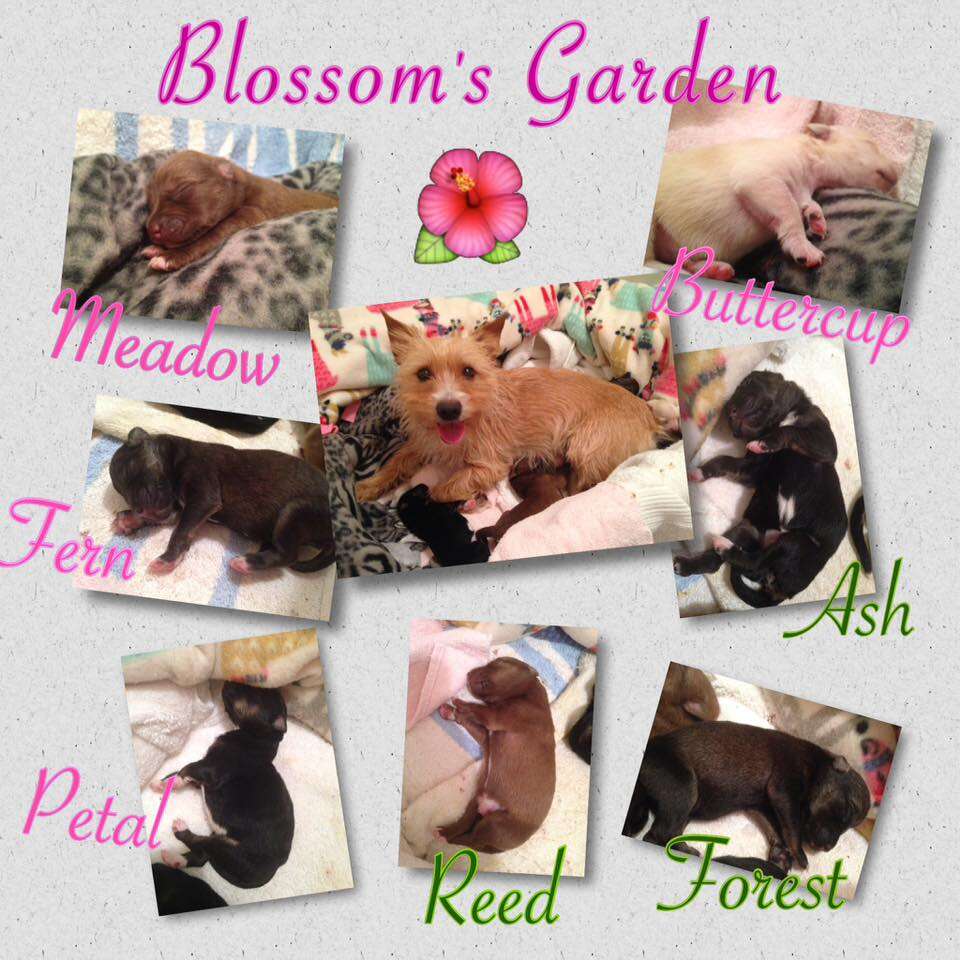 In another two months or so, when the puppies are fully weaned, they'll go into foster homes of their own, then get adopted.
At that point, Blossom can be spayed and begin her heartworm treatment, so she can start to heal physically as well as emotionally.
Sometime around late September, Escriva expects Blossom will be ready to go up for adoption, too. Having saved these puppies, Blossom will get to go on and enjoy her own sweet life.
"I find it very inspiring to see a beautiful creature like Blossom suffer such a heartbreaking loss and turn her full attention to caring for needy puppies, saving their lives," Escriva says. "Blossom is teaching us that the best way to heal is to help others."