Dog Loves Being 'Mom' To All His Baby Chickens
"When I would wake up in the morning, I would say, 'Mac, do you want to go check the chicks?' And he'd run up the stairs and run to the room where the chicks were."
When Brittany Gillott brought home six baby chickens, her dog Mac fell head over heels in love with them. In fact, he seemed to decide to be their mom.
"He just couldn't stop sniffing them and licking them," Gillott told The Dodo. "I don't know what it was, but he just wanted to lick them all the time."
Gillott and her husband adopted Mac four years ago from Love At First Sight, a rescue group in Nashville, Tennessee, and they knew he was a sweet dog from the very beginning.
"When we went to the adoption center, he was really calm and quiet, and he just stayed that way," Gillott said. "He's a really lovable dog — everybody who meets him falls in love with him. He's gentle and kind, and he loves other dogs."
Mac might be sweet around other dogs, but Gillott didn't know how he'd act around baby chickens. To play it safe, she kept the chickens in a room inside the house that Mac couldn't get into.
Mac, however, wanted to do things differently. He nudged his way into the room, and then he'd sit on the floor and gaze at the chickens through the clear plastic bin that acted as their enclosure.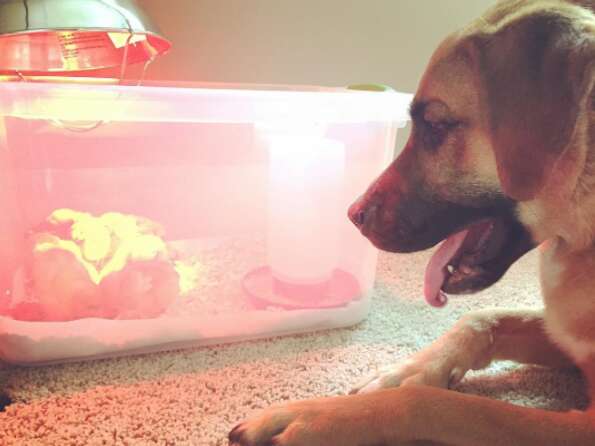 "Anytime we were home, and he was around them, he would honestly just sit there and look at them through the bin," Gillott said. "He just watched them move back and forth, and he constantly wanted to be around them."
Soon Mac became obsessed with the baby chickens, and he insisted on seeing them each morning before he even ate his breakfast.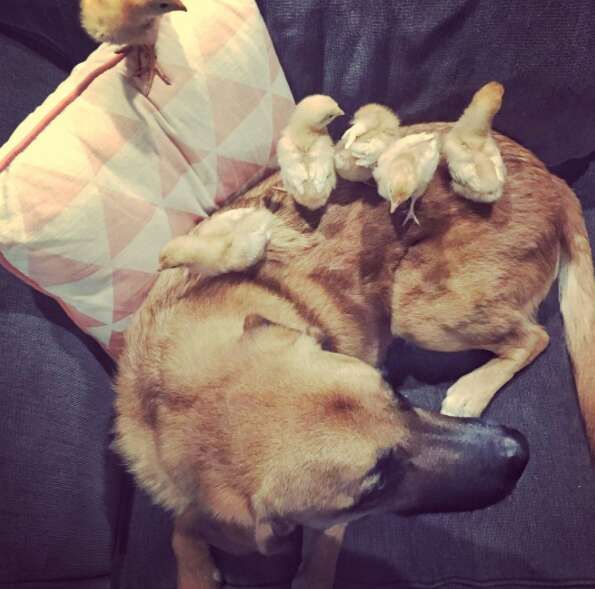 "Normally in the morning, he wakes me up by nudging me because he's so excited to eat and go outside," Gillott said. "But even before he ate, he wanted to go see the chicks. It was really cute. He was constantly watching them to make sure they were OK."
Visits with the chicks quickly became part of Mac's routine.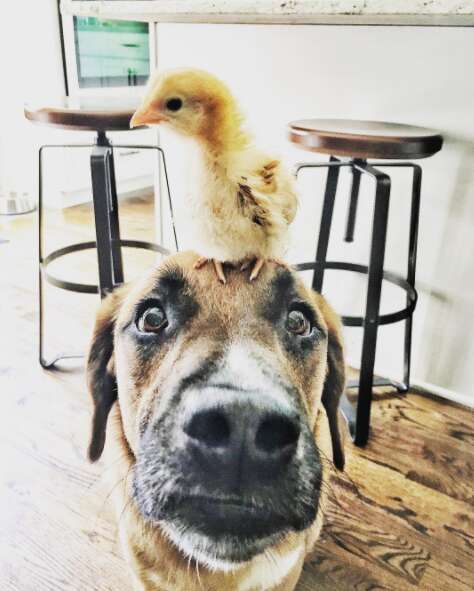 "When I would wake up in the morning, I would say, 'Mac, do you want to go check the chicks?'" Gillott said. "And he'd run up the stairs and run to the room where the chicks were."
When the chicks got a little older, Gillott still remained cautious, and she'd supervise any interactions between Mac and the chickens. But Gillott quickly realized that she had nothing to worry about.
"We'd take them out for a few minutes at a time, so he could get used to being around them, and he would just wag his tail and sniff them, and he'd let them run around him," Gillott said.
"He never once pawed at them or bit at them or anything like that," she added. "We don't worry about them at all."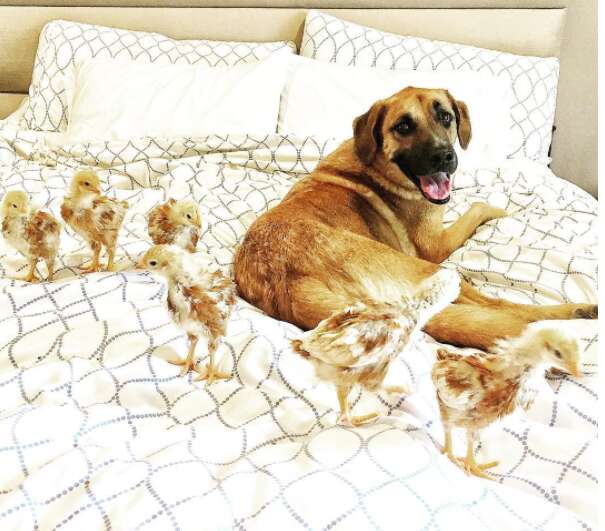 The chickens are older now, and they now live inside the garage and have free access to the yard, herb garden and deck area outside the house. But Mac continues to look after them like a proud and protective mom.
"We love [Mac] so much, and we're so affectionate with him, constantly petting him and cuddling him," Gillott said. "So I think he's passed that affection down to the chicks. It was great that he connected to them so quickly."
To see more photos of Mac and the chickens he loves, follow their
Instagram page
.