Shelter Dog Nobody Wanted Gets Adopted By Famous Basketball Coach
He was the only dog left behind after an Empty The Shelters event.
Eastwood is a 1-year-old dog who was found wandering the streets with a noticeable leg deformity. He was in otherwise good condition, and it's thought that his former family probably abandoned him due to his medical issues.
The sweet dog was picked up by a local shelter before being taken in by the Little Traverse Bay Humane Society in December. Both a veterinarian and a specialist evaluated his leg, and determined that while he didn't need surgery at that time, he might in the future. Despite his leg issues, Eastwood adjusted well to life at the shelter, and brought so much joy to everyone who had the pleasure of working with him.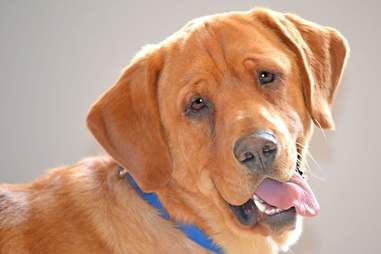 Little Traverse Bay Humane Society

"Eastwood is the nicest dog you'll ever meet," Jessica Evans, communication and marketing coordinator at Little Traverse Bay Humane Society, told The Dodo. "He's very friendly, loves everyone and is extremely playful. He loves attention and even though he's over 70 pounds, he likes nothing more than to plop down in someone's lap."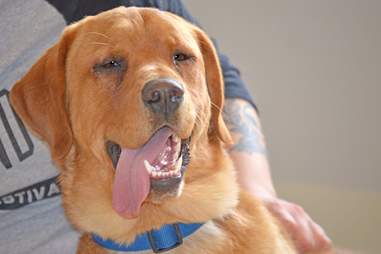 Little Traverse Bay Humane Society
The shelter decided to partner with the Bissell Pet Foundation to have an Empty The Shelters event, where all adoption fees were paid for. Staffers were extremely excited, hoping that all of their animals would end up finding homes that day. They watched as one by one, each of their animals found loving families and went off to their new forever homes. At the end of the day, all of their pets had been adopted — except for one.
Despite his incredible personality, Eastwood was left behind that day, and no one at the shelter could understand why.
"We couldn't believe that he didn't find a home, since he's the nicest dog here," Evans said. "We think that his disability was off-putting to potential adopters and they didn't want to face potential surgery for him in the future."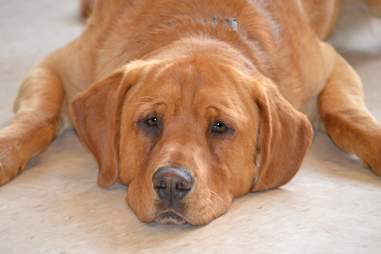 Little Traverse Bay Humane Society
Desperate to help Eastwood, the shelter made a post on Facebook about how he was left behind — and the response was overwhelming. People from all over were touched by Eastwood's story, and almost immediately after the post went live, he received over 80 adoption applications.
So many people were willing to welcome Eastwood into their families, and after sifting through the countless applications, staff at the shelter finally found the perfect family to adopt Eastwood: Stan and Kimberly Van Gundy. Stan Van Gundy is the head coach for the Detroit Pistons, and he and his wife have always been avid animal lovers and rescuers. They have a few other rescue pets at home, and knew that Eastwood would make a perfect addition to their family.
Little Traverse Bay Humane Society
On Tuesday, the Van Gundy family finally came to pick up Eastwood and take him home. The connection between them was instant, and everyone who knows Eastwood is so overjoyed that he's found such a perfect new home.
Little Traverse Bay Humane Society

"I think he'll be very happy with the Van Gundy family, and them with him," Evans said. "They seem like a great match already."
Little Traverse Bay Humane Society
On his final day at the shelter, one of the staff members made Eastwood a Detroit Pistons bandana, so he could wear it as he took pictures with his new family, and as he headed off with them to start his brand new life. Eastwood may have been unwanted at first, but it's very clear that now, he'll never have to experience that ever again.